Atuh Beach and Diamond Beach are the crown jewels of Nusa Penida island, along with the already famous Crystal Bay and Kelingking Beach. Thanks to the brand new road, these stunning locations are now easily accessible. It takes only an hour to get to Atuh Beach from Toyapakeh harbour, while if you're coming from Crystal Bay, it takes about an hour and 15 minutes. Diamond Beach has become even more popular than Atuh Beach nowadays, thanks to its iconic staircase carved into the cliff. The crystal-clear turquoise water, dramatic cliffs, and stunning rock formations make Atuh and Diamond beaches a photographer's paradise. Therefore, they undoubtedly deserve a place in anyone's top 5 of awesome sites to see in Nusa Penida.
Diamond Beach Nusa Penida
It's likely that Diamond Beach will be your first stop, as the famous staircase greets you on the right side of the path after leaving the parking lot. Carved out of limestone from the cliff, the initial section of the staircase is both easy to navigate and visually stunning. Don't forget to glance at the sea as you descend, as you may spot Manta Rays from the top of the cliff or the staircase.
The final section of the staircase may be more challenging and intimidating for some. You can decide whether to embrace the adventure and descend to the beach, or return to the cliff's top. It may be wise to save your energy for Atuh Beach, a superior option for relaxation and swimming.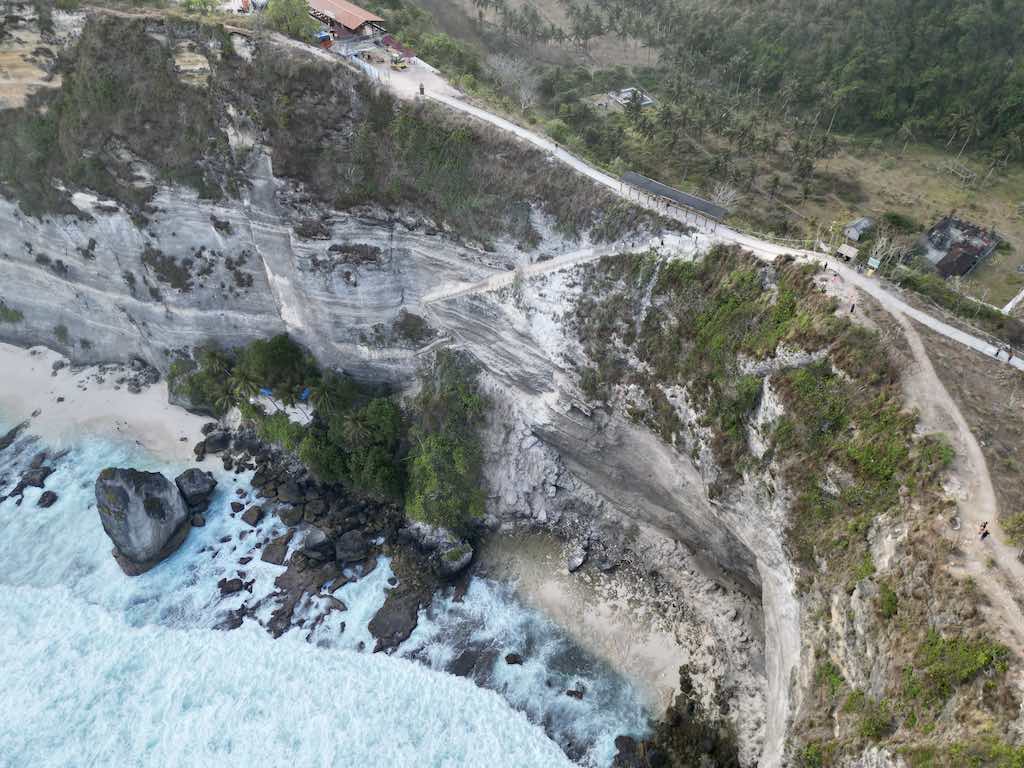 Upon arrival, locals offer various opportunities for stunning photo opportunities to share on social media. Additionally, a swing and small kiosk provide refreshments and snacks.
Due to recent casualties, swimming at Diamond Beach is now prohibited due to the potential danger of the waves. If you wish to cool off before ascending the cliff, please stay in shallow water and avoid the waves.
What is the best time to go to Diamond Beach Nusa Penida ?
Diamond Beach is situated at the foot of a massive cliff, facing east. As a result, the beach is shaded in the afternoons. It's best to visit in the morning. Additionally, the sunrise is stunning, but requires an early start to arrive before 6 am.
Atuh Beach
In 2016, the locals of Nusa Penida constructed a concrete staircase on the right side of Atuh Beach, which allowed visitors to descend almost all the way down to the beach. The last step was at that time 2 meters high ! The staircase is now complete with a total of 166 steps. While not aesthetically pleasing, it's quite practical. The descent is pretty easy, but the ascent may be tiring due to the height of some steps. On the left side of the beach, a slightly shorter staircase enables visitors to reach the top in under ten minutes.
What activities can you enjoy at Atuh Beach?
The beach offers parasols and deckchairs for relaxation, as well as small warungs serving fruit juice, grilled fish, and Indonesian cuisine. As with all beaches in Nusa Penida, caution is advised when swimming due to strong waves and currents. As Atuh Beach is not currently included in the typical tourist itinerary, it remains a peaceful and enjoyable spot to spend the day, particularly when the tide is not too low, as the water can be rocky instead of sandy.
What is the best time to go to Atuh Beach ?
Atuh Beach is not located directly under a large cliff like Suwehan Beach or Diamond Beach, allowing for all-day sun exposure. You can visit Atuh Beach anytime, but for a full day, consider visiting Diamond Beach in the morning and Atuh Beach in the afternoon.
Tree house
Tree house has also become a nice place to visit. You will pay 10 000 rupiahs as entrance fee and another 50 000 rupiahs to be allowed to take photos and videos during 3 minutes on the wooden staircase leading to the actual Rumah Pohon "Tree House".
How to get to Diamond Beach and Atuh Beach
Atuh Beach can be accessed via two separate roads, each leading to a different side of the beach. Signage can be confusing, often pointing in opposite directions. My recommendation is to take the road that leads you to the right side of Atuh Beach which offers easy access to Atuh Beach, Diamond Beach, and the Tree House. All while driving on a newly constructed road. To locate this route, search "Diamond Beach" on Google Maps or always follow signs pointing to the right.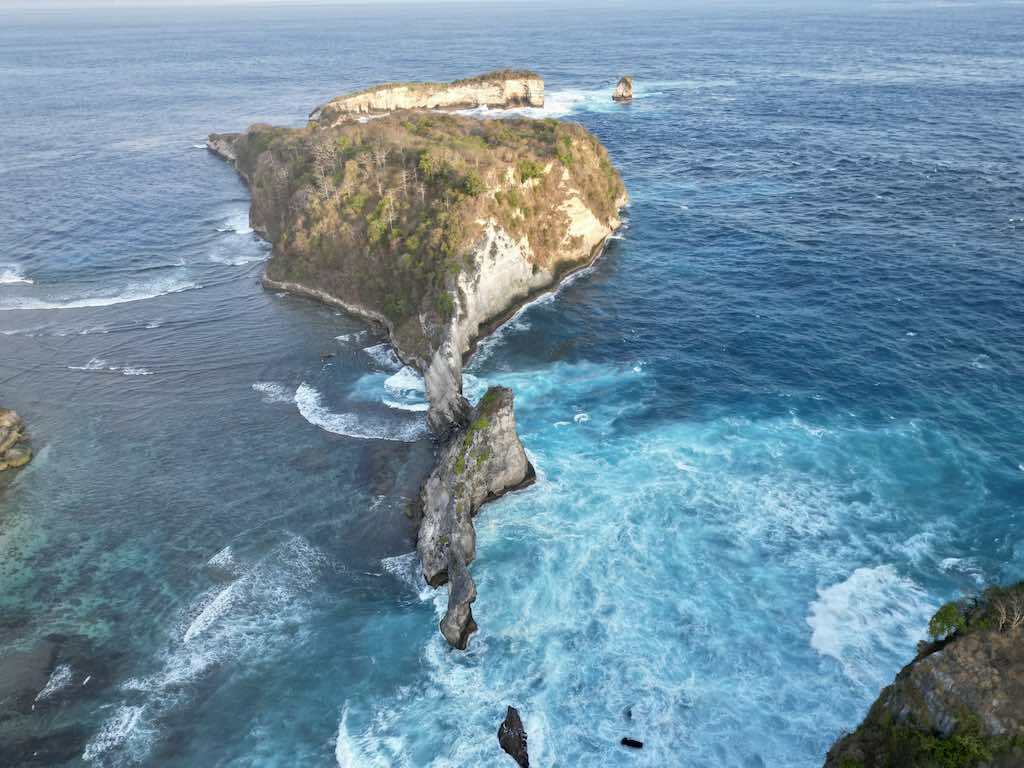 It takes around one hour to drive from Toyapakeh Harbour to Diamond Beach. You can either rent a scooter to go there or book a tour. Usually the tour, call East Tour Nusa Penida, includes a visit to Diamond Beach, Atuh Beach, Thousand Island Viewpoint, and Rumah Pohon "Tree House", allowing you to experience all these attractions in one go. To know more, read our Get around Nusa Penida Guide.
Entrance fee
There is an entrance fee of 35,000 IDR per person to visit Diamond Beach in Nusa Penida, including parking. Both Diamond Beach and Atuh Beach can be accessed from the same car park. Please note that payment must be made in cash using Indonesian Rupiah.
How do you get from Bali to Diamond Beach Nusa Penida ?
Read how to get from Bali to Nusa Penida island to know which ports and fast boats to choose, the time tables and prices.
What to do after ?
For deserted beach lovers, the nearby beach of Suwehan Beach can be an alternative or a second destination (on the same day). If you want to reach Suwehan by coming from the North coast, an option may be to return by Tanglad and the interior of the island. Please check itinerary ideas for Nusa Penida island.