Gili islands or Nusa Penida?
We generally call Gili Islands three small islands off the west coast of Lombok, practically in front of the Rinjani volcano. The term is incorrect and rather redundant because "gili" means "island" in sasak, the language spoken in Lombok. The three islands we are talking about are therefore Trawangan, Meno and Air (T, M, R in short !). But there are many other "Gilis" around Lombok and even some in front of Padang Bai in Bali. Are you planning your trip to Indonesia and Bali and are you wondering how to choose between the Gili Islands or Nusa Penida? It all depends on what you are looking for ! Choosing between Gili islands or Nusa Lembongan may also be an alternative.
Which Gili island to go : Trawangan, Meno or Air?
To make a long story short, Trawangan rather attracts tourists, usually young or even very young, who want to party. Meno seduces young couples following the fantasy of the deserted island for their honeymoon. And Gili Air is a compromise between the two. Maybe I should have written in the past tense because all this was before two major events that hit the tourism in the Gili Islands : the eruption of the Rinjani volcano in 2018 and the coronavirus crisis in 2020.
Gili Islands after Rinjani volcano eruption
I did not came back to the Gilis after the eruption, but I have gathered a lot of testimonies from tourists who were there during or after the eruption. The festive part has obviously been put to sleep in Gili Trawangan, said to be 70% destroyed by the earthquakes following the eruption, but since rebuilt.
A tough impact on tourism
The eruption had two effects on tourism in the Gili islands. First of all, a lot of establishments, hotels, restaurants, etc. have been totally or partially destroyed. Second, many tourists talked about their anguish after the earthquake and the terrible the night they experienced outside their hotel, fearing potential aftershocks. But mostly terrified by the  tsunami warning issued 20 minutes after the earthquake. The highest point in Gili Islands is a few meters high leaving few chances of survival in case of tsunami.
There were around 100 casualties, mostly in the north of Lombok, including 7 Indonesian tourists in Gili Trawangan. But the testimonies of the 2,000 evacuated foreigners, still in shock, have obviously led a significant number of tourists to reconsider their choice to visit the Gili Islands in 2018 and in 2019. If you are targeting the Gilis to party you may need to to wait a little bit. If you are aiming for tranquility, this may be the best time, on the contrary, especially after the coronavirus crisis.
Tourist infrastructures
Tourism started to develop in the Gili Islands about 30 years ago. Before that there were no inhabitants on any of the three islands. Trawangan, the largest, is only 2 km2 … Tourism has developed a lot since then and now practically every square meter of each of the 3 islands is built. The offer is quite diverse, from small bungalows not far from the beach (nothing is far from the beach!) to luxurious hotels. There are also many restaurants, bars and diving centers. The west-facing beach bars offer beautiful sunsets.
On top of being party islands, the main difference between the Gilis Islands and Nusa Penida is therefore not really the hotel infrastructure. But above all, it is the lack of paved roads on the Gili Islands. Their size makes it possible to walk around each island along the beach. Motor vehicles are indeed prohibited there, with rare exceptions for locals. You can walk, ride a bike or use a horse-drawn cart to transport luggage from the boat to your hotel. It's very nice to be able to walk around the island in an hour. But once a day is enough !
Scuba diving and snorkeling
Nusa Penida scuba diving sites are undoubtedly much more beautiful and varied than those of the Gili Islands. At Nusa Penida, you will see Manta rays, the Mola Mola during the season, from July to October, and a very wide variety of fish and corals. The coral reef of the Gili Islands has suffered a lot, probably from tourism but also from unreasonable use of dynamite fishing.
However, there are still many turtles that you can see while snorkeling from the beach of the Gili Islands. While the most beautiful snorkeling sites are mostly accessible by boat in Nusa Penida and Nusa Lembongan.
Beach
Gili Islands beaches are of course very beautiful and correspond well to the idea you can have of a sandy beach on a desert island. The sunsets are very beautiful and most of the bars have very appropriate lounge music. The beaches of Nusa Penida are more varied, wilder, more spectacular, but less easily accessible, especially for children. Those of Nusa Lembongan are from this point of view closer to those of the Gili Islands. You can also go surfing in Nusa Lembongan.
So if you hesitate, maybe you should ask yourself the question : Nusa Lembongan or Gili islands ? If your main interest is to stay by the beach with children, Nusa Lembongan may be the right choice, as it will be easy to visit Nusa Penida for a day trip. The boat connection between Penida and Lembongan is indeed only 10 minutes.
Landscapes
The award for landscapes undoubtedly goes to Nusa Penida with extremely iconic sites such as Kelingking Beach, Broken Beach or Angel Billabong. The very high cliffs on the west coast of Penida also offer a great view of the sunsets. Read my top 15 sights to see in Nusa Penida to get an idea. The seashores are very beautiful in the Gilis but there is no landscape !
Boat connections from Bali
16 companies provide 40 daily fast boat connections between Bali and Nusa Penida in about 30 to 45 minutes from Sanur or from Kusamba, near Padang Bai, in 20 minutes. It's pretty much a shuttle and you can almost make up your mind to come at the last minute. A return trip during the day is even possible although I do not recommend it at all.
Reaching the Gili Islands takes longer and I had a bad experience. To make my life easier, I took an all-inclusive ticket from my hotel in Seminyak till Gili Air. I don't recommend it at all either. The pick up was around 7 am. We arrived in Benoa around 9 am after picking up a lot of different people. And after a stop at Padang Bai and a second one at Gili Trawangan we arrived in Gili Air around 3 pm.
My recommendation, go on your own to Padang Bai and take a boat directly to the Gilis. The fast boat trip normally takes around 2 and a half hour if the sea is good. In my case the sea was too rough on the first day and I had to postpone my departure for 24 hours.
Nusa Penida to Gili islands
Several fast boat companies also offer connections to or from the Gili islands. Eka Jaya was the best one before Covid but it will not restart the direct connection between Nusa Penida and Gili before 2023. Now the most popular fast boat companies are Semaya One and D Prabu. They will make a stop at Padang Bai. 
Culture
Needless to say, the cultural aspect is much more present in Nusa Penida than in the Gili Islands (apart from mushrooms). Penida is indeed where the famous temple of Ped is located, which houses the spirit of the mighty demon Mecaling. And above all, for tourists, the temple of Goa Giri Putri, inside a very impressive cave to visit. Bali festivals and ceremonies are also held in most villages in Penida if you are lucky enough to be present for these occasions.
The Gili Islands, like Lombok, are Muslim. But the consumption of alcohol is accepted there. I've never been to the Gilis during Ramadan but it might not be the best time to go.
So, Nusa Penida or Gili islands?
In conclusion, choose the Gili Islands:
if you want to spend a few days in a quiet setting without seing any car or scooter
to find a festive and relaxed environment by the beach where everything can be done walking
if you take a long enough trip and have time to explore both Gili Islands and Nusa Penida !
But if you want to rediscover the Bali of 30 years ago, enjoy fabulous landscapes, experience exceptional and varied moments on land, in water or underwater, and if you really need to make a choice : choose Nusa Penida or Nusa Lembongan !
You have a question or you want to read more ?
Email me or post a comment at the bottom of this article if you still have questions about what to do in Nusa Penida. It will be a pleasure to answer you ! Or read these great articles.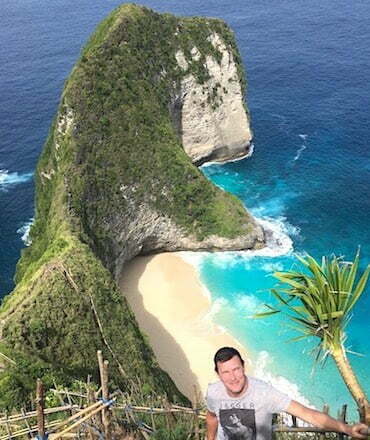 Top 15 to see in Nusa Penida
My list of 15 awesome sites so see in Nusa Penida island : beaches, temples, cliffs, dive sites and many more !
What to do in Nusa Penida
Scuba diving, beaches, adventure. All the reasons why you will come to Nusa Penida and stay for several days !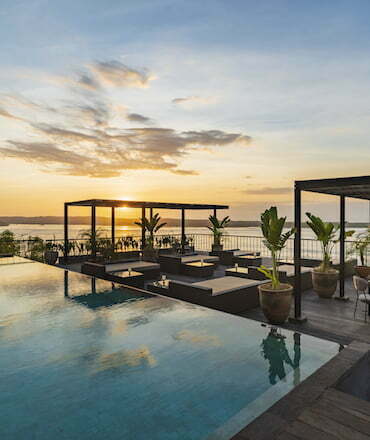 Where to stay in Nusa Penida
How to choose among the 450 listed hotels. 5 stars, boutique hotel, glamping or charming bungalows?