Gili islands or Nusa Penida?
We generally call Gili Islands three small islands off the west coast of Lombok, in Indonesia, practically in front of the Rinjani volcano. The term is incorrect and rather redundant because "gili" means "island" in sasak, the language spoken in Lombok. The three islands we are talking about are therefore Trawangan, Meno and Air (T, M, R in short !). But there are many other "Gilis" around Lombok and even some in front of Padang Bai in Bali. Are you planning your trip to Indonesia and Bali and are you wondering how to choose between the Gili Islands or Nusa Penida? It all depends on what you are looking for ! Choosing between Gili islands or Nusa Lembongan may also be an alternative or go to both Nusa Penida and Gili islands!
Which Gili island to visit : Trawangan, Meno or Air?
Trawangan typically appeals to younger tourists who are interested in partying, while Meno is often chosen by couples seeking a romantic, secluded island experience for their honeymoon. Gili Air offers a balance between the two. It is worth noting that the tourism landscape in the Gili Islands has been impacted by two significant events: the eruption of the Rinjani volcano in 2018 and the coronavirus crisis in 2020.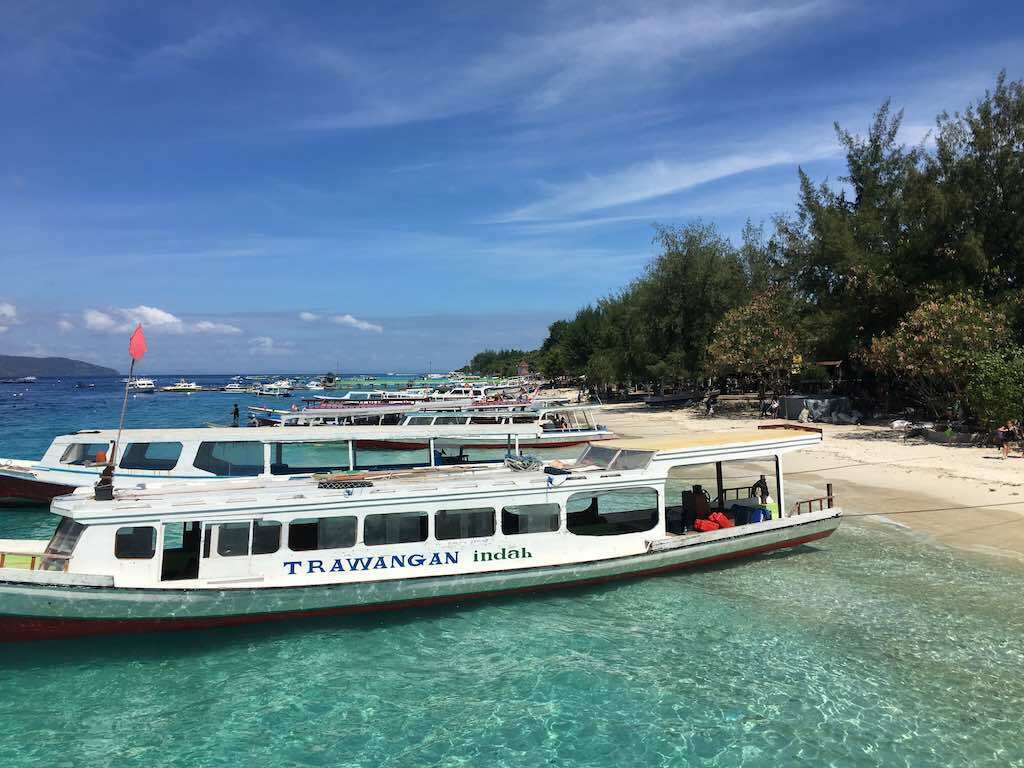 Gili Islands after Rinjani volcano eruption
I have gathered numerous accounts from tourists who were present during or after the eruption. Unfortunately, the vibrant and lively atmosphere that once characterized Gili Trawangan has now been subdued, as it was reported to have suffered a 70% destruction due to the subsequent earthquakes. Nevertheless, the island has since been rebuilt. Gili Air was less impacted and when I went there recently the island was almost back to normal.
A tough impact on tourism
The eruption had a significant impact on tourism in the Gili Islands. Firstly, many establishments, including hotels and restaurants, were partially or completely destroyed. Secondly, a considerable number of tourists shared their anxiety over the earthquake and the terrifying night they spent outside their accommodations, fearing aftershocks. The tsunami warning issued 20 minutes after the earthquake also left many tourists terrified, especially since the highest point in the Gili Islands is only a few meters above sea level, leaving little chance of survival in case of a tsunami.
The earthquake resulted in approximately 100 casualties, mostly in the north of Lombok, including 7 Indonesian tourists in Gili Trawangan. The testimonies of the 2,000 evacuated foreigners, still traumatized by the experience, have caused a significant number of tourists to reconsider their decision to visit the Gili Islands in 2018 and 2019. If you intend to visit the Gilis for partying, it may be best to wait a little longer. However, if you seek tranquility, this may be the perfect time, especially after the coronavirus crisis.
Tourist infrastructures
Tourism emerged on the Gili Islands approximately three decades ago, which prior to that, were uninhabited. The largest of the three islands, Trawangan, only spans 2 km2. Over time, tourism has flourished, resulting in nearly every square meter of the islands being built upon. The offerings are diverse, ranging from quaint bungalows situated close to the beach to luxurious hotels. There is also an array of restaurants, bars and diving centers available. Furthermore, beach bars facing west offer striking sunsets.
Many hotels are now offering Getaway Deals on Booking.com for stays between April 4 and September 28, 2023.

Despite being considered party islands, the main difference between the Gili Islands and Nusa Penida is the lack of paved roads on the former. Due to their size, walking around each island along the beach is a possibility. Motor vehicles are generally forbidden, with rare exceptions for locals. It's pleasant to walk or ride a bike, or use a horse-drawn cart to transfer luggage from the boat to the hotel. It's an added bonus that one can walk around the entire island in an hour.
Scuba diving and snorkeling
Nusa Penida's scuba diving sites are undeniably more diverse and stunning than those of the Gili Islands. The Nusa Penida waters boast sightings of Manta rays, the seasonal Mola Mola from July to October, and a vast array of fish and corals. Sadly, the Gili Islands' coral reef has suffered severe damage from tourism and dynamite fishing practices.
Despite this, the Gili Islands still have many sea turtles to spot while snorkeling from the beaches. However, the most breathtaking snorkeling spots are primarily accessible by boat in Nusa Penida and Nusa Lembongan.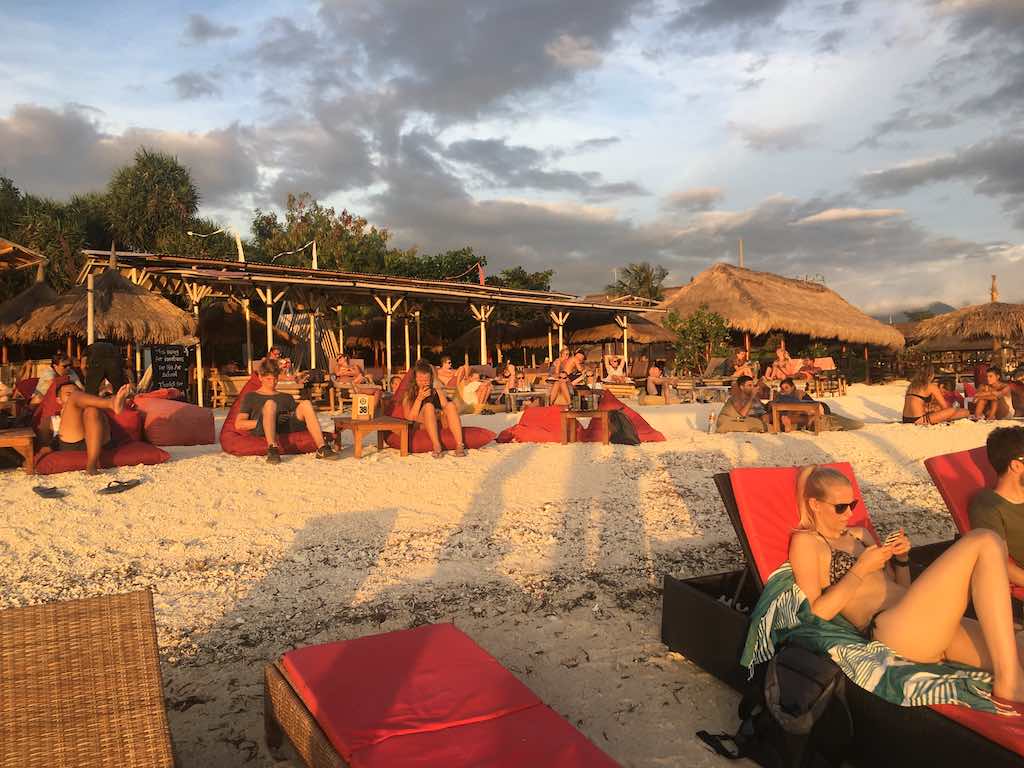 Beach
The beaches on the Gili Islands are undeniably stunning and offer the classic picture-perfect sandy beach on a remote island. The sunsets are equally breathtaking, and many bars provide the perfect ambiance with relaxing lounge music. On the other hand, Nusa Penida boasts a more diverse, untamed and spectacular coastline, although less accessible, especially for families with young children. Nusa Lembongan's beaches, however, offer a happy medium, resembling those of the Gili Islands but with the added bonus of being closer to Nusa Penida. Additionally, surfers will appreciate the opportunities in Nusa Lembongan. If you're still undecided, consider your primary objective. If it's a leisurely beach stay with children, then Nusa Lembongan might be an ideal choice as Nusa Penida is a quick 10-minute boat ride away.
Landscapes
Undoubtedly, Nusa Penida deserves the award for its breathtaking landscapes, boasting iconic sites like Kelingking Beach, Broken Beach, and Angel Billabong. The high cliffs on the west coast provide stunning sunset views, making it a must-visit destination. For a better idea of what to expect, check out my top 15 sights to see in Nusa Penida. While the seashores in the Gilis are beautiful, they simply can't compare to the spectacular natural beauty of Nusa Penida's landscapes.
Boat connections from Bali
There are 16 companies offering 40 daily fast boat connections between Bali and Nusa Penida. Departures are available from Sanur or Kusamba, near Padang Bai. The journey takes approximately 30 to 45 minutes and 20 minutes respectively. The service runs like a shuttle, allowing you to make a last-minute decision. However, I do not recommend taking a return trip during the day.
Reaching the Gili Islands can be time-consuming, and my first personal experience with an all-inclusive ticket from my hotel in Seminyak to Gili Air was not favorable. The pick-up time was 7 am, and we made multiple stops before arriving at Benoa at 9 am. Further stops were made at Padang Bai and Gili Trawangan before arriving at Gili Air at 3 pm.
Instead, I recommend traveling to Padang Bai on your own and taking a fast boat directly to the Gilis. The trip typically takes 2.5 hours, provided the sea conditions are favorable.
Nusa Penida to the Gili islands
If you're planning a trip to both the Gili Islands and Nusa Penida, there are several fast boat companies that connect the Gilis and the Penida islands. One of the best options is Eka Jaya, which offers daily service between these islands. Eka Jaya uses spacious and comfortable fast boats that are equipped with four powerful engines, so you can travel quickly and comfortably. The boats are 23 meters long and can accommodate up to 210 passengers.
The fast boat Eka Jaya provides two daily trips from Nusa Penida to Lombok.
The first boat departs from Nusa Penida at 9:30 AM to reach Padang Bai and then continues on to Senggigi (11:50 AM), the Gili Islands (12:20 PM, 12:35 PM, 12:45 PM) before arriving at Bangsal at 1:00 PM.
The second boat leaves Nusa Penida at 10:30 AM and arrives in Senggigi at 1:00 PM. It departs from Senggigi at 2:00 PM to reach Nusa Penida at 4:30 PM via Padang Bai.
For the return trip, you can depart from Gili Trawangan at 12:20 PM, Gili Meno at 12:35 PM, Gili Air at 12:45 PM, Bangsal at 1:30 PM, and Senggigi at 2:00 PM to arrive at Nusa Penida at 4:30 PM via Padang Bai.
If you prefer a direct trip from Gili to Nusa Penida without stopping in Padang Bai, another good option is Semaya One. This boat also offers a daily service and can take you quickly and efficiently to the Gilis. The direct trip leaves Nusa Penida at 10:00 AM and arrives at the Gilis at 11:45 AM. For the return journey, the boat leaves the Gilis at 12:00 PM and arrives at Nusa Penida around 2:30 PM. Semaya One also offers an option with a stop in Padang Bai: departure from the Gilis at 9:00 AM and arrival in Nusa Penida around 11:50 AM. The boat leaves Nusa Penida at 1:00 PM and arrives at the Gilis at 3:15 PM.
Flying to Lombok
Another option is to fly to Lombok and visit Kuta Lombok before heading to the Gilis. Keep in mind that this option will be more expensive. And that the airport is anyway pretty far away from Kuta and from Bangsal. To find the most affordable flights, consider checking Skyscanner.
Culture
Without a doubt, Nusa Penida showcases a stronger cultural presence than the Gili Islands. Notably, Penida is home to the revered temple of Ped, housing the powerful demon Mecaling. Furthermore, the magnificent cave-temple of Goa Giri Putri is a must-visit attraction for tourists. If you're fortunate, you may also witness traditional Bali festivals and ceremonies celebrated in most Penida villages.
Conversely, the Gili Islands and Lombok follow the Muslim faith, but alcohol consumption is permitted. However, visiting during Ramadan may not be the most suitable time.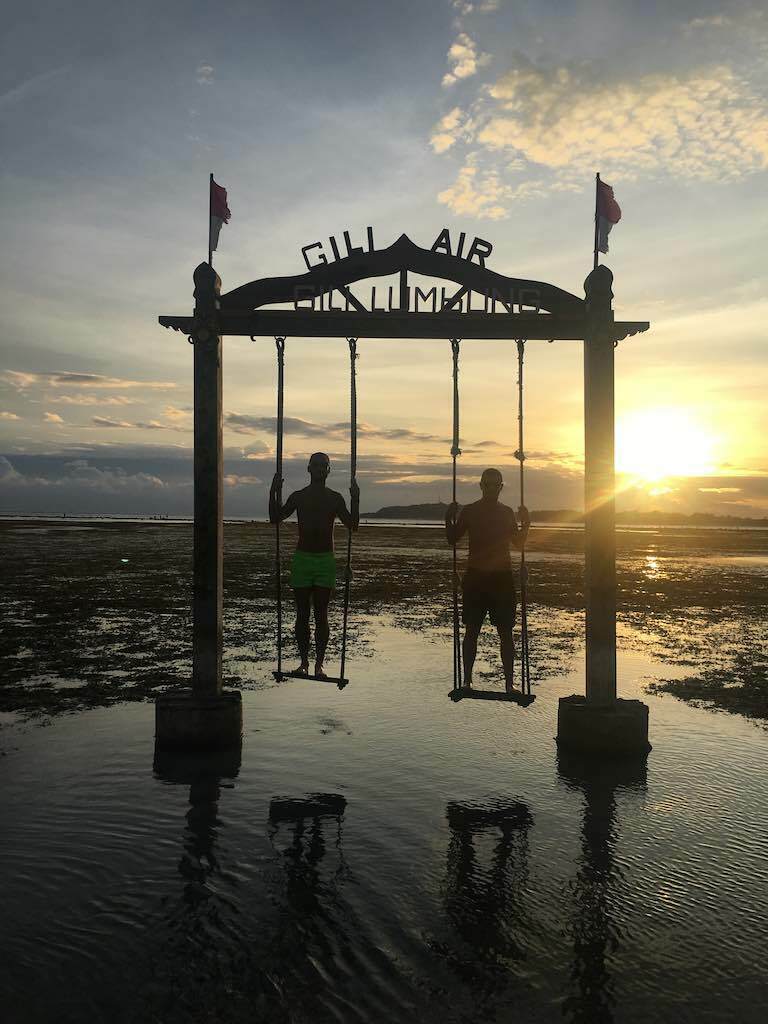 So, Nusa Penida or Gili islands?
To summarize,
if you seek a peaceful escape without the noise of cars or scooters,
prefer a lively and casual beach atmosphere where walking is the primary mode of transport
or if you have ample time to explore both Gili Islands and Nusa Penida,
then choosing the Gili Islands would be a wise decision.
However,
if you desire to rediscover Bali as it was three decades ago,
relish stunning scenery,
indulge in remarkable land, water, and underwater experiences,
and if you must make a choice,
then opt for Nusa Penida or Nusa Lembongan instead.
You have a question or you want to read more ?
If you have any remaining questions about what to do in Nusa Penida, please don't hesitate to email me or leave a comment at the end of this article. I would be delighted to provide you with answers. Additionally, feel free to check out these informative articles.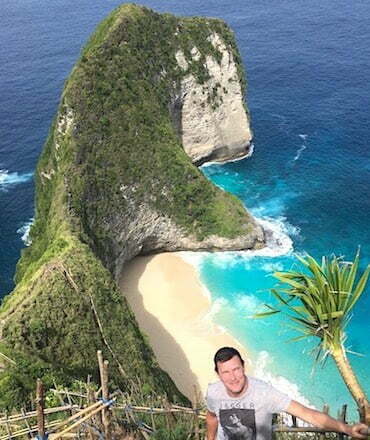 Top 15 to see in Nusa Penida
Discover the top 15 must-see sites in Nusa Penida island. Including stunning beaches, ancient temples, breathtaking cliffs, thrilling dive sites, and much more!
What to do in Nusa Penida
Scuba diving, sun-kissed beaches, and thrilling adventures await you in Nusa Penida, providing every reason to stay for several days!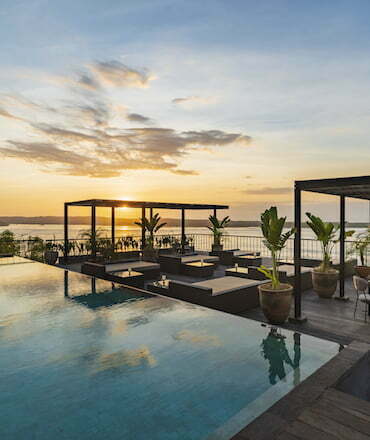 Where to stay in Nusa Penida
How to decide on the perfect accommodation option from the list of 450 hotels. 5-star hotels, boutique hotels, glamping sites or charming bungalows.