I first discovered Nusa Penida Island while traveling in Bali in May 2015, and since then I've returned over 30 times. With each visit, I aim to explore a new place and have formed a solid opinion about the top 15 must-see sites on Nusa Penida Island. The island has it all, from stunning beaches and cave temples, to vertiginous cliffs and incredible scuba diving spots. To fully appreciate the beauty of Nusa Penida, I highly recommend spending a few nights on the island!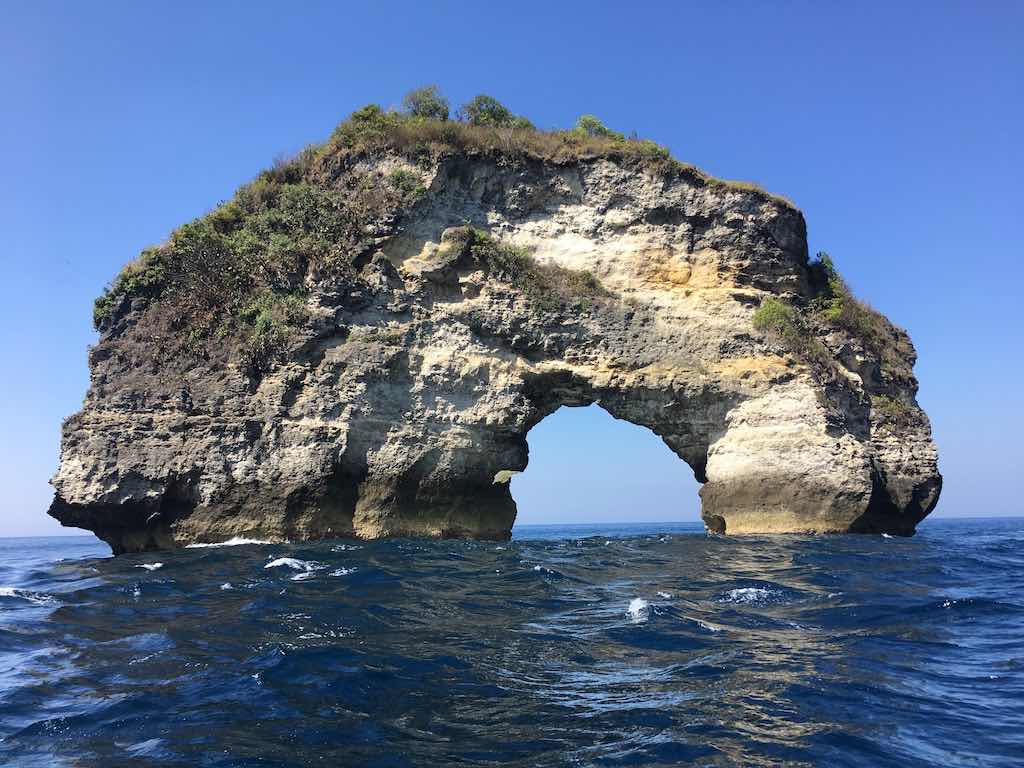 Some places have changed a bit with the increased arrival of tourists. Concrete steps replaced the small paths, which were sometimes pretty dangerous. Local people built car parks and small warungs. But the beauty of the island and the amazing views will continue to take your breath away. And as tourism will only restart gradually after this covid-19 coronavirus crisis, you should not be too bothered by other tourists for several months. If you visit the island, you will almost see the Nusa Penida island that I discovered in 2015!
The ranking order of the sites is a bit arbitrary but I started with the most iconic sites in Nusa Penida. And I finished with the wildest and the most authentic sites. The ones I prefer …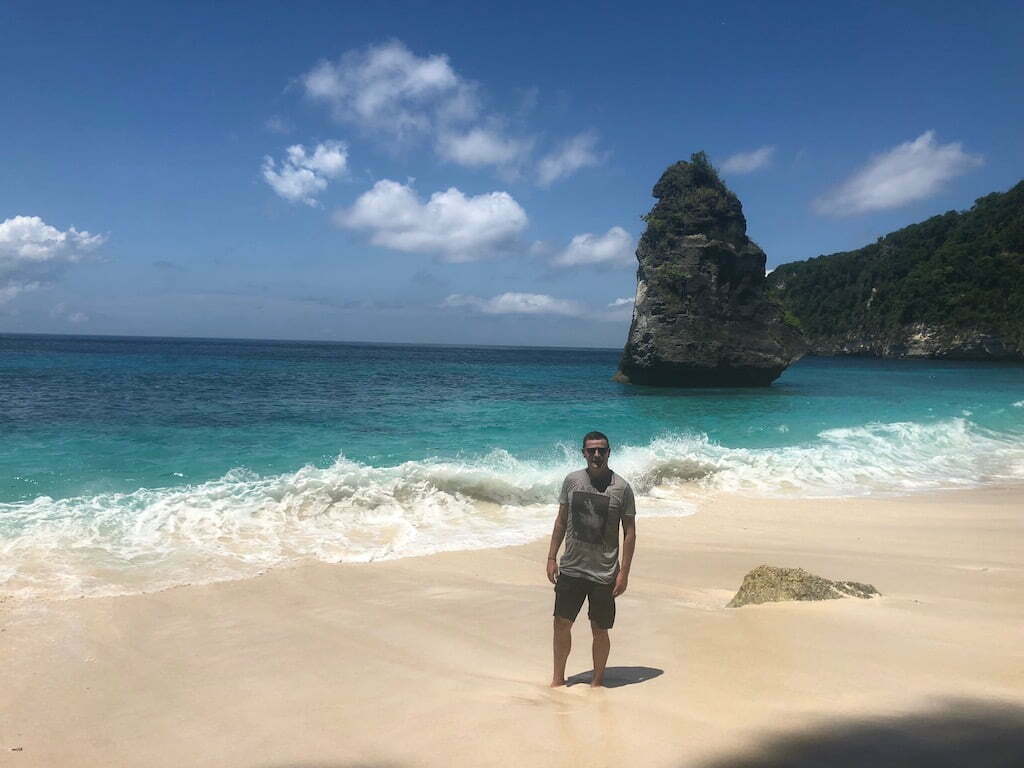 Kelingking Beach
Kelingking is a spectacular rocky outcrop into the sea. The rock looks a bit like the backbone of a dinosaur that comes to drink in the sea. On Google Map the bay has been called T-Rex Bay.
The view is exceptional but if you have the courage and the time, you MUST go down to the beach.
Get good shoes and once down to the beach, watch out for waves and currents.
Believe me, Kelingking Beach is worth it !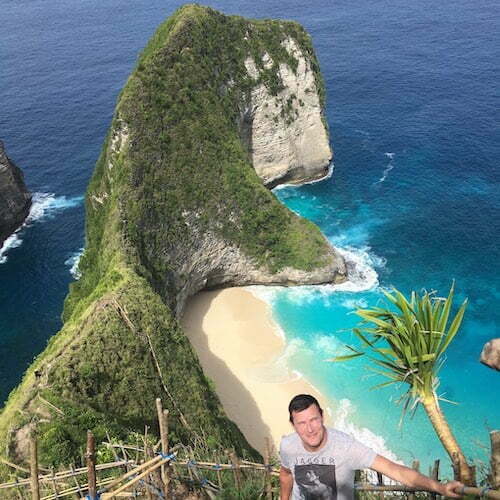 Broken Beach & Angel's Billabong
Number 2 & 3 of the most beautiful sites to see in Nusa Penida Island are also spectacular. And therefore also very popular within the day tours to Nusa Penida organized from Bali. To be sure to truly enjoy the experience, it is better to arrive before 11 a.m. or after 3 p.m.
Broken Beach
A collapse of part of the cliff created Broken Beach. The collapsed part has a circular shape. And the sea dug an arch in the narrowest part of this circle. The whole therefore looks like a circular bay with an arch which overhangs the sea. Look at the photos, you will understand ! The (very) small beach is not accessible. But you may see manta rays from the cliff.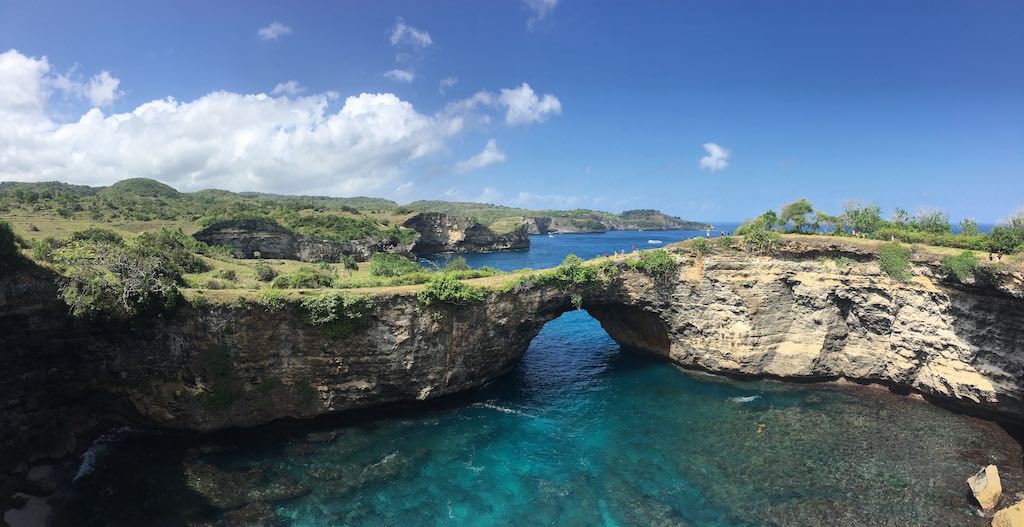 Angel's Billabong
Angel's Billabong is a natural pool embedded in the cliff. It is filled with clear water during high tide. And the natural pool appears at low tide. The water is very clear and it is quite fun to go for a swim at low tide. But you have to be very careful not to swim there at high tide because a wave could drag you outside. With little chance of coming back.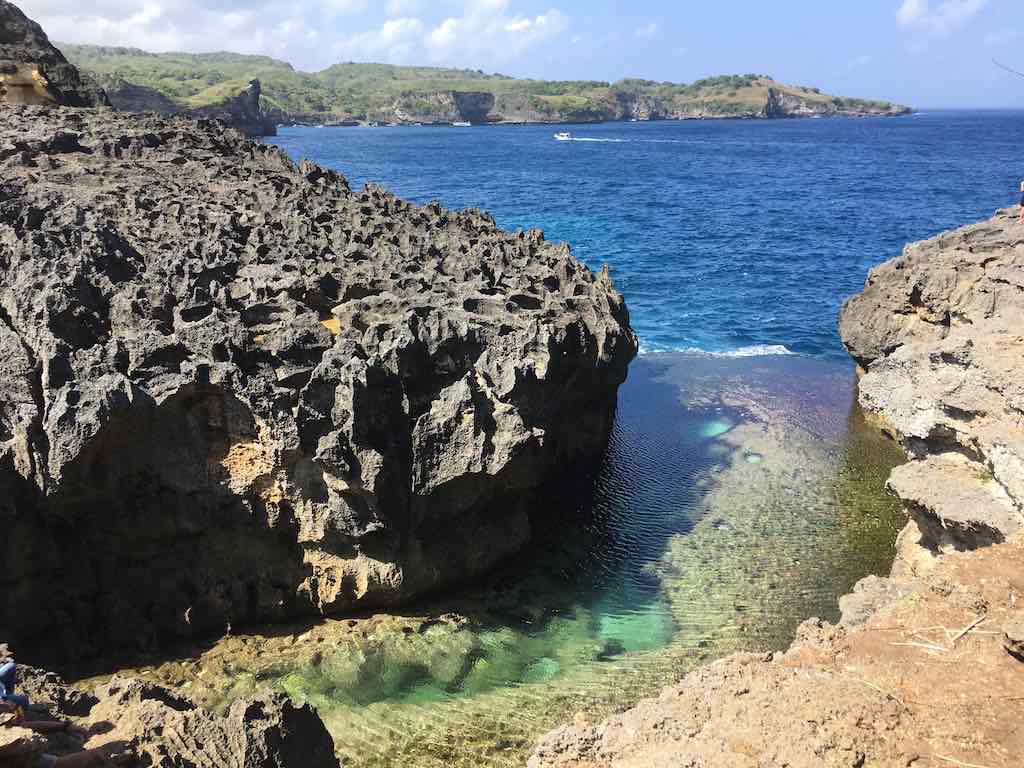 Crystal bay
Crystal Bay Beach is clearly one of the top 5 attractions in Nusa Penida Island. The beach could be very crowded before the coronavirus crisis but this should not be a problem any more for the coming months. Crystal Bay combines the attractions of a sandy beach easily accessible by road and a spectacular rock planted in the middle of the bay. The beach faces west and the sunsets are often spectacular. Crystal bay is also a renowned site for scuba diving. If you are not a scuba diver, you can still get a mask, snorkel and fins on site. But be careful not to exceed the limit of the boats anchored in the bay, the currents can be violent.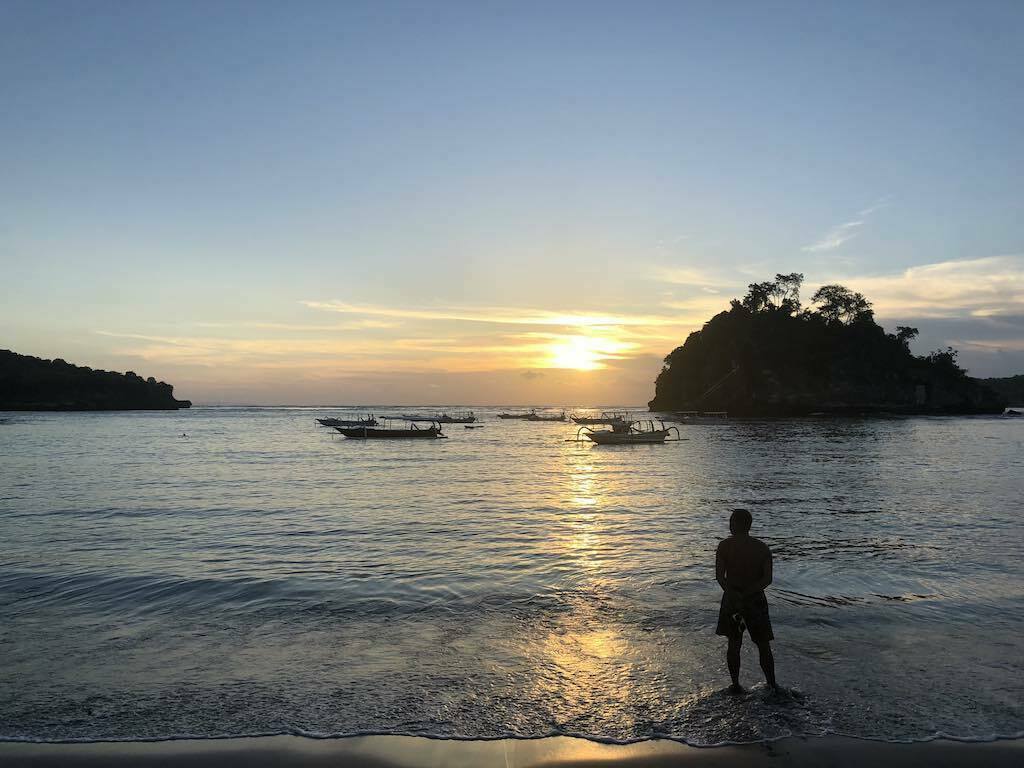 Atuh Beach and Diamond Beach
Atuh Beach is, along with Crystal Bay, one of the most beautiful beaches in Nusa Penida Island, now very easily accessible. It takes about an hour from the port of Toyapakeh to reach it. If you take the right route you will have Atuh Beach on one side and Diamond Beach on the other. This second beach is best known thanks to the stairs cut into the cliff. A must for social networks addicts. Atuh Beach is especially pleasant for swimming at high tide, because there are not too many waves or currents.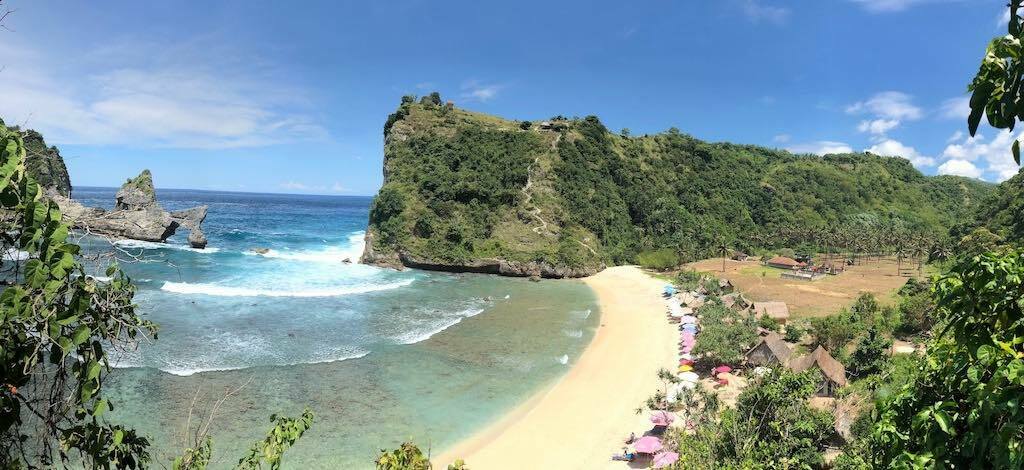 Warnakali dive resort
After this top 5 places to see in Nusa Penida Island, I cannot resist including two places that I particularly like. And not only because I created them ! Warnakali is a PADI 5 star Instructor Development Dive Resort. It is threefold : a diving center, a restaurant and a hotel with its spa. With the same characteristics : an incredible view of the sunset on one side and the Agung volcano on the other.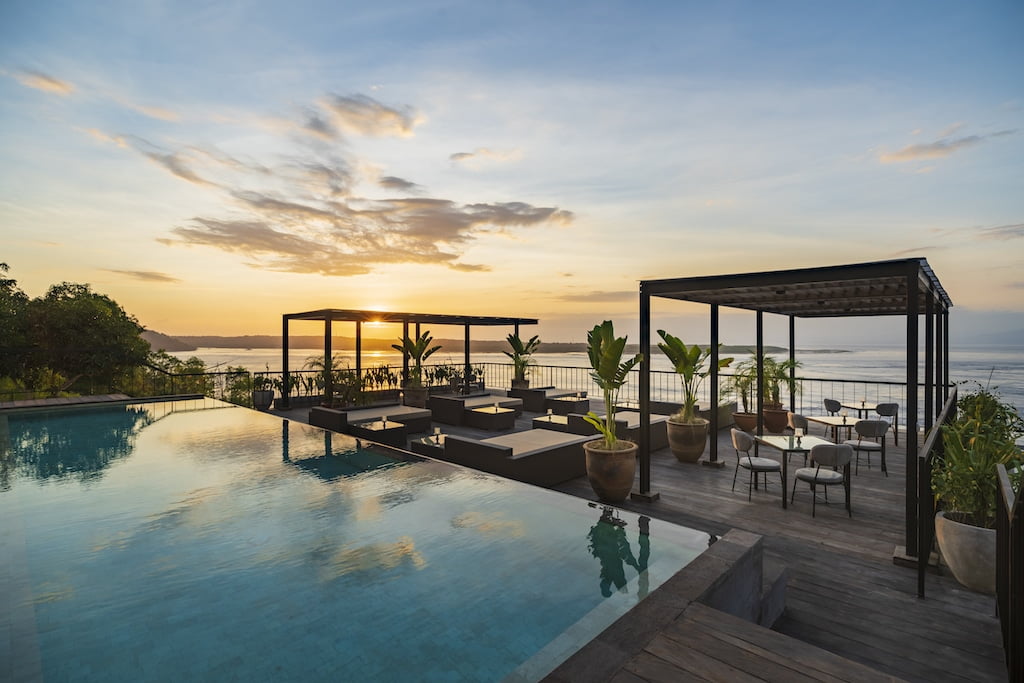 Amok sunset
Amok is a sunset bar and restaurant built of bamboo at the top of a promontory overlooking the sea. It is a privileged place for lunch, dinner, spending the afternoon by the pool or enjoying the sunset. It is the number 1 restaurant in Nusa Penida Island on Tripadvisor. The pictures speak for themselves …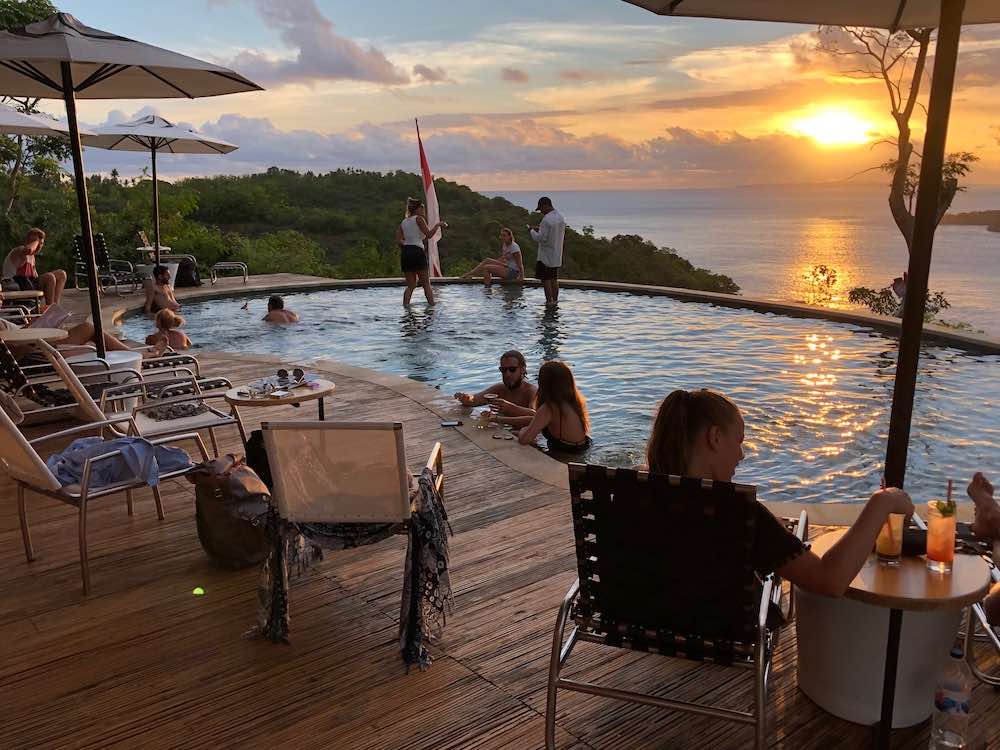 Gamat Bay
Before having a drink at Amok sunset, it may be worth a detour to Gamat Bay. This beach is the little sister of Crystal Bay, but more wild. Its bay is a real aquarium, but the currents can be strong, and there will probably not be many people watching you. You really need to bring your own fins if you want to snorkel at Gamat Bay. Or stay where you are. It is also a very nice dive site.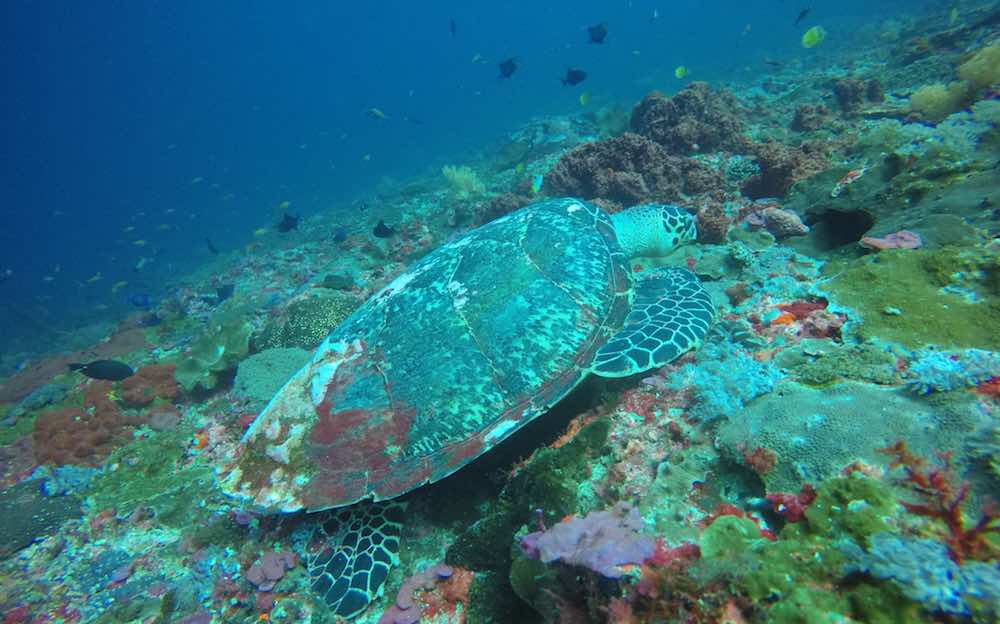 Goa Giri Putri
We completely change category for this n° 9 of the places to see in Nusa Penida Island with the temple of Goa Giri Putri. It is a temple, or rather a succession of temples, built in a cave. The Balinese Hindus come to follow a purification course which lasts a few hours because it includes a stop at each temple built in the cave. You can go faster but at least try to participate in the double ceremony of the last temple before the exit, half Hindu, half Buddhist.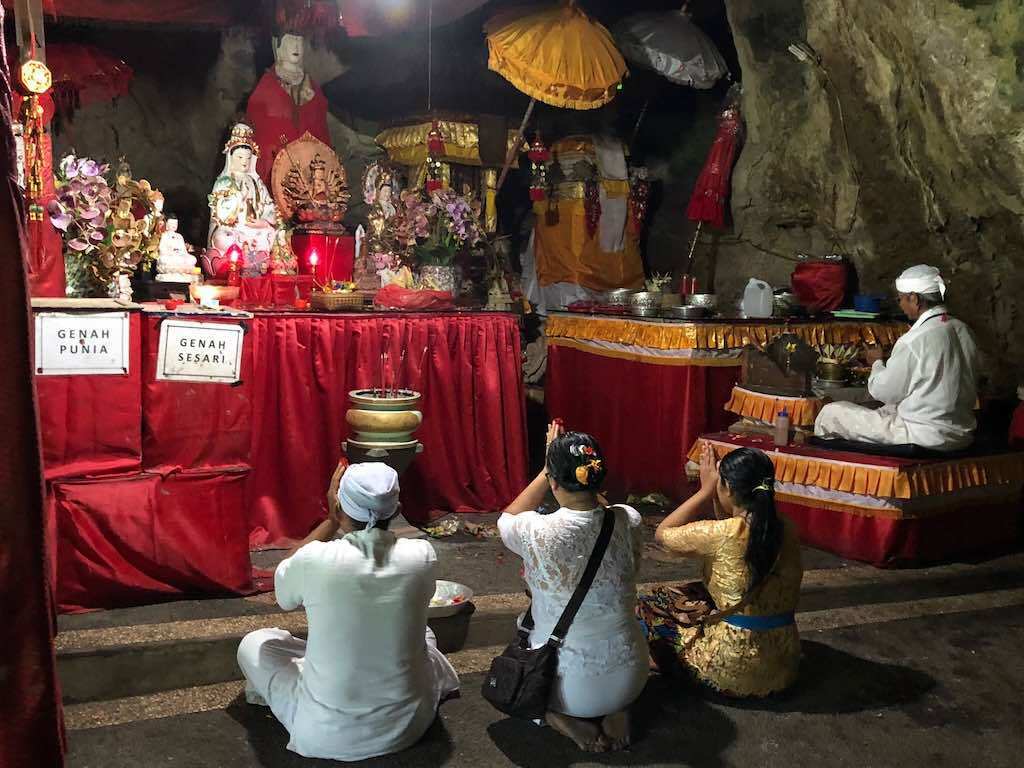 Toyapakeh Harbour
Toyapakeh is the arrival port on Nusa Penida for most speedboats from Bali. It is also a very famous scuba diving site, especially for drift dives. I like having a breakfast or a fruit juice at Warung Restu, by the beach. It is the only Muslim village on the island, which gives it a doubly exotic aspect.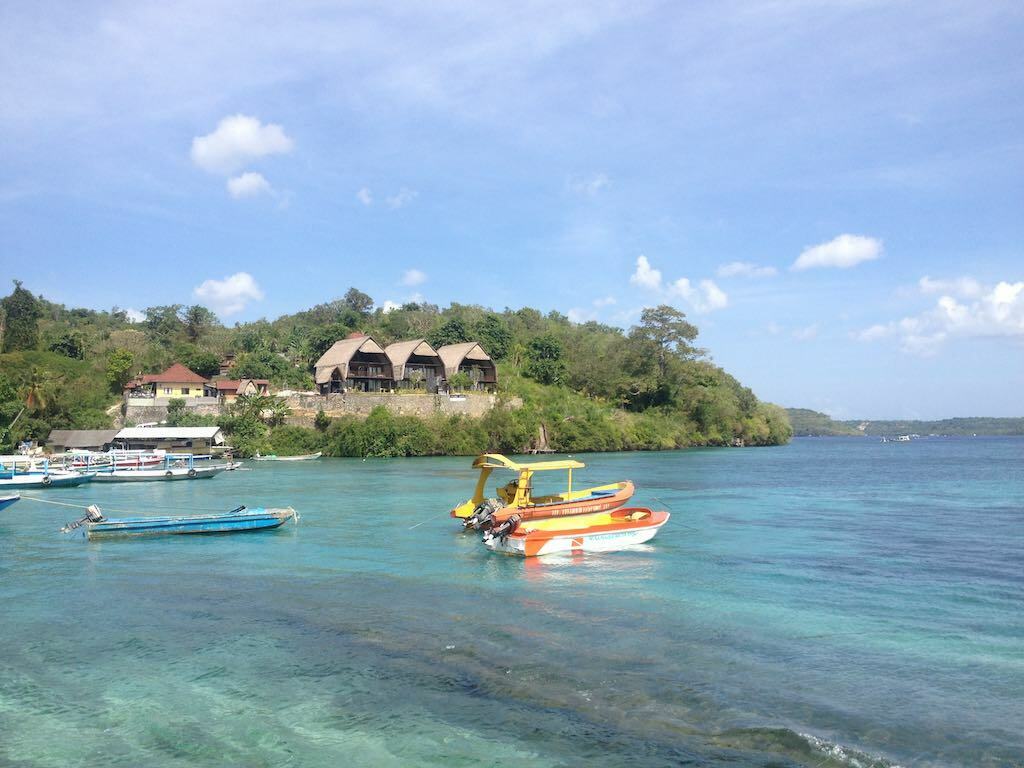 Temeling
With Temeling we are now entering into the last part of our ranking of sites to see in Nusa Penida Island. I really like these 4 last places because they are very beautiful and much less visited in Nusa Penida.
Temeling is a primary forest, a natural swimming pool and two very romantic places by the sea. The scenery is guaranteed and the variety of atmospheres, between the walk in the virgin forest and two small deserted beaches, should seduce you. A very nice half-day ride.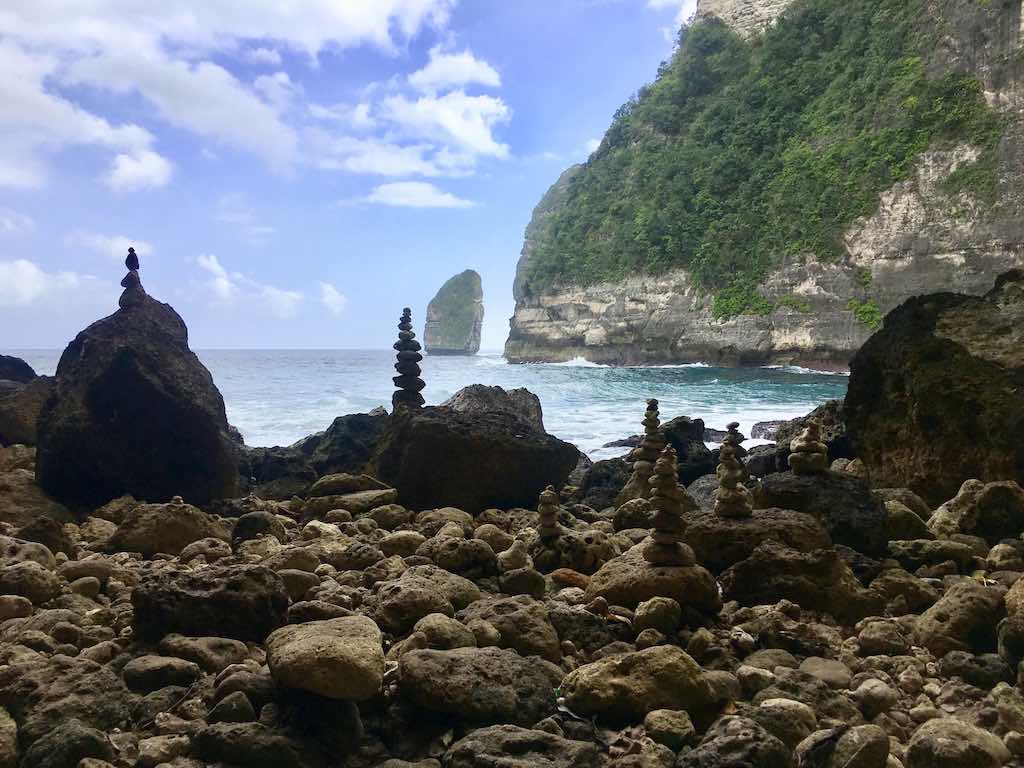 Guyangan Waterfall
Guyangan Waterfall or Peuyangan is best known for its blue staircase which descends along the cliff. From there you will have a breathtaking view of the cliffs of Nusa Penida Island. To reward you, at the bottom of the stairs and after going through a small temple, you will find small natural baths on the cliff side. You can refresh yourself after a descent that could be described as dizzying. Above all, you can safely face the waves that break on the edge of the cliff. Guaranteed sensations!
Suwehan Beach
Suwehan Beach is one of those very beautiful beaches of Nusa Penida Island which is still quite wild because apart from the classic tours. However, it is now rather easy to access with the brand new staircase which allows you to descend in less than twenty minutes. It is quite close to Atuh Beach and it might be a good idea to combine the visit of the two beaches in the same itinerary. Please note that you have to choose a time for your visit: rather in the morning because the beach faces east. And rather at low tide because otherwise there will not really be a beach …

Seganing Waterfall
Seganing Waterfall is one of the sites on the southwest coast of Nusa Penida Island where you can admire magnificent landscapes. And make yourself a little fright by going down the cliff side following a more or less well traced path. And more or less well protected … But do not expect to see a waterfall fall from the top of the cliff, or you may be disappointed …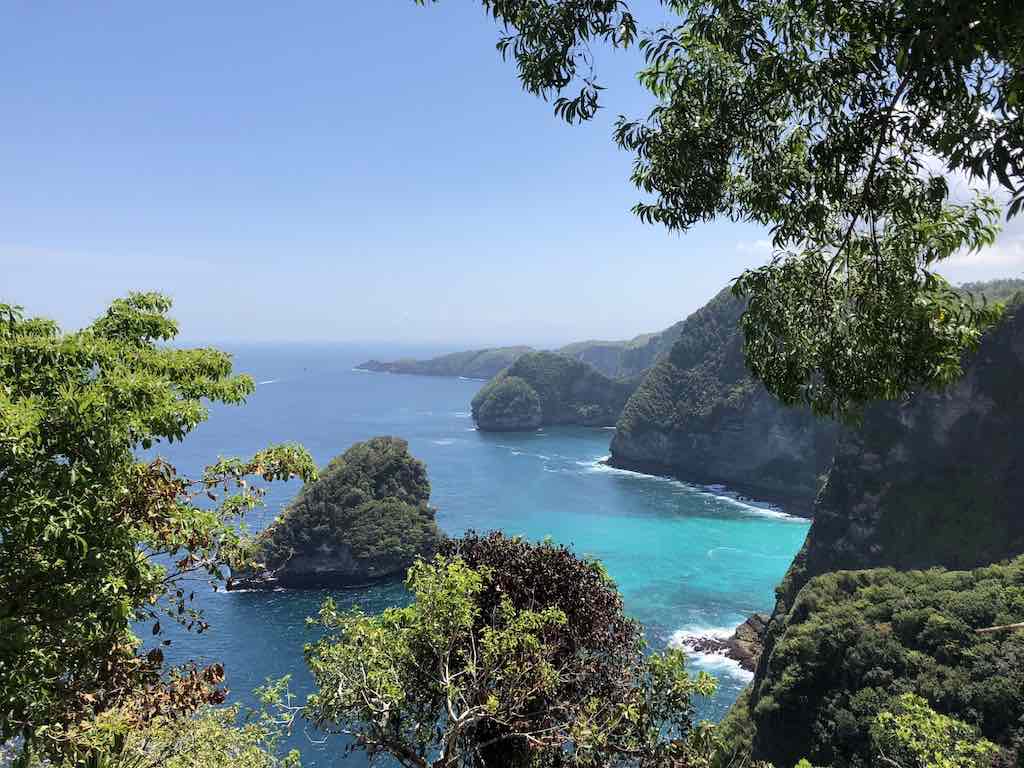 Nusa Lembongan
Nusa Penida designates the archipelago of the three islands : Nusa Penida, Nusa Lembongan and Nusa Ceningan. These last two are connected by a yellow bridge that collapsed a few years ago but was rebuilt identically (hopefully more solid …). These two islands are very small and you will have gone around in two hours on a scooter but it can still be worth going for a ride. I'll let you judge !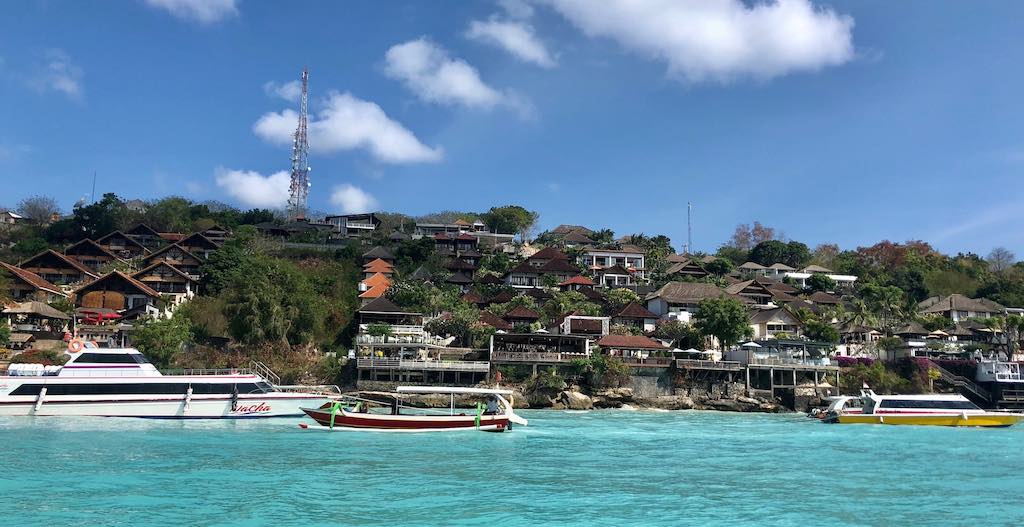 Any question ?
Beyond the places to see in Nusa Penida Island you will also find information on this website on what to do in Nusa Penida ? And lots of other practical information, including how to get to Nusa Penida ?
But if you can't find the answer to your questions, feel free to add a comment on this page. I would be happy to try to answer you !