PADI OPEN WATER DIVER
The PADI Open Water Diver course is recognized everywhere in the world as the first level of autonomous diving. Learning to dive is an incredible experience. Join us and get your PADI open water certification at Dune Warnakali dive center in Nusa Penida !
You will take your first breath underwater and you will never forget this new feeling. Beyond this discovery, you will also learn everything that is necessary for your comfort and safety to become a certified diver. Ready to discover the underwater world.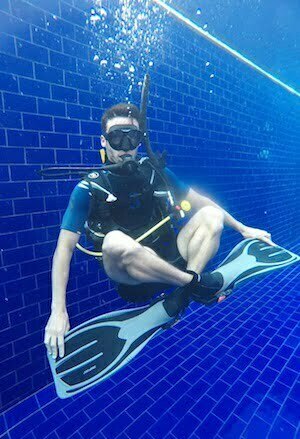 Your PADI Open Water Diver course
It starts at home, like a teaser for your vacation
Your PADI Open Water course with Warnakali will start at home, like a teaser for your vacation. Thanks to e-learning you will start learning at home the theoretical basics of scuba diving.
E-learning is an electronic presentation of the 5 chapters of the course, including knowledge reviews and a final exam. Easy to access, it allows you to walk lightly with the knowledge required for the Open Water PADI course. As you advance through the sections of this e-learning, your underwater dream will begin to take shape before you even leave.
Once you arrived in Nusa Penida, final exam completed
The PADI Open Water course with Warnakali includes three main phases, under the supervision of your instructor :
First, the development of your theoretical knowledge incorporating the basic principles of scuba diving. This will include revising and deepening the knowledge acquired with e-learning.
Then 5 dives in the pool, to learn the basic techniques.
Finally 4 dives at sea, on the diving sites of Nusa Penida. You will then use your skills to start exploring the seabed!
A 3-day training
Your instructor will accompany you throughout these 3 full days. It will ensure that you have time to assimilate knowledge correctly. And you will practice the exercises with him at your own pace until you are perfectly comfortable.
Dune Penida diving instructors
Warnakali instructors are professional and enthusiasts. They were trained around Bali and Nusa Penida archipelago. Through their education and training, they know perfectly well the dive sites and the environment. All of them speak English.
You will have the chance to meet them on the boat. On board, they will be happy to share with you experiences, pieces of advice, or simply a good time. Buraq 3 is a boat dedicated to good time and nice exchanges between divers. Whatever their level, as long as a smile is present !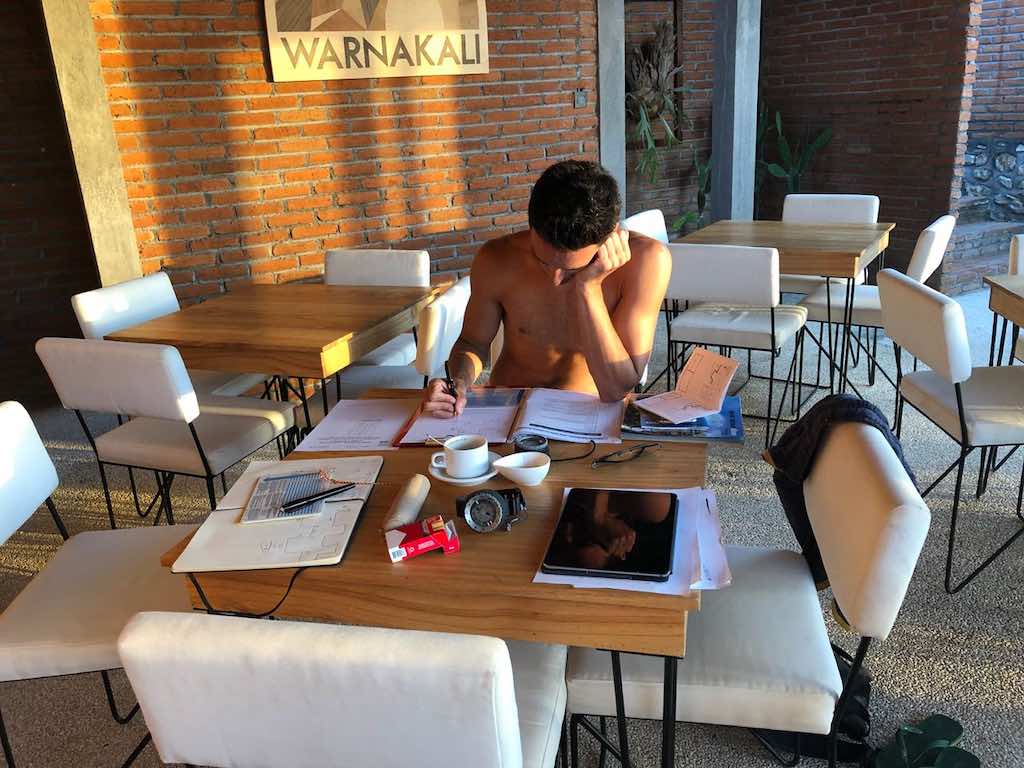 PADI Open Water Diver e-learning
E-learning at home
The e-learning is presented in different chapters and sub-parts, which you can download in full or by section. You will find all of the theoretical baggage necessary for scuba diving. Each section describes the basic concepts of diving. Each includes text parts, several videos and a mini exam.
The PADI Open Water e-learning will end with a final exam which will validate the assimilation of the necessary knowledge. This initial learning process finalized before landing on Nusa Penida will allow you to take even more pleasure during your course. But also to free yourself up time to fully enjoy the island and your vacation.
Knowledge review in Nusa Penida
After your arrival at the center we will fill out the administrative and medical forms together. We will then begin a rapid review together in order to validate your knowledge as well as the development of less obvious concepts.
This is the first moment in a long series of discussions between you and the instructor . These exchanges will allow you to deepen your knowledge, to discover the world of diving. But also to define your objectives and expectations for this course. The theory will be present during all the moments on the surface. And each of your questions will then be answered over the next 3 days.
Educational material
All the material required for the PADI Open Water course is provided by the dive center. In addition to the diving equipment, you will have on-site teaching aids such as submersible slates. But also security equipment and all the logistics adapted to serene learning in an idyllic setting.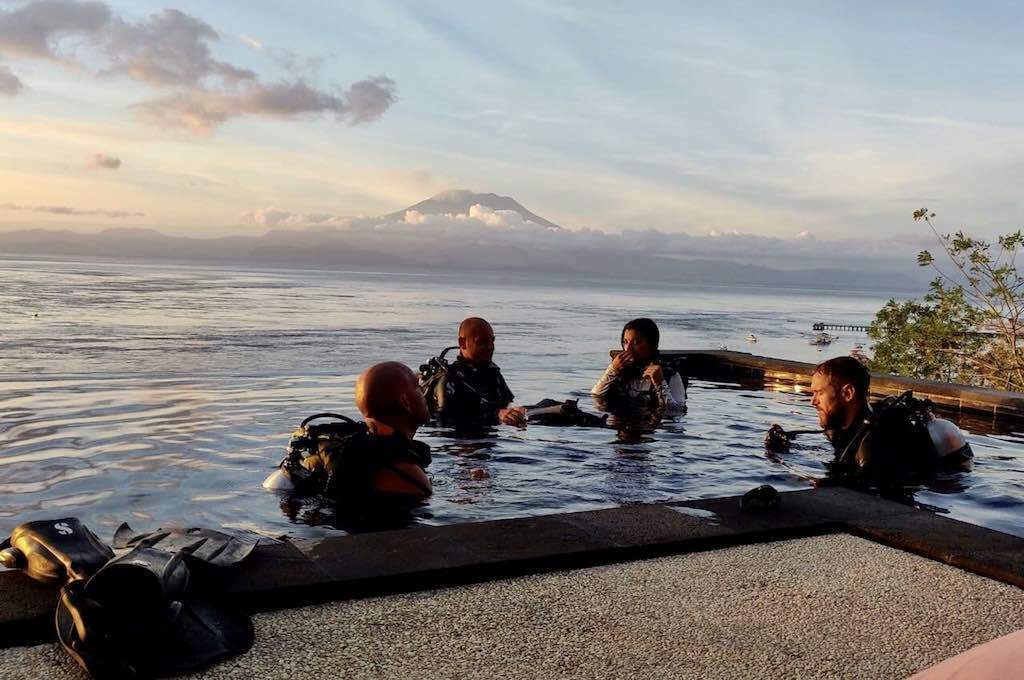 Practice your new skills in the pool
After PADI Open Water theory, it is now time to go to the swimming pool. And breathe underwater for the first time!
You will gradually learn the way to combine pleasure and safety during exercice dive. First you become familiar with the diving equipment in the shallow part of the pool.
The 3 meter deep pool
Then you will go into the 3 meter deep pool to learn how to control yourself underwater and equalize your ears in a reassuring environment. You will then do the exercises by following the demonstrations of your instructor, first in shallow depth and then in the deeper part of the pool.
The end of this pool day will end with a mini "fun" dive, enough to put you in real conditions to approach your sea dives serenely. You will have the opportunity to progress at your own pace. And be able to interact with your instructor by practicing techniques in order to be completely comfortable during your dives at sea the next day.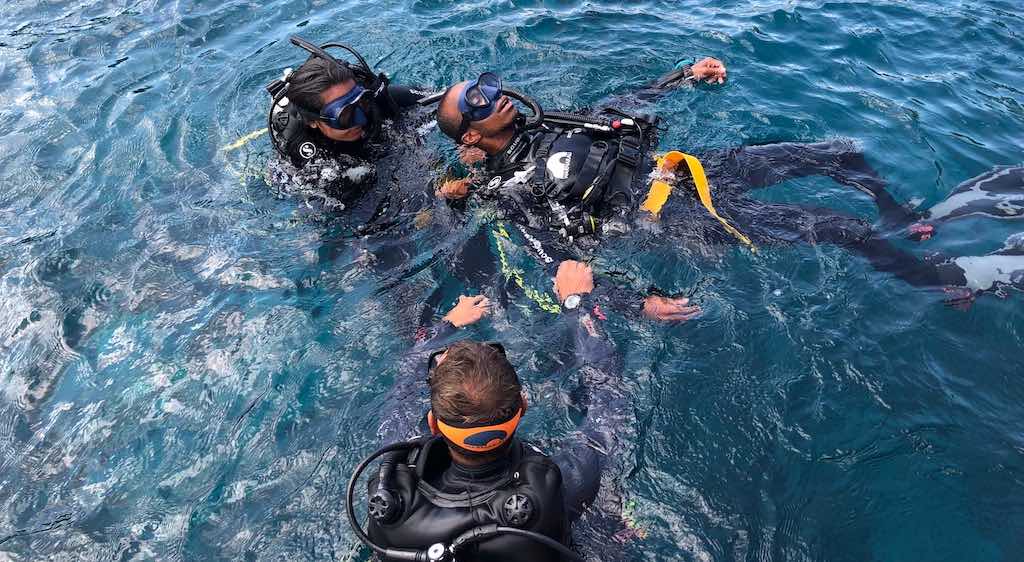 4 dives in Nusa Penida
Nusa Penida diving sites are very diversified. This way you can take advantage of each dive to learn and have a good time. You will evolve and put your new skills to good use during our two mornings at sea through surface exercises and underwater exercises. All of them already practiced in the pool.
Each of these dives will be an opportunity to learn, to practice but also to live your underwater explorations. During the exploratory part of each dive, the very rich aquatic life on the sites of Nusa Penida will amaze you. Each day, your instructor will suggest different dives depending on the conditions and the exercises to be performed. The idea will always be to achieve educational objectives in a simple and secure way.
The first dive
During your first dive, we will focus on sensations at sea. You will already start to put into practice the good habits covered during your e-learning. You will develop them at sea with your instructor, based on theory and on pool dives. As time goes on, you will become more and more comfortable with this brand new environment.
Until arriving at your fourth dive where you will learn how to do your briefing and organize your dive in buddies. It will be your first almost autonomous scuba dive. But your instructor will still be there to guide and accompany you. This will allow you to enjoy a safe dive at the same time.
Memorable dives
In addition to obtaining a certification, the goal is to make your dives memorable. Such as a dive with manta rays at Manta Point or dive with a Mola Mola at Crystal Bay for example ! And if you want to know more read our guide of diving in Bali and Nusa Penida.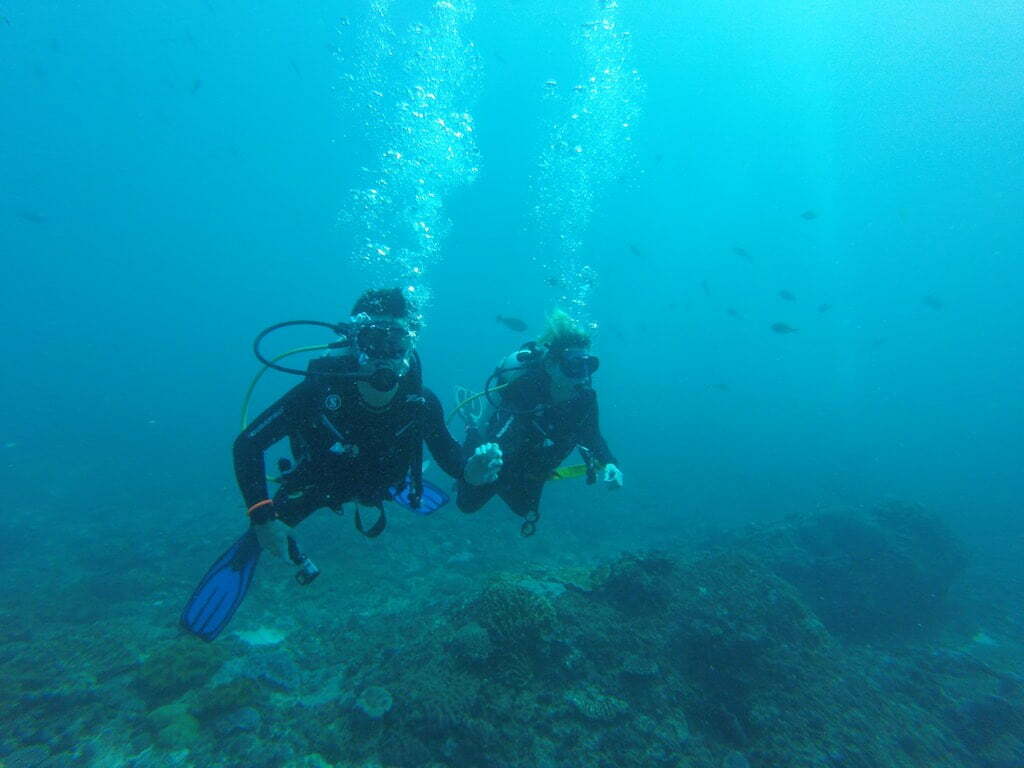 Who should take this PADI Open Water course ?
You've always wanted to take scuba diving lessons, experience unparalleled adventure and see the world beneath the waves ? This is where it starts. Get your scuba diving certification with the PADI Open Water Diver course – the world's most popular and widely recognized scuba course. Millions of people have learned to scuba dive and gone on to discover the wonders of the aquatic world through this course.
To enroll in a PADI Open Water Diver course (or Junior Open Water Diver course), you must be 10 years old or older. You need adequate swimming skills and need to be in good physical health. No prior experience with scuba diving is required. It is however possible to start with a discovery dive.
Some also decided to get their Open Water certification as a couple, with friends or even between mother and daughter. It will remain a highlight for all of them !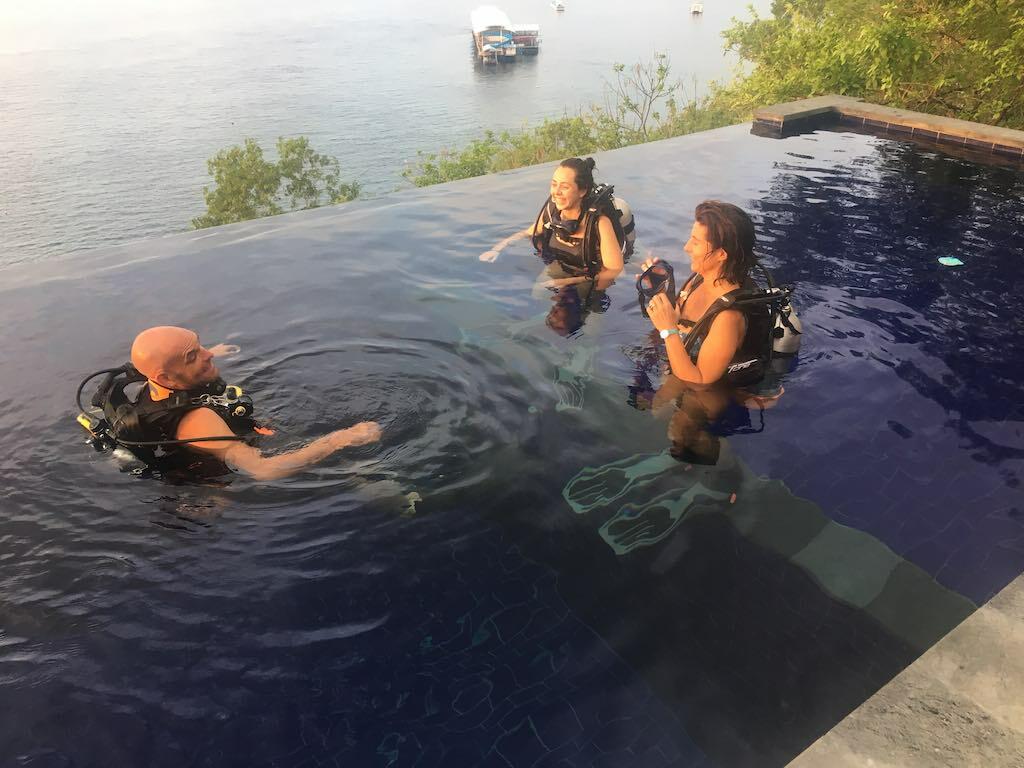 What scuba gear will you use ?
In the PADI Open Water Diver course, you learn to use basic scuba gear, including a mask, snorkel, fins, regulator, buoyancy control device and a tank.
All equipment at the Warnakali Dive Center is maintained by qualified personnel. All the required security equipment is also available on board of the boat.
Top of the class facilities
You will use the very high technical facilities of the Warnakali diving center in Nusa Penida :
classroom for indoor courses.
shallow pool to become familiar with the equipment.
3-meter deep pool to practice the

basic exercises in a reassuring but representative environment, before diving in the sea.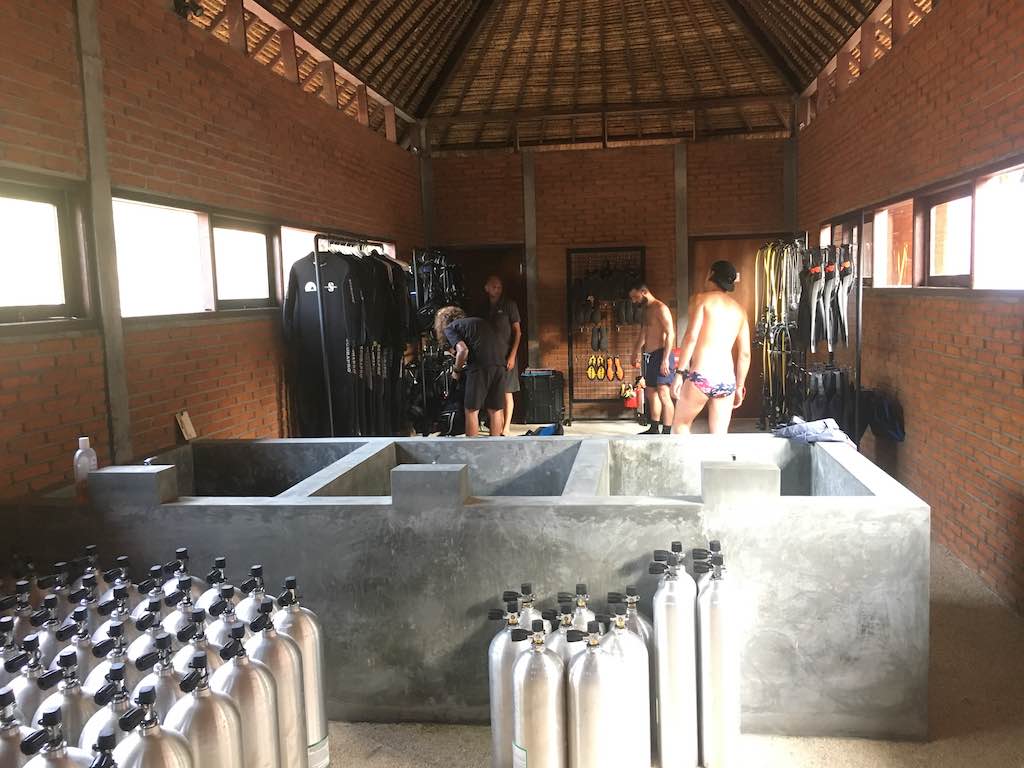 Enjoy a unique location
Warnakali Dive Center offers one of the most beautiful views of Nusa Penida on the Lembogan Strait, Mount Agung and Bali in the distance. Its 3 meters deep infinity pool is a must for training. But also to admire the sunset. So, after your training at the pool or after your dive at sea, indulge yourself with an aperitif or a dinner by the pool !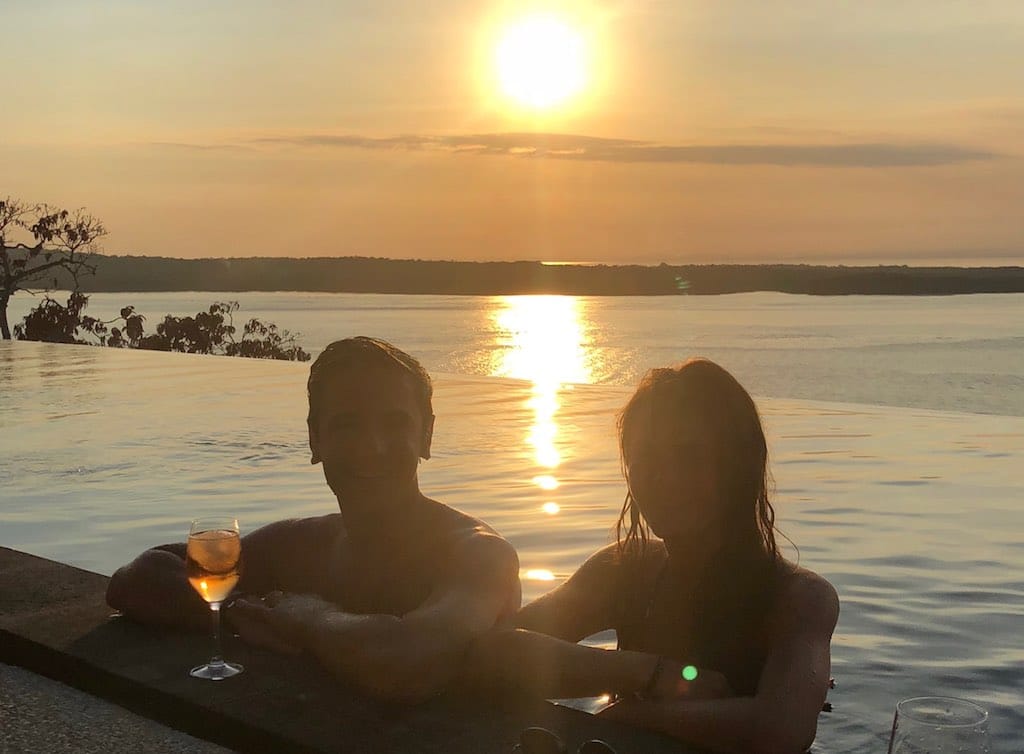 Open water "plus", open the doors of infinity
During your Open Water PADI course, we will teach you all the techniques necessary for your comfort, in order to dive safely.
In some part of the world, often far away, or during a scuba diving cruise, it will be better to breathe an oxygen-enriched gas, called nitrox. This is sometimes even mandatory by local regulations. This additional oxygen supply pushes the limits of diving, increases safety, and for some reduces fatigue. Without even going to the end of the world, nothing like it to enjoy your weekends and holidays dedicated to your new leisure.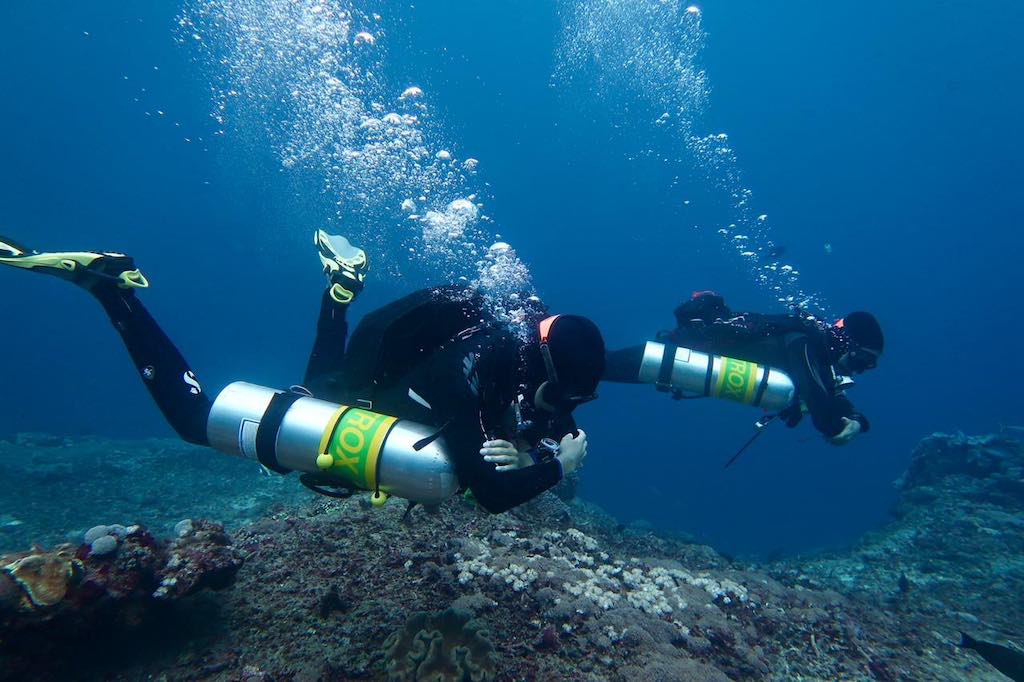 The Nitrox course
In addition to your theoretical training, the EANx course dedicated to Nitrox will allow you to deepen your knowledge. First as for the use of your diving instruments, mainly your computer. but also on the concepts of gas exchange, essential in planning your dives.
This training is also based on a much faster e-learning training. The e-learning will be followed by a theoretical exchange with your instructor. It will also be a privileged moment to discover the logistical aspects of scuba diving. In particular the management of bottles or the daily gestures of our teams, in the warm universe of our equipment room.
The answers to your questions
This is also the time to ask all kinds of questions to our technicians, regarding the maintenance of your equipment. And also, why not, glean some ideas for a stroll on their native island. Made and his team will be happy to answer your questions. Probably with the help of your instructor, who will become a translator!
This training will end on your fourth open water dive, with your first nitrox exploration dive.
Once certified, no more sites around the world will be banned from you. It is also a way to enter the world of diving in the best possible conditions, proud of your achievements, curious and impatient with your future discoveries.
Read some reviews from other divers !
Warnakali received more than 300 outstanding reviews from divers around the world. Read them and contact us if you have any question. It is always a pleasure to discuss with scuba divers.
Here are the latest reviews from happy divers :
Open Water Course
Ilham was my instructor for my open water course at dune penida . He has been very knowledgeable and patience the best instructor. Helped with practicing all my skills from PADI theory course both in confined pool and open waters. Even under water guided me along every course of my dives. Shubhankar
Open Water in Nusa Penida
I just spent 3 days learning how to dive to get my Open Water certificate and it was a magical experience. The sites were incredible and our instructor Paul was very attentive and celebrated all our wins! I will definitely recommend this place to my friends and family, thank you for such an unforgettable experience! Celine
Excellent
Great Club to dive with. Instructors are responsive and attentive. They make sure to escort you safely to the best spot in line with the conditions. Good material and very good organization. I highly recommend this club to dive in Nusa Penida and get any chance to see the great Manta in the best condition.Thank You Warnakali team
Beautiful diving
Great time and great diving enjoying so many mantas and beautiful corals. We got the chance to see bamboo sharks too.
Bobby and his team managed the trip and the dives perfectly. 🙂
Professional, Reliable and Fun!!
Looking for dive center? With a professional, fun and a very patient instructor? Warnakali Dive Center is the answer. I had a very fun days with Warnakali Dive Center, I took the open water course, the team were very professional Yvonne is the best Instructor!
They will take you to the best dive sites in Nusa Penida.
Meticulous Fun Open Water Course
It was amazing and pleasant experience to be able to complete my Open water course in Adiwana. Yvonne was very good and meticulous, she makes sure that the participants understand about the shared materials. She was so patient. I fully recommended people to take open water course in here, the diving spots were amazingly beautiful. 1st day was in penida Buyuk and SD point where i was i able to see green big turtle and smaller size turtle. And 2nd dive, we went to crystal bay and manta point, i was so lucky to see lots of mantas there.
A Memorable Open Water Course with Yvonne!
I took open water diving license with Warnakali Team. It was a fantastic experience, no question, it quickly became one of those memories I will never forget. Yvonne was my divemaster/instructor, I'm so grateful that I had my first dive course with her. She has a very positive aura, you have the feeling that you get when surrounded with your best friends. I firmly recommend her and Warnakali Team to any first time diver.