Kelingking Beach is one of the most famous spot of Nusa Penida, often featured in advertisements for Bali and Indonesia. Its unique rock formations resemble the backbone of a dinosaur and it's even nicknamed T-Rex Bay on Google Maps. From the top of the cliff, visitors may even spot Manta rays.
Tourists flock to the esplanade for breathtaking views and drone photography. The popularity of Kelingking Beach has greatly contributed to the tourist growth of Nusa Penida island, particularly through social media. Interestingly, "Kelingking" also means pinky finger in Indonesian, but the reason behind it requires a little imagination.
More than 400 000 photos on Instagram
The star attraction of Kelingking Beach is the breathtaking viewpoint atop the cliff. While the coastline boasts magnificent cliffs, this one is truly exceptional! A selfie with the T-Rex is a must, but be prepared to share the spotlight with other Instagrammers. As of January 2018, over 13,000 photos had been posted with #Kelingking and over 25,000 with #kelingkingbeach. Fast forward to February 2023, and those numbers have skyrocketed to over 100,000 and 450,000, respectively ! Everyone strives for the perfect photo, some even climb the dead tree (joining the crowds, of course).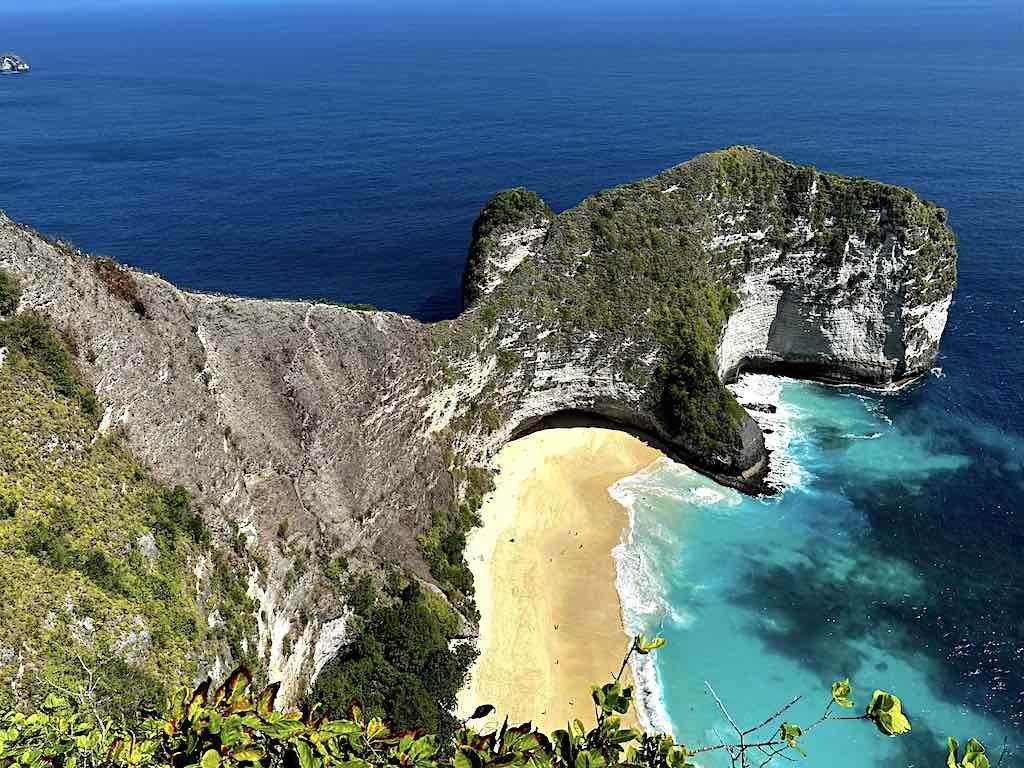 The locals are constantly brainstorming unique bamboo platforms, offering distinct perspectives and backdrops for that coveted photo op. And we increasingly see couples accompanied by professional photographers equipped with drones to capture incredible videos and photos! I recommend heading up the cliff a bit, to the right when facing the sea, to get away from the crowd and capture some nicer photos without the hustle and bustle.
Please avoid any accident at Kelingking Beach
Tourists often showcase their creativity to capture unique photographs, but some may take their adventures too far. In 2019, a press article reported a tragic incident at Kelingking Beach, where a young Russian girl fell off a cliff while riding a scooter. Shockingly, the article mentioned that scooter remained intact at the cliff's top. Unfortunately, another accident occurred on December 22nd, 2020 and many more since the reopening of the borders. Swimming at Kelingking Beach is now forbidden, after a European tourist drawned in violent waves after trying to rescue another tourist in February 2023.
If you plan to hike down the cliff to the beach (which I highly recommend!), please exercise caution. Bring plenty of water to stay hydrated, wear a hat to prevent sunstroke, and most importantly, wear proper shoes. The first time I descended, I made the mistake of wearing flip-flops, which was a poor choice. Luckily, proper stairs have been installed, making the path much easier to navigate than it was a few years ago.
After descending, you'll be greeted by a stunning beach. While the allure of swimming may be irresistible, be wary of the powerful waves and currents that can carry you out to sea. Sadly, Kelingking Beach has experienced multiple drowning incidents, making the warnings imperative.
However, don't let these precautions dampen your enthusiasm – the trip to the beach is well worth the effort.
Kelingking Beach : do you really deserve it ?
Kelingking Beach is undoubtedly one of the most picturesque beaches in Nusa Penida island, and in my opinion, the most stunning in Bali under the "wild beach" category. Even if you are not inclined to descend to the beach, take a stroll along the narrow path that meanders down the ridge line for a few meters. It's a quieter spot to admire the panoramic views and click better photographs.
I have a piece of advice for you – take your pictures before descending the trail, as climbing back up might leave you less photogenic. The initial part of the trail, up to the first turn, is relatively easy and gives you a fair idea of the entire trek. You can decide here if you have the grit to hike down to the beach or head to other accessible beaches like Crystal Bay or Atuh Beach, especially if you are with kids.
Some time ago a fire destroyed the vegetation and the elaborate network of ropes and wooden poles that facilitated the descent. However, the trail to the beach has been reconstructed and is much safer now. So, don't abandon the trek halfway, as the climb up is more manageable than the climb down. The incline is towards you, making it more secure and paradoxically less strenuous.
How long to go down to Kelingking Beach?
It takes 20 minutes to get down to Kelingking Beach. To ensure safety, it is important to wear proper footwear and take caution with each step. Signs clearly state that access to the beach is solely the responsibility of the individual. The ascent back to the starting point may take up to 30 minutes.
How tall is Kelingking cliff ?
Kelingking Beach cliff is around 150 meters high.
For those who love records, here are the challenges to beat.
Setting a new speed record for descending to Kelingking Beach: A particularly athletic young man, who didn't want to leave his girlfriend alone for too long, managed to descend and ascend the steep cliff path in just 20 minutes (according to him). He was obviously very much in love and / or very jealous.
Making a double descent to Kelingking Beach: Another tourist, having returned to his scooter, realized that he had left his keys on the beach. He went down the cliff path again to search for them, and fortunately, he found them!
Going down to Kelingking Beach daily : Local vendors now bring down cold drinks to sell on the beach every day. However, they don't seem to understand the law of supply and demand as they charge the same price as elsewhere. It's likely they pack up shop when their cooler is empty, but they may refill it several times throughout the day.
The beach down at Kelingking is stunning. But, as with everywhere on Nusa Penida island, be cautious of strong waves and currents that could pull you away.
How do you get to Kelingking Beach ?
The route leading to Kelingking Beach has been recently renovated and is in excellent condition, except for some relatively large potholes on the side towards the end. It's quite feasible to navigate the route independently by riding a scooter, but do exercise caution on the road as traffic can be heavy. If you're traveling in a group of four or more, it may be more convenient to rent a car with a driver.
To get there, turn left after the village of Sakti (the right road leads to Crystal Bay) when coming from Toyapakeh. Then, take the first road on the right and follow the signs. The route is straightforward and signposted at every intersection. It should take about 30 minutes to get to Kelingking Beach from either Toyapakeh or Crystal Bay.
There are many options to combine the visit of Kelingking Beach with other places to see. Check here some ideas of tours in Nusa Penida including Temeling, Broken Beach and Angel Billabong.
And you can find also more practical information, including how to drive and how to get around in Nusa Penida.
How do you get from Bali to Kelingking Beach ?
You will find all information about how to get to Nusa Penida island from Bali, which port to choose in Bali and in Nusa Penida, how to choose the best fast boat to go to Nusa Penida, all the time tables and prices in this page : https://nusapenida.org/information/nusa-penida/get-to-nusa-penida-from-bali/

What is the best time to go to Kelingking Beach ?
Many tourists opt for a daily tour to Nusa Penida, which usually includes Kelingking Beach and Broken Beach. To avoid the peak visiting hours of 11 am to 3 pm, it is recommended to plan your visit accordingly. However, note that the beach is in the shadow of the cliff in the morning. If you plan to go down to the beach, it is best to visit Kelingking Beach around 3 pm. If you only plan to enjoy the view from the top, 4 pm to 5 pm would be a suitable time. While sunset can be spectacular, it may not be ideal to ride a scooter back in the dark, especially if you are not comfortable doing so.
What to do after Kelingking Beach ?
Numerous local eateries have set up shop on the esplanade, offering an array of refreshments such as fresh coconut milk, fruit juice, as well as popular Indonesian dishes like nasi goreng and mie goreng.
If you happen to have a sarong with you, why not take a quick trip to Pura Paluang by taking a right turn as you leave Kelingking Beach? This temple, also known as Pura Car, houses an altar devoted to the deity that safeguards vehicles. Though the aesthetics may seem a bit tacky, it's a lighthearted experience, and you'll be rewarded with a stunning vista of Batu Bolong, which served as the inspiration for Warnakali restaurant's logo.
From the sea
If you go diving at Manta Point to see the Manta rays you will pass with your boat in front of Kelingking Beach.
A very different viewpoint but also very beautiful !