Many of us dream of diving in Bali, and we're here to encourage you to make that dream a reality. Our guide to scuba diving in Bali and Nusa Penida will show you why this region is a top destination for divers. Scuba diving is indeed one of the key activities to do in Nusa Penida. Nusa Penida's dive spots consistently rank in the top 10 dive sites worldwide, and are among the top 3 dive sites in Indonesia, alongside Komodo and Raja Ampat. Divers come from around the globe to encounter the incredible oceanic sunfish, or Mola Mola, and majestic manta rays. But our complete guide to diving in Bali and Nusa Penida will show you that there is so much more to explore!
Marine fauna diving Nusa Penida
Nusa Penida scuba diving boasts an exceptional range of marine life, making it one of its key attractions. We've previously highlighted the presence of pelagic creatures, such as the manta ray and sunfish, but the area also sees a frequent sighting of reef sharks, including the white tip and bamboo shark. On rare occasions, visitors may even encounter a whale shark, like we did recently on March 5, 2023 at Batu Bolong. The waters are also home to a diverse collection of rays, including eagle, marbled, and stingray species, as well as a thriving turtle population. If you're lucky, you may even spot a dolphin or two breaking the surface. And if you're really fortunate, you might just catch a glimpse of these fascinating creatures underwater!
Schools of fish
Various schools of fish, ranging from small to large, can be found here. These include tuna, jackfish, batfish, blue and gold fusiliers fish, and surgeon fish. Moreover, hidden among the crevices, one can spot numerous moray eels and lobsters on every wall encircling the island. Occasionally, octopuses can also be observed.
For macro lovers
Scuba diving enthusiasts who enjoy exploring macro life will find Nusa Penida to be a true paradise. With an abundance of nudibranch species such as chromodoris, flavellin, and nembrotha, it's akin to a thrilling Pokemon hunt, and our collection is already quite impressive! We also take pleasure in spotting rare creatures such as pygmy seahorses, Zanzibar shrimps, and Orangutan crabs.
The coral formations are diverse and mesmerizing, with a vast array of hard and soft coral, all boasting stunning colors. We delight in searching for the tiniest sea anemones, creating unique and breathtaking underwater landscapes.
The visibility is excellent, typically ranging from 20 to 30 meters, and the water temperature remains warm, around 26°C at the surface.
In summary, go diving Nusa Penida island with us, and you'll encounter a dazzling variety of colors and species !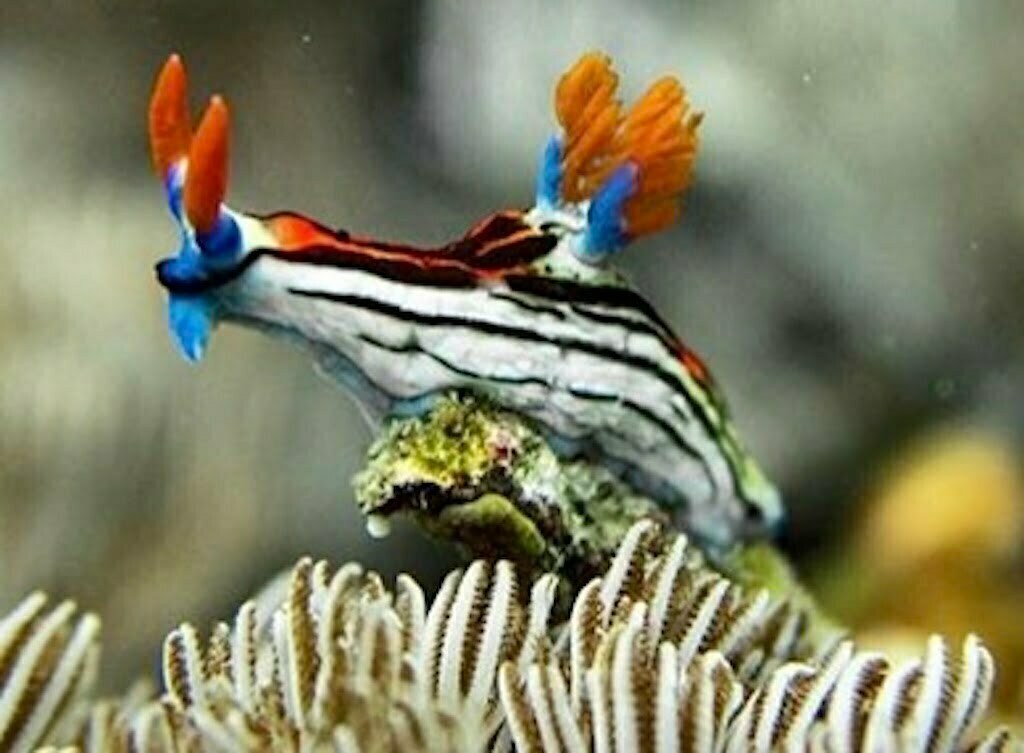 Bali and Nusa Penida dive sites
There are approximately 50 diving locations situated across the trio of islands comprising Nusa Penida, Nusa Ceningan, and Nusa Lembongan. Additionally, the Gili diving sites located in Padang Bay are reachable by boat from Nusa Penida. To learn more, we recommend checking out our article detailing Bali's top 20 diving locations!
Different types of diving in Nusa Penida and Bali
Nusa Penida Island offers a range of scuba diving experiences suitable for all levels of expertise. From drift diving in strong currents to deep diving in search of the majestic Mola Mola, divers of all backgrounds have fallen in love with Nusa Penida's offerings. For those who enjoy wreck diving, the USS Liberty at Tulamben near Amed in Bali is an unmissable destination.
Drift dive in Nusa Penida
Nusa Penida is renowned for its currents, some of which are stable and moderate, such as those found on the north coast of the island, which enable stunning drift dives along the reef. To enjoy the show, maintain proper buoyancy and let the current carry you along.
However, the currents can become more violent in the channel between Nusa Penida and Nusa Ceningan during the middle of the rising or falling tide. These currents bring an abundance of marine life and can make for a breathtaking dive. But you must exercise caution and heed the guidance of your guide.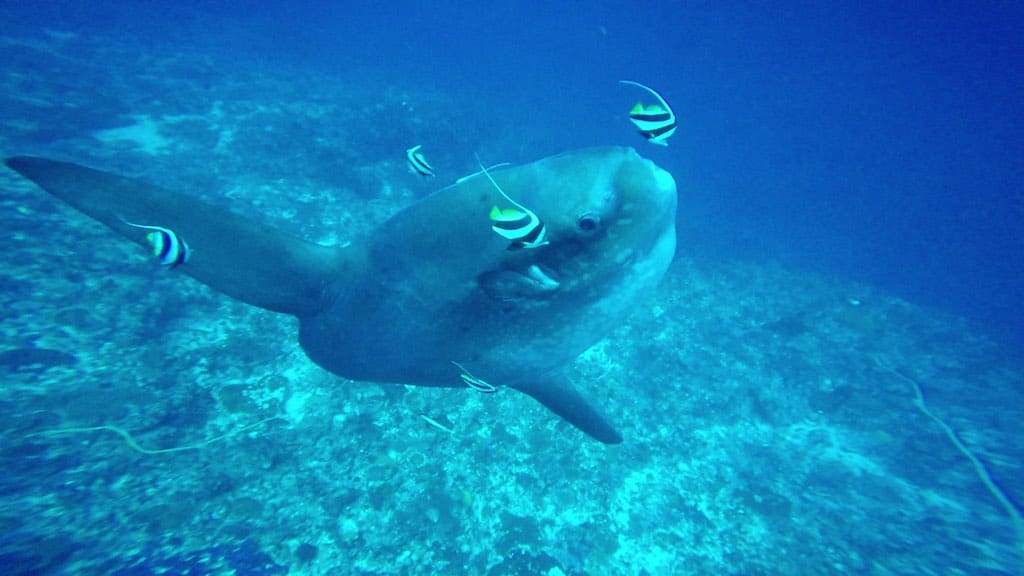 Deep dive in Nusa Penida
One of the highlights of diving in Nusa Penida is the opportunity to go on a deep dive to see the Mola Mola, or oceanic sunfish.
During the right season, which is typically from July to November, the Mola Mola can be found at depths of over 30 meters, making a deep dive necessary to see them. However, for experienced divers with advanced certifications, the thrill of encountering these incredible creatures in their natural habitat is well worth the effort.
Finally, the easiest dive sites allow you to combine scuba diving and snorkeling. Interesting, if your partner does not want or cannot scuba dive with you.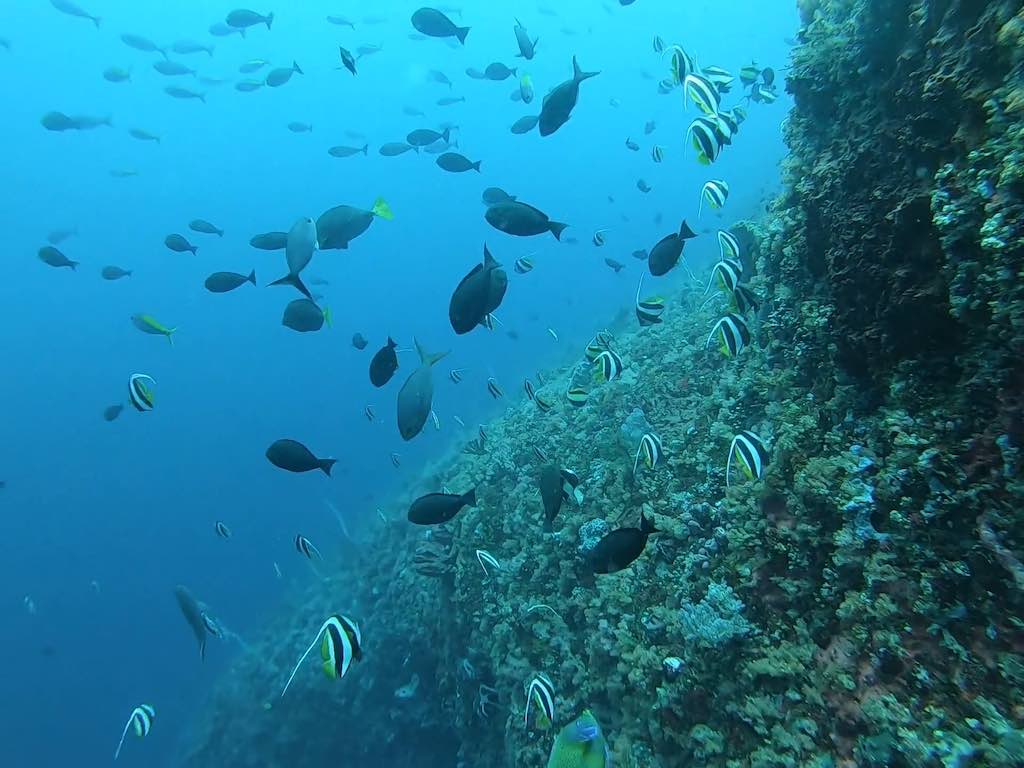 Fish ID dive in Nusa Penida
Nusa Penida is a stunning island located off the southeast coast of Bali, Indonesia. The island boasts an incredible variety of marine life and is a popular destination for divers. One of the most exciting dives you can experience in Nusa Penida is the Fish ID dive.
The Fish ID dive is a great opportunity to learn about the different species of fish that inhabit the waters around Nusa Penida. Under the guidance of an experienced dive master, you will explore the depths of the ocean and learn how to identify different species of fish based on their unique characteristics.
Nusa Penida is home to a diverse range of fish, including angelfish, butterflyfish, clownfish, and more. The dive site is also known for its stunning coral formations, making it an unforgettable experience for divers of all levels.
Whether you are a seasoned diver or a beginner, the Fish ID dive in Nusa Penida is an excellent way to discover the incredible marine life of this beautiful island.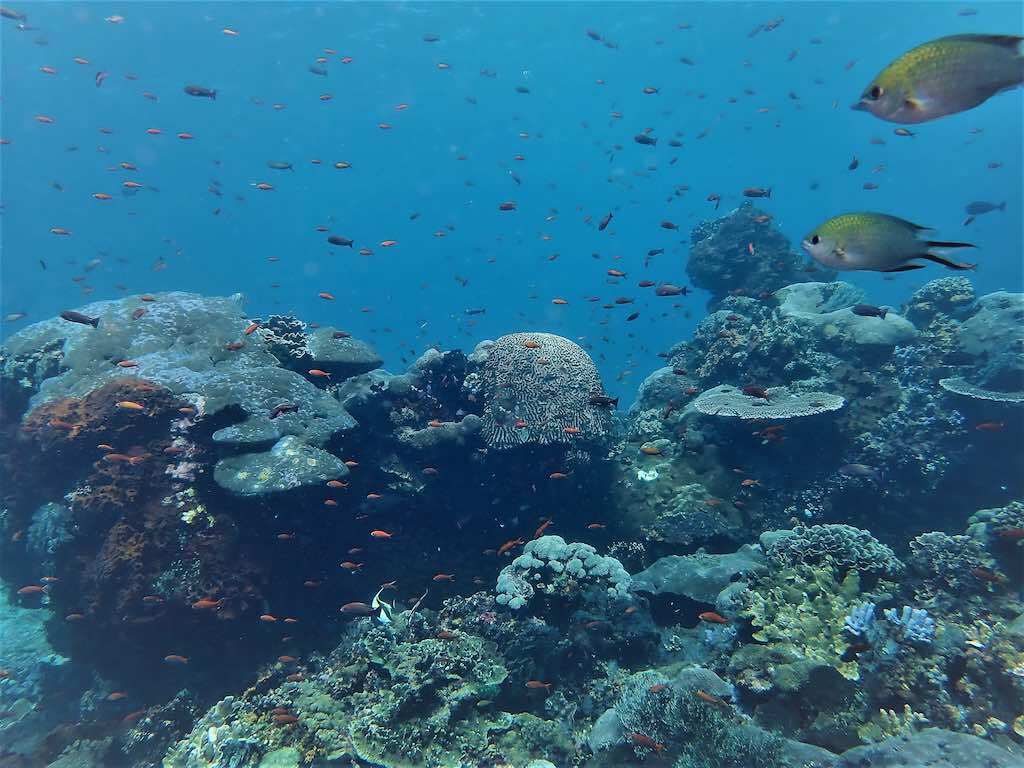 Wreck dive in Bali
Bali's waters are home to some incredible wreck dive sites, offering divers a chance to explore the remains of sunken ships that have become artificial reefs and habitats for a diverse range of marine life. One of the most famous wreck dive sites in Bali is the USAT Liberty shipwreck. This ship was torpedoed during World War II and now rests on the seabed off the coast of Tulamben.
The USAT Liberty is a fascinating wreck dive, with the ship's hull and superstructure covered in colorful soft corals, sponges, and anemones. Schools of fish, such as snappers, batfish, and jacks, can be seen weaving in and out of the wreck. And larger species, such as barracudas and reef sharks, patrol the area.
Other popular wreck dive sites in Bali include the Japanese shipwreck at Amed and the Boga wreck at Kubu. These sites offer unique opportunities for divers to explore history, witness the growth of new coral formations. And also encounter marine life in a completely different environment.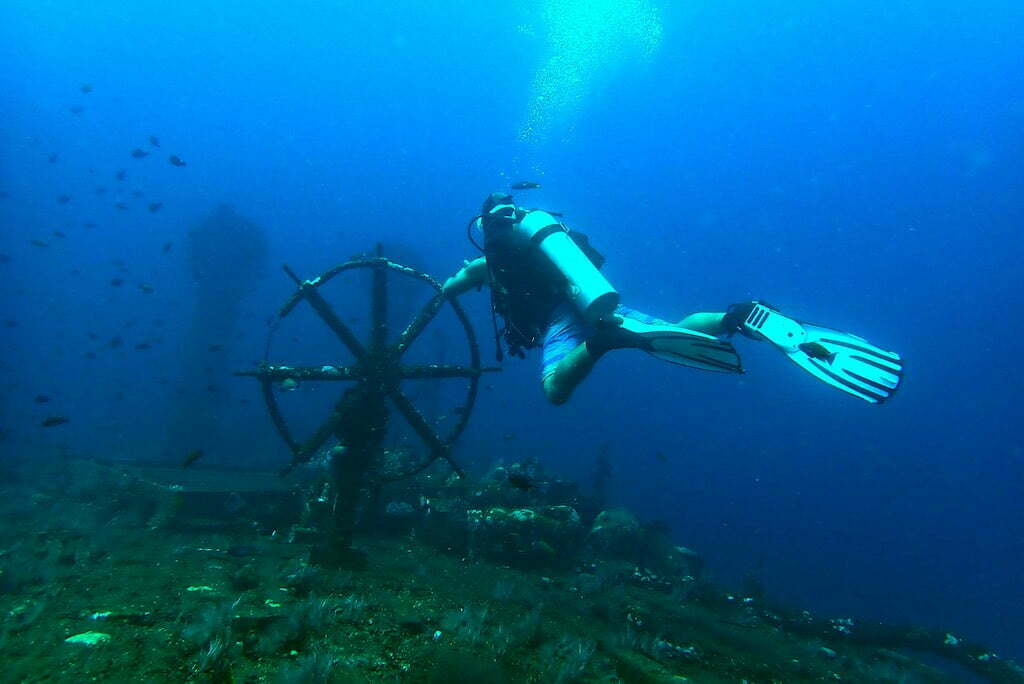 Ensuring Safe Diving in Nusa Penida
When selecting a diving center in Nusa Penida, prioritizing safety is crucial. The region's strong currents, including tearing and downward currents, make safety equipment and experienced guides a must. Additionally, Indonesian law mandates a maximum of four divers per guide.
To guarantee your safety, make sure to select a reputable diving center that provides essential safety equipment like oxygen and radio onboard and provides insurance. Experienced guides and instructors who are familiar with Nusa Penida's diving sites are also essential. Reading reviews from other divers on sites like TripAdvisor can help you make an informed decision.
When is the Ideal Time for Diving in Nusa Penida?
Diving in Nusa Penida is available throughout the year, with incredible marine life to witness. However, to catch a glimpse of sunfish, it's better to schedule your diving trip between August to October, during the Mola Mola season. On the other hand you can see Manta rays all year long. Nevertheless, we guarantee you an unforgettable diving experience in Nusa Penida, regardless of the time of your visit.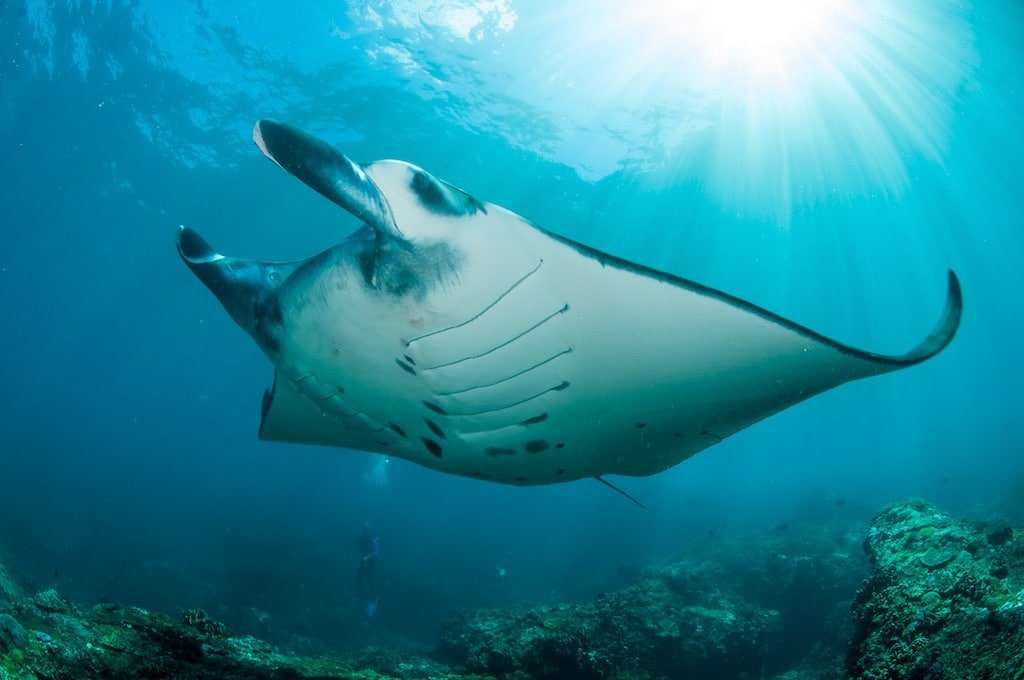 PADI diving course in Nusa Penida
Many of the PADI dive centers located in Nusa Penida provide PADI diving instruction. The area's wide range of diving options and strong currents represent a significant advantage. With a skilled instructor, completing your training in Nusa Penida can enable you to scuba dive confidently in nearly any location around the globe! The most sought-after PADI certification is the open water diver.
Why choose Dune Penida for your dive in Nusa Penida, Bali?
In 2017, Dune Penida diving center was established under the name of Warnakali. As the first PADI certified diving center in Nusa Penida, it quickly gained recognition. And joined the exclusive club of PADI Five Star dive resorts in Bali in less than two years. With several hundred 5-star reviews on Tripadvisor, the center and its team have proven to deliver exceptional services.
The team's profound knowledge of dive sites enables them to offer a diverse range of dives every day, guiding you to sites or times when you will encounter minimal traffic from other divers.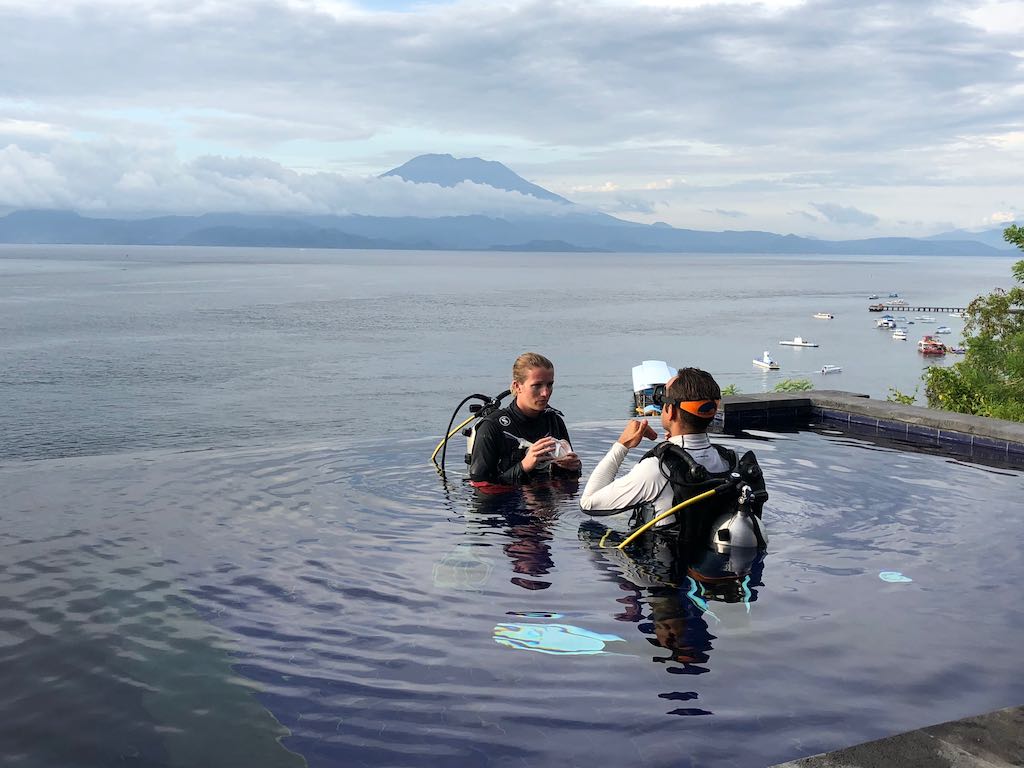 Top level equipment
Dune Penida provides an extensive range of diving options to cater to your preferences, including Nitrox and 15-liter tanks.
Furthermore, the center boasts state-of-the-art equipment, including a 3-meter deep swimming pool, which guarantees a safe and comfortable environment for divers of all skill levels. The pool serves as an excellent training ground for beginners, preparing them for their first sea dives with exceptional ease and comfort.
Discovery dive with Dune Penida
If you've never tried scuba diving before but are interested in giving it a shot, Dune Penida is an excellent choice for your first dive. We'll start you off in our 3-meter deep pool so you can become comfortable with the scuba gear. Then, once you feel confident, you can join us on an exciting dive to explore the magnificent Manta rays!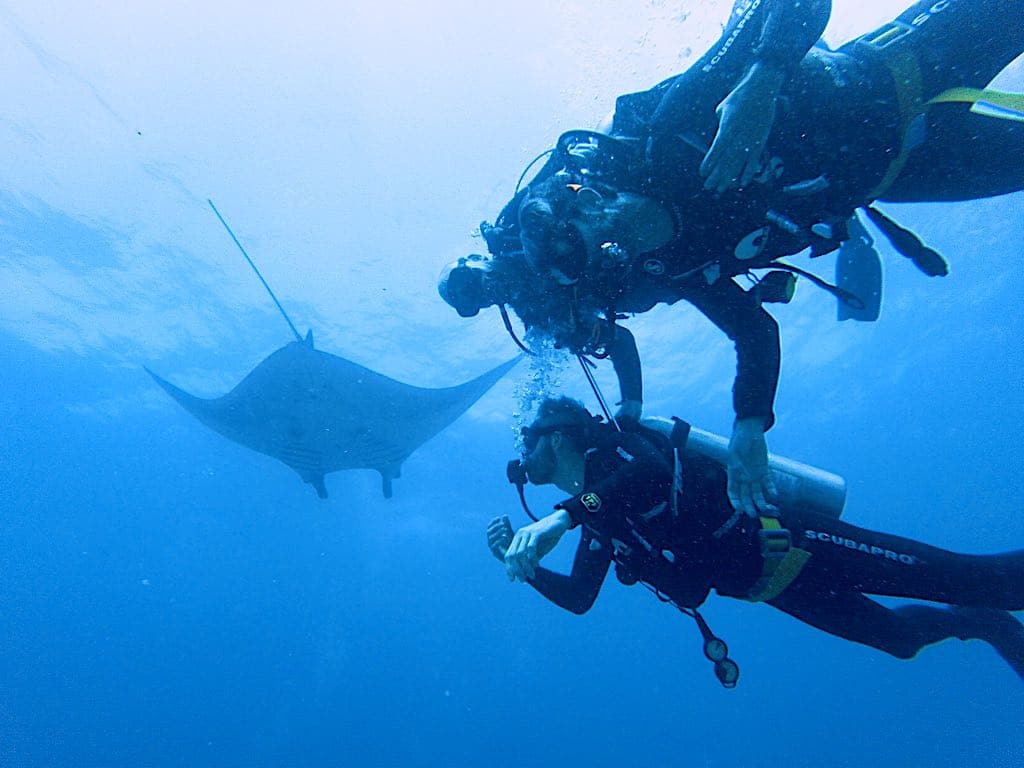 Day dive in Nusa Penida with Dune Penida
The scuba diving excursion in Nusa Penida will begin with a meeting at Toyapakeh, where our Buraq 3 boat is stationed. Your equipment, in the sizes you provided the day before, will already be set up on board. After a brief coffee break to introduce ourselves, we'll embark on our adventure for either a full day of three dives or a half day of two dives. During the surface interval, a snack will be provided on the boat.
The selection of dive sites will depend on the sea conditions as well as the preferences and experience levels of the group. We have access to fifty dive sites in Bali that we frequent regularly.
Staying at Adiwana Warnakali
You will find accommodations, restaurant, spa and more at Adiwana Warnakali PADI 5 star dive resort.
Any question about Nusa Penida diving?
If you have any questions, please do not hesitate to contact us. We will be happy to discuss with you !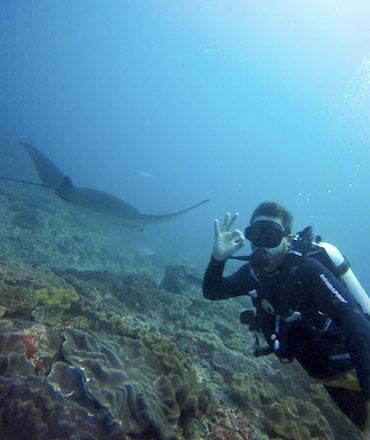 Best dive sites in Bali
20 best dive sites in Bali around Nusa Penida, in Padang Bay and North Bali : read everything about manta rays, oceanic sunfish, sharks & more.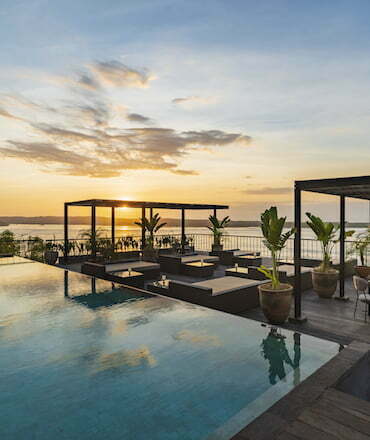 Where to stay in Nusa Penida
How to choose where to stay in Nusa Penida among the 450 listed hotels. 5 stars, boutique hotel, glamping or charming bungalows?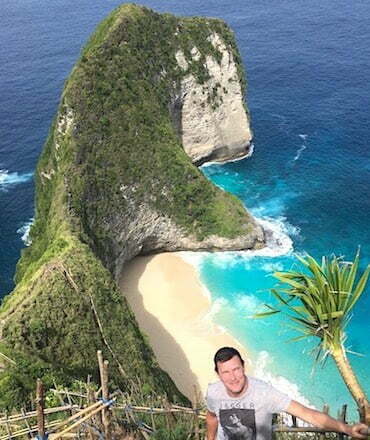 Top 15 to see in Nusa Penida
After 30 visits to Nusa Penida I updated my list of 15 awesome sites so see in Nusa Penida island : beaches, temples, cliffs, dive sites and many more !