Diving Manta Point, Nusa Penida
Manta Point is renowned as one of the most popular dive sites of Nusa Penida island, providing a unique opportunity to dive alongside majestic manta rays almost every day of the year. The site's name is derived from the community of manta rays that inhabit the surrounding deep waters. Visitors are often treated to a spectacular display as the creatures rise to shallower waters, where they are attended to by small reef fishes that help them cleanse themselves of parasites. The dive itself typically begins at a sandbar, leading to the first of several cleaning stations.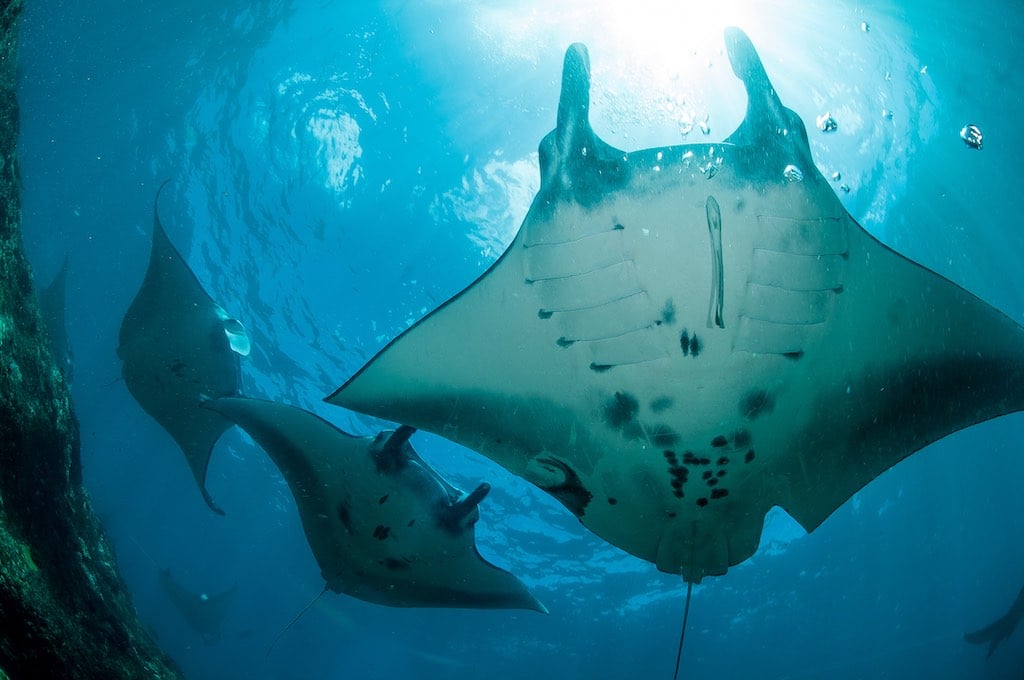 Let the show begin
The show begins there, around that massive coral bump where they are flying around. After some time, we usually go across a lively and rich big coral plateau to join the second cleaning station. We enjoy there the diversity of the fauna present at Manta Point. And we finally follow the blue to find those specific rocks and bumps where reef sharks can be spotted.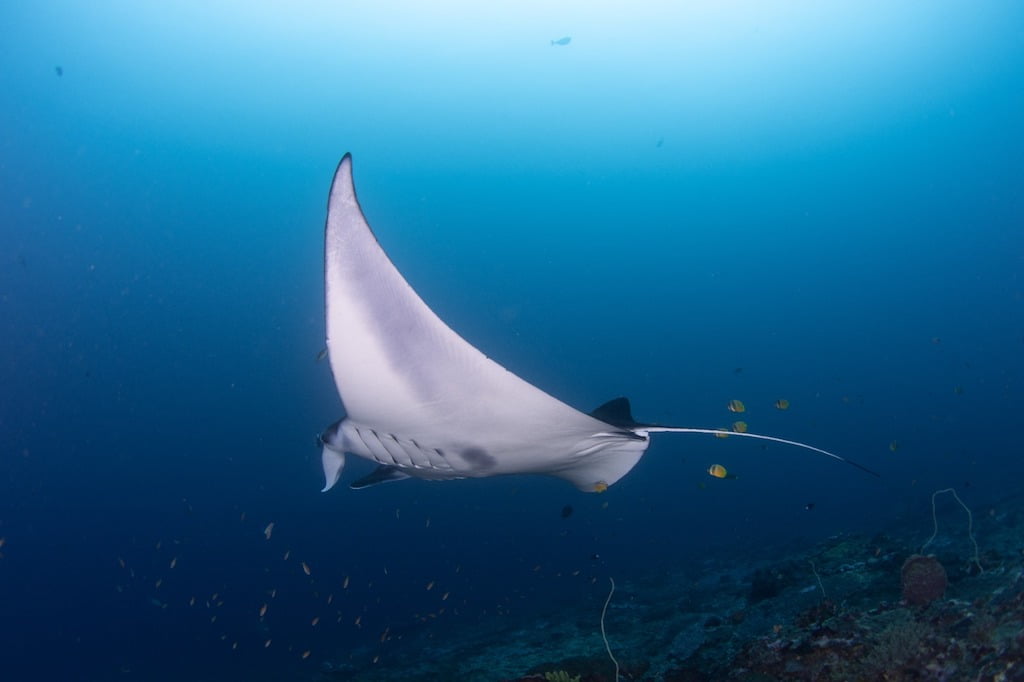 You now get the idea, Manta point is famous for the Mantas, but it is also an incredible dive site where everything can show up. We also often see there Bamboo sharks and blue spotted stingrays. It is also a highlight to see smaller organisms, like rare species of nudibranchs, Zanzibar shrimps, Porcelain crabs. We recently met an awesome crown jelly fish. To know more about the marine fauna in Bali you can read this guide of Nusa Penida diving.
What is a manta ray cleaning station ?
The site welcomes several coral heads which serve as cleaning stations for the manta rays. What is a cleaning station ? It's quite an eco-system : manta ray constantly turn around the coral head so that the cleaner fishes, mostly wrasses, remove their bacteria and other parasitic microorganisms. Plankton is also very present and manta ray can eat the plankton while being cleaned. Read more about Manta Rays and cleaning stations.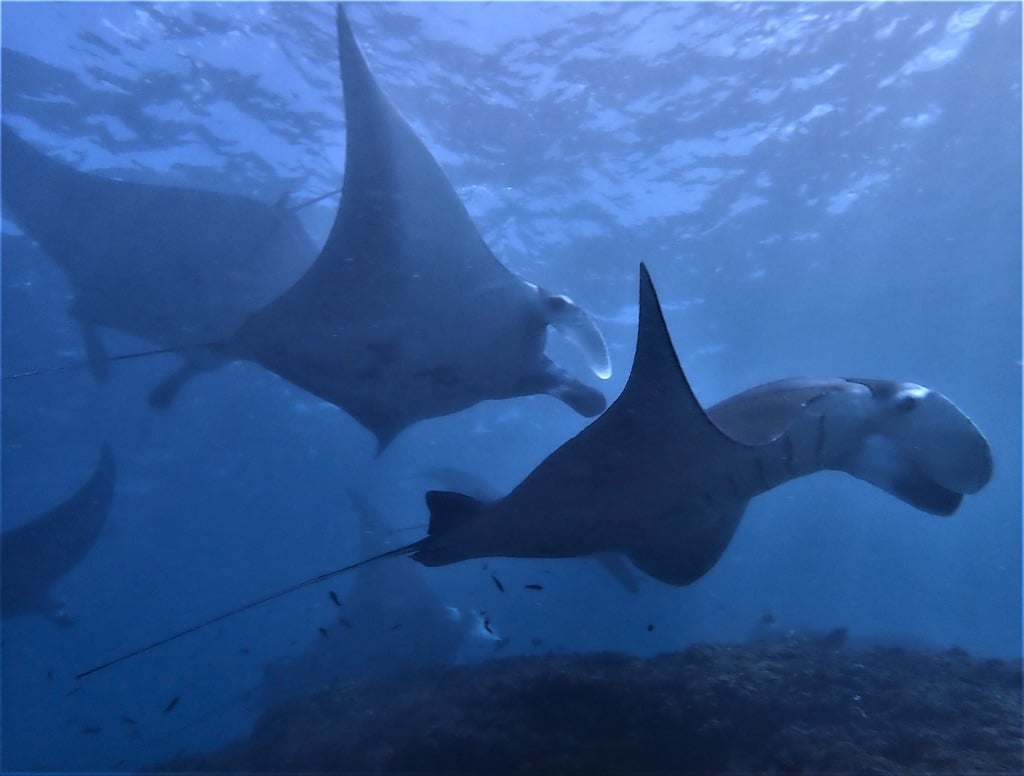 Manta Rays
Manta rays can be identified by the patterns on their belly, which, like a form of identification or fingerprint, are unique to each individual. Divers can easily count or even recognize them based on these distinctive patterns. There are times of the year when they may not be present at the site, for instance, during their mating season. During these periods, they gather and reproduce in the depths. Pollution, water temperature, or other factors can also play a role as unfavorable conditions. Read our article to learn everything about Manta rays !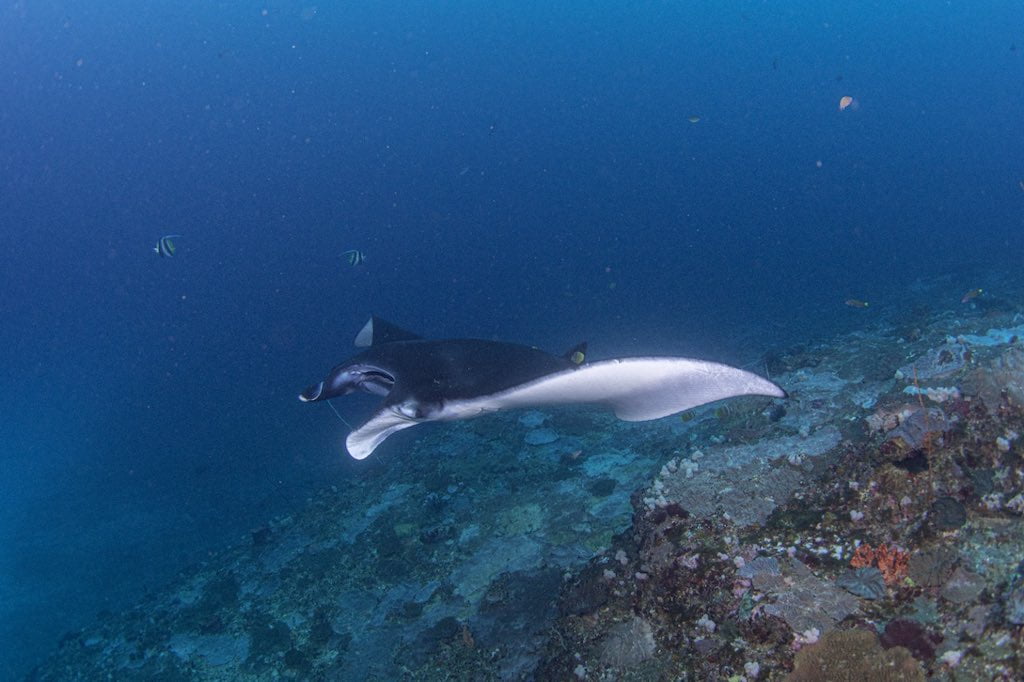 Where is Manta point in Nusa Penida ?
Manta point is almost in the middle of the south west coast of Nusa Penida island. If you go by land to Peguyangan waterfalls you will see a sign on the left to Manta Point. Close to a white temple you will be able to overlook the sea from the cliff and sea the manta rays from the top. There is no way to go down to the sea from there, so the only way to swim, snorkel or dive with a manta ray is to take a boat.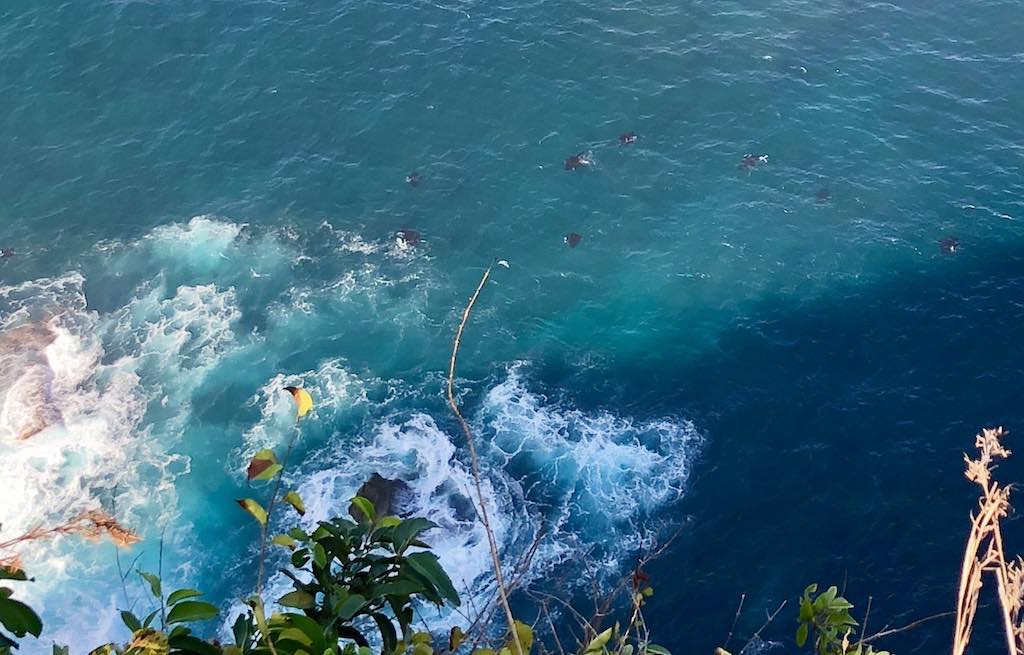 The navigation to Manta point will take 45 minutes, from Toyapakeh in Nusa Penida. And about the same from Sanur in Bali. It is a nice boat trip as you will se from the sea most of the famous sites of Nusa Penida island. Just after leaving Toyapakeh we will pass by Adiwana Warnakali dive resort, Gamat Bay, Amok Sunset and then Crystal Bay. We will also have a look on the right to the islands of Nusa Ceningan and Nusa Lembongan.
We will then turn left and pass by Angel Billabong and Broken Beach, then Kelingking Beach and finally Temeling and Peguyangan before reaching our destination. On the way back we usually take a photo in front of Batu Bolong, because it inspired the logo of Warnakali dive center !
Can you snorkel at Manta point ? Manta Bay or Manta Point ?
Usually snorkeling companies go to Manta Bay, which is in front of Broken Beach, because it is closer. You have around 80 % chance to see Mantas there, and there may be many boats chasing them. As soon as he spots one, the captain of your boat will probably urge you to jump into the water to get the chance to spend a few seconds with a manta, in the middle of all the other boats and snorkelers.
That is why some snorkeling companies started to bring snorkeling guests to Manta point. Less snorkelers and the divers are deeper ! But the best way remains to dive with the mantas even if it is your first time. We will be pleased to make you discovering diving with the manta rays ! It's really a great experience.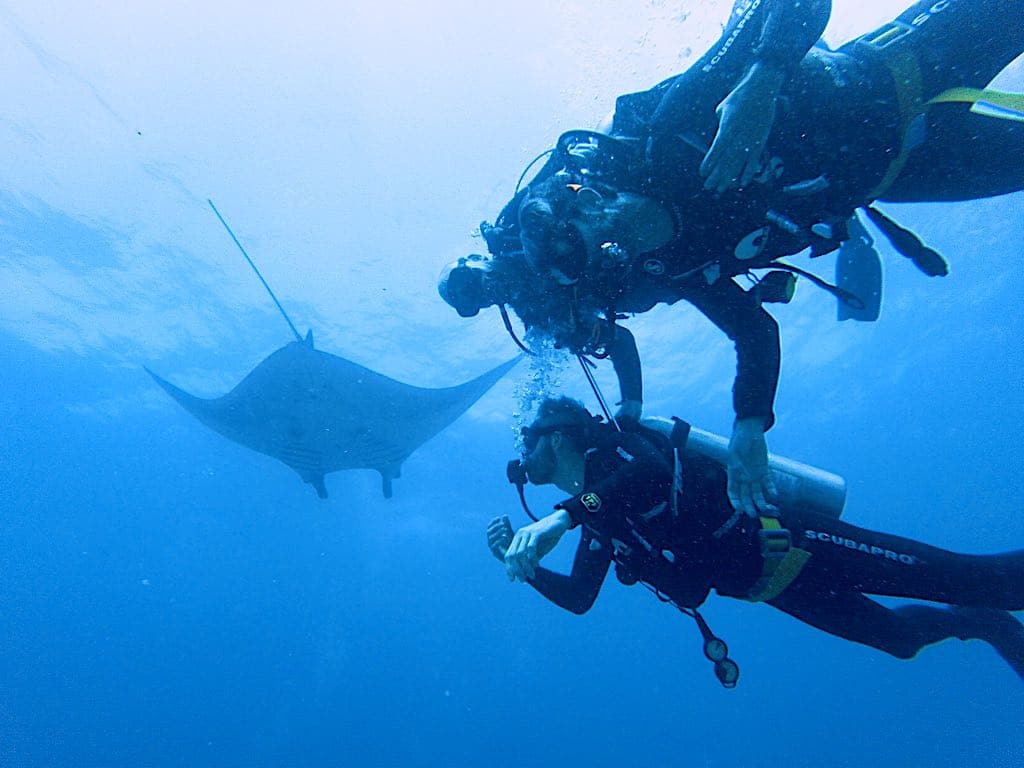 How deep is Manta point ?
The shallowest part of the bay is 8 meters deep and not deeper than 12 meters. The site is therefore a good spot for discovery dives as the manta rays are usually in between the sea level and 10 meters. For those who are looking for more demanding dives, there is a much deeper part, down to 40 meters, where asperities and reliefs are numerous.
What is the best time to dive Manta point ?
Manta are present most of the time, except during their breeding season, when Manta meet and breed in the depths. Pollution, water temperature or weather conditions can also be adverse factors. And the sea is sometimes a bit rough to go there. We will tell you when the the conditions are not optimal, but you may decide to take your chance anyway !
Unfortunately, Manta Point is becoming a very busy place and sometimes it is full of divers. That is why Warnakali usually tries to adapt the time of the dive to arrive before or after most of the other dive centers. And to explore the other parts of the dive site if it gets too busy !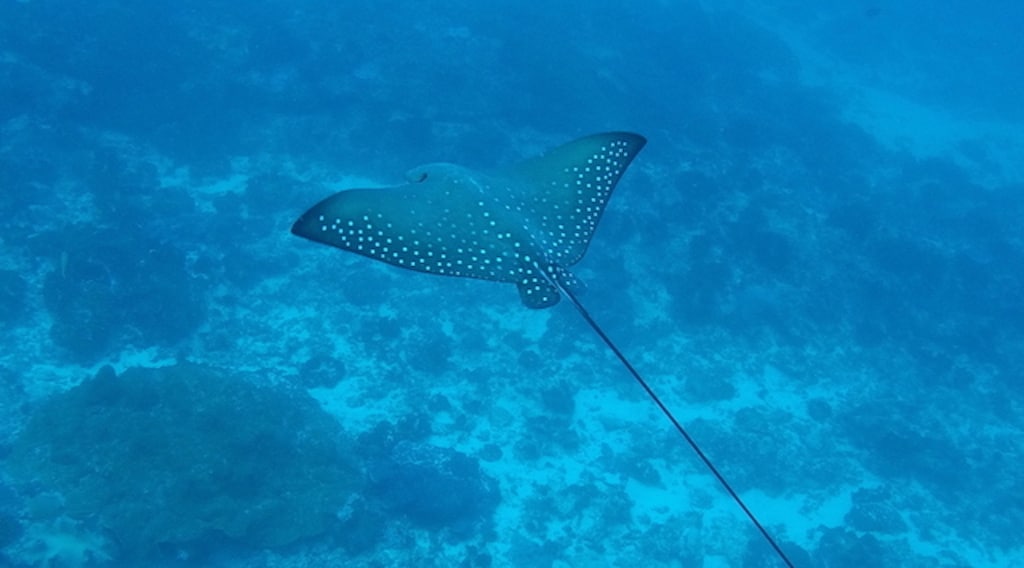 Manta Ray or Manta Globula ?
Each Manta is unique. It is indeed possible to identify each Manta with the patterns of their belly, like an identity card or a fingerprint. This way, divers can easily count them or even recognize them. At Warnakali, we like Black Mama, which is totally black and huge. Her babies are also almost totally black, but smaller.
You will probably not be able to make the difference between manta ray and manta globula, which are smaller and have a ventral mouth.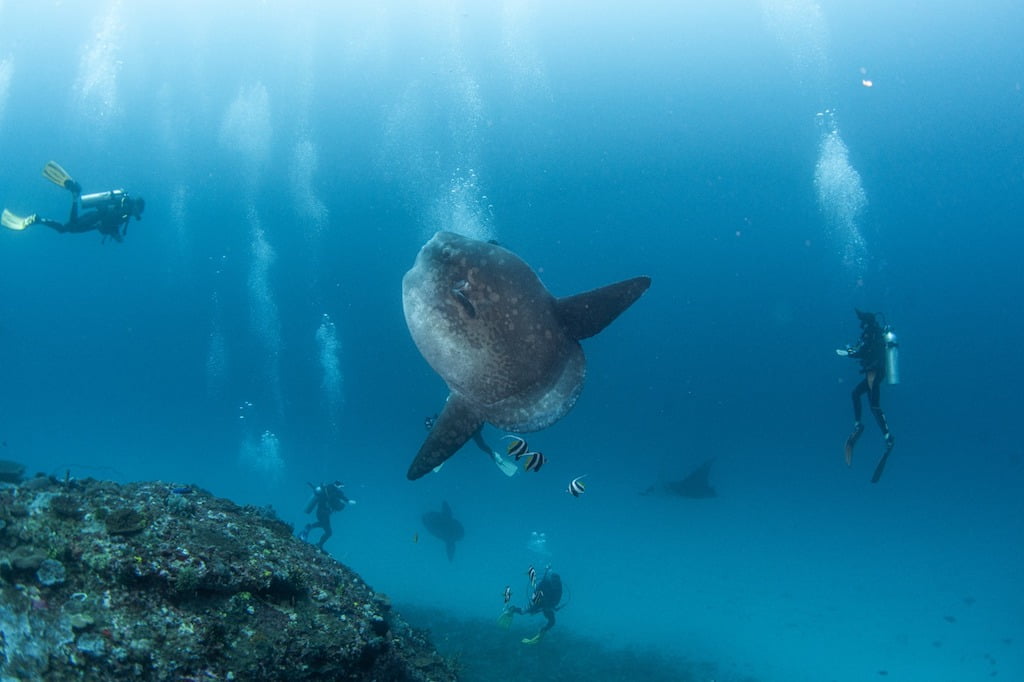 At Manta Point, it's not just Mantas!
A little away from the cleaning stations, there are caves that are perfect for a leisurely exploration. This site is also incredibly diverse, featuring a rich array of macro life. You can spot crabs, the famous clownfish, surgeonfish, butterflyfish, rabbitfish, and all the endemic marine life of the island. Recently, we had the pleasure of encountering a stunning crown jellyfish here.
You can also catch a glimpse of stingrays, eagle rays, marble rays, and, with a bit of luck, blacktip reef sharks and bamboo sharks. It's also possible to encounter turtles and a variety of nudibranch species, some of which are more or less rare.
And, to add to the excitement, we've had several encounters with Mola Mola here as well! And even on September 13, 2023, a whale shark!
Characteristics of Manta Point
Type of diving: reefs, photography, training, fish identification, macro
Depth: 8 to 35 meters
Level required: from discovery divers to experienced diver
Visibility: 10-20 meters
Current: no to weak, swell possible
Access: 45 minutes of navigation from Toyapakeh, very nice boat trip along the west coast of Nusa Penida island
Temperatures: 20 to 27 °
Fauna and Flora: Manta ray, Sting Ray, Marble Ray, Eagle Ray, Black tip shark, Bamboo shark, crabs, clownfish, fish surgeon, butterfly fish, rabbit fish
Best time: Diving all year