A liveaboard diving cruise in Indonesia is the ultimate dream for all scuba diving passionate! Come along with me on a 12-day diving adventure in Indonesia aboard the Dune Aurora, sailing from Raja Ampat in Papua to the Lembeh Strait in North Sulawesi. This unforgettable journey features captivating stops, breathtaking dives. And unforgettable encounters with Indonesia extraordinary marine life.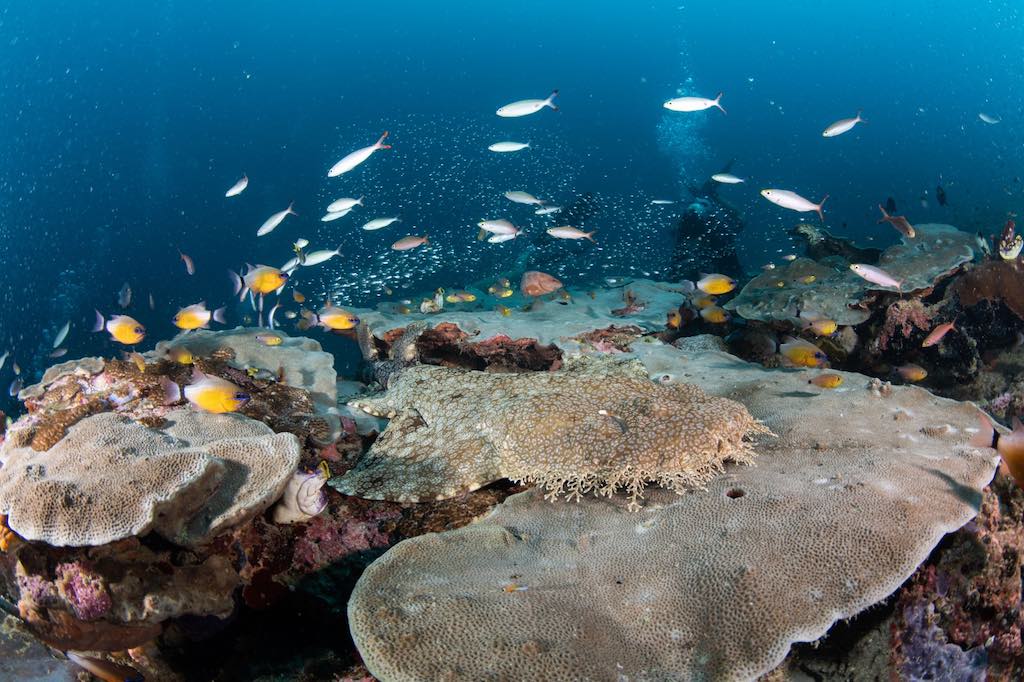 Diving in Indonesia: Raja Ampat
Our journey began in Sorong, where we boarded the Dune Aurora. Our first destination was Raja Ampat, an archipelago of 1500 islands and islets located in the province of West Papua. Raja Ampat is one of the most spectacular diving regions in the world, boasting abundant marine life and a wide variety of coral. It's also the top spot for diving in Indonesia! The dives in the Dampier Strait, the Fam islands, and Misool were simply incredible. We dived with manta rays, wobbegong sharks, reef sharks, sea turtles, multicolored nudibranchs, and schools of tropical fish.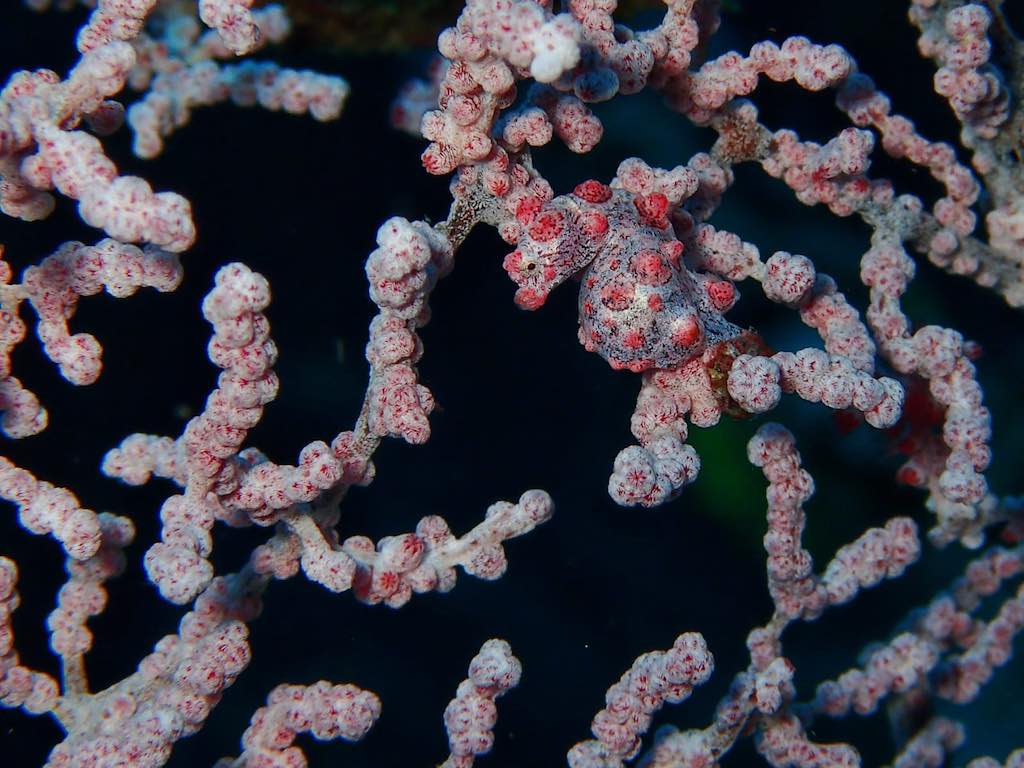 Piaynemo
Our first dives of our diving cruise took place in Piaynemo, in the Fam Islands, at Melissa's Garden, Keruo Channel, and Batu Rufus dive sites. The coral gardens are incredibly colorful and vibrant. We were welcomed by Napoleon fish, blue and big-headed parrotfish, ribbon eels. And many sleeping wobbegong sharks ! We also witnessed the beauty of smaller creatures such as Denise and Bargibanti pygmy seahorses, orangutan crabs, and various octopuses. Not to mention, many vibrant-colored nudibranchs and a large variety of shrimps.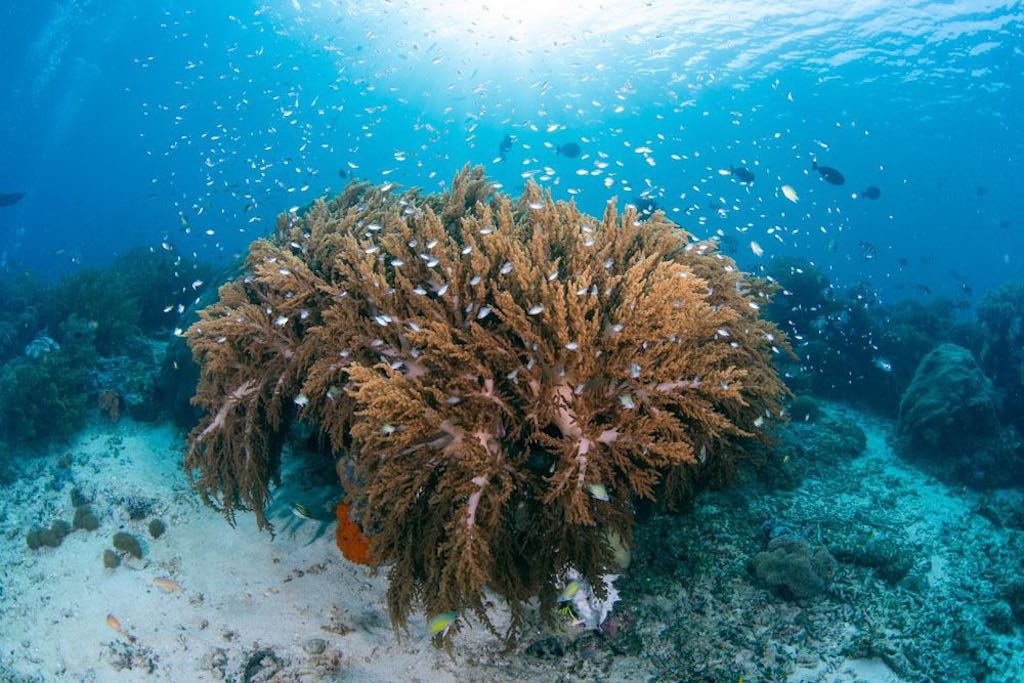 We also took a small excursion to the main island of Piaynemo, surrounded by numerous karst peaks. A viewpoint offers a spectacular panoramic view of the surrounding waters and rock formations. To access it, you must climb a wooden staircase of several hundred steps, but the reward is definitely worth it.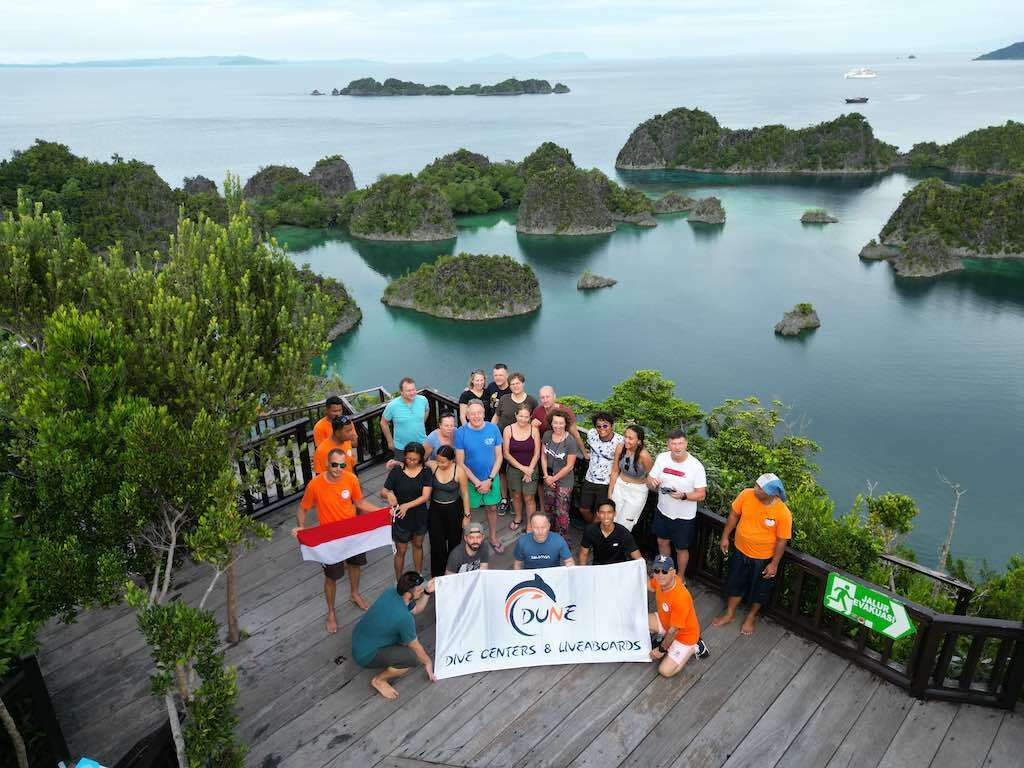 Batanta
The following day, we headed to Batanta in the Dampier Strait, where we explored Dayang and Convergence dive sites. At Dayang, we spent some time at the Manta Ray cleaning station. The breathtaking spectacle of Mantas circling around us never gets old, similar to what can be seen at Manta Point in Nusa Penida, Bali. However, we also encountered a curious and unafraid wobbegong shark gracefully swimming among us in the crystal clear waters. At Convergence, we also had the opportunity to observe a Grey Reef Shark and a blacktip shark hunting.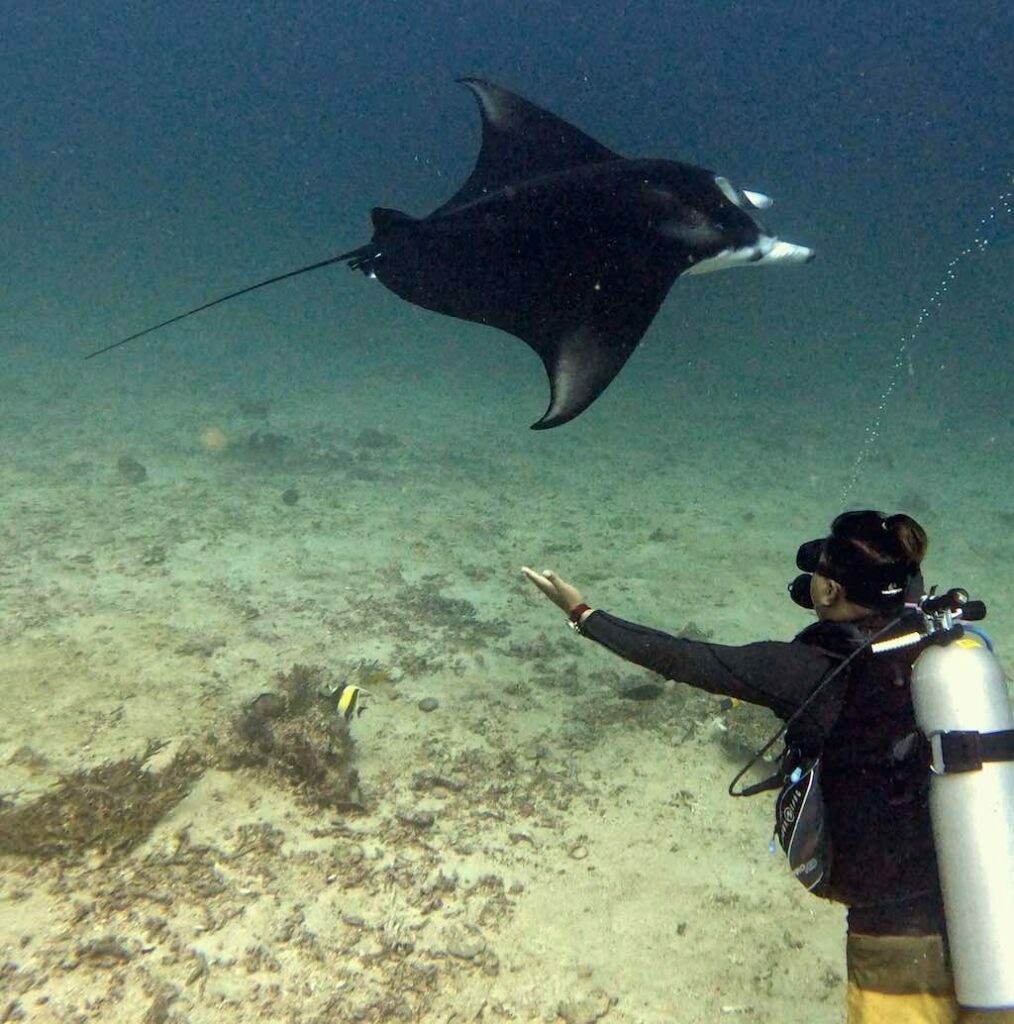 Misool
Misool is a must-visit diving destination in Raja Ampat for all scuba diving enthusiasts. Its crystal-clear waters, colorful corals, and abundant marine life make it a magical place to explore the underwater world.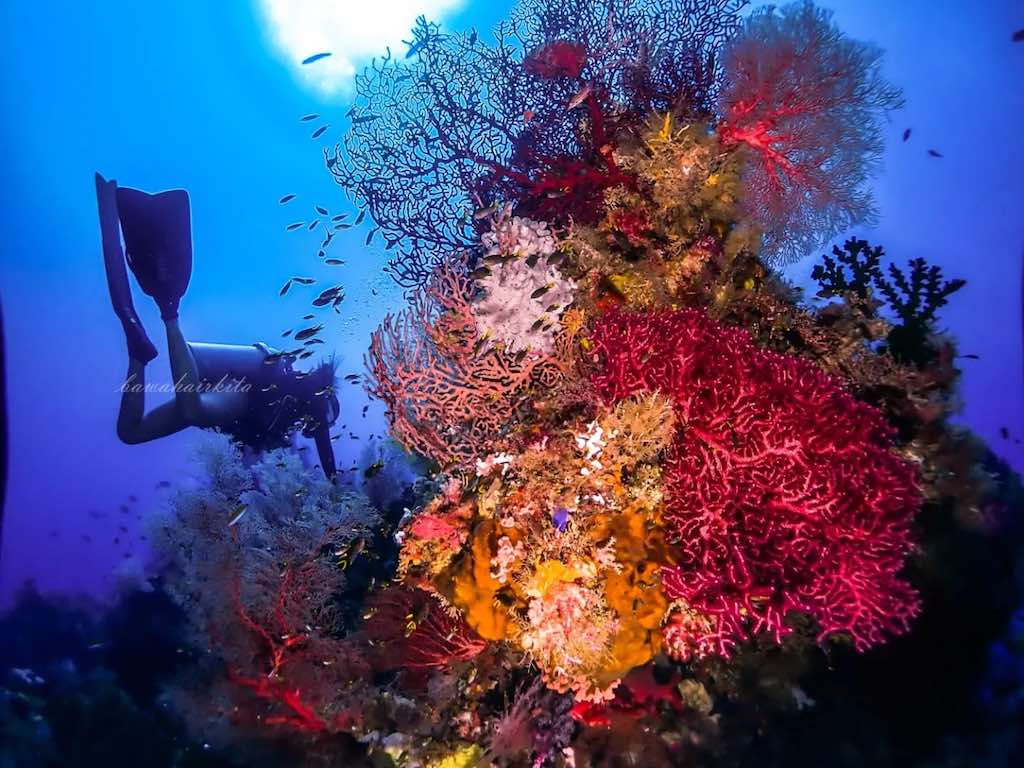 Pulau Boo
Diving at Tank Rock and Boo Window on Pulau Boo are among my best memories of this diving cruise in Indonesia. Tank Rock is an underwater rocky ridge covered in soft and hard corals where we were able to observe blacktail barracudas, napoleons, bigeye trevally, and much more.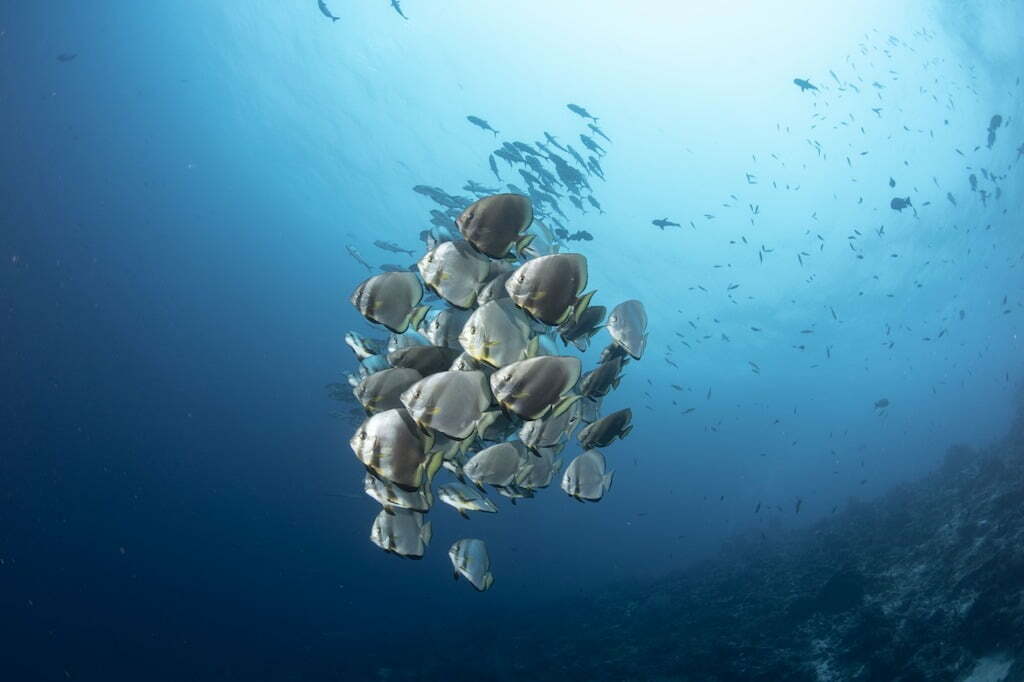 The pinnacle of Boo Window and its reef stretch in length and offer a very spectacular passage through the rock, like a window opening to the other side of the reef. The site's topography is exceptional and makes the diving experience even more beautiful. We also saw amazing schools of fish, including a great school of batfish and a school of bigeye barracudas. We finally had the chance to observe the mating dance of a female blacktip shark pursued by three males.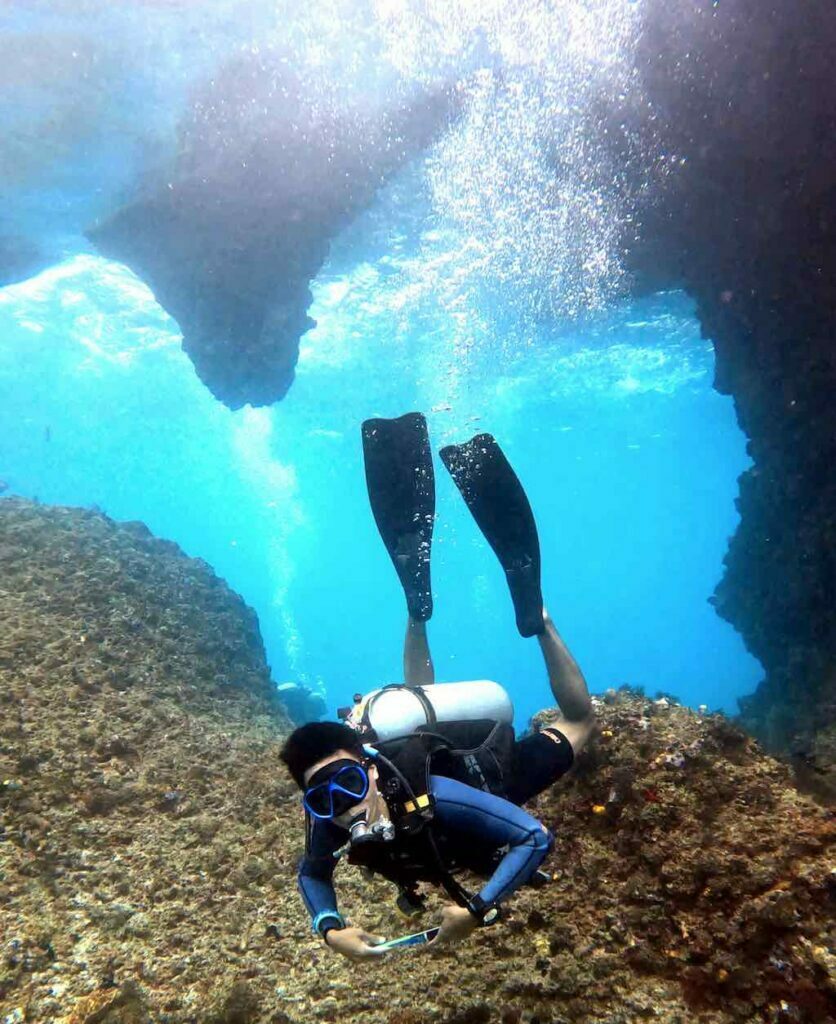 Karang Bayangan
Diving at Karang Bayangan on Pulau Warakaraket is also a unique experience. This dive takes place along an underwater mount covered with both soft and hard corals. During our dive, we saw yellow-tailed barracudas, trevallies, a gray reef shark, and three juvenile blacktip reef sharks hiding under a rock. We also had the incredible opportunity to encounter an oceanic manta, which is a highlight for any diver exploring Raja Ampat!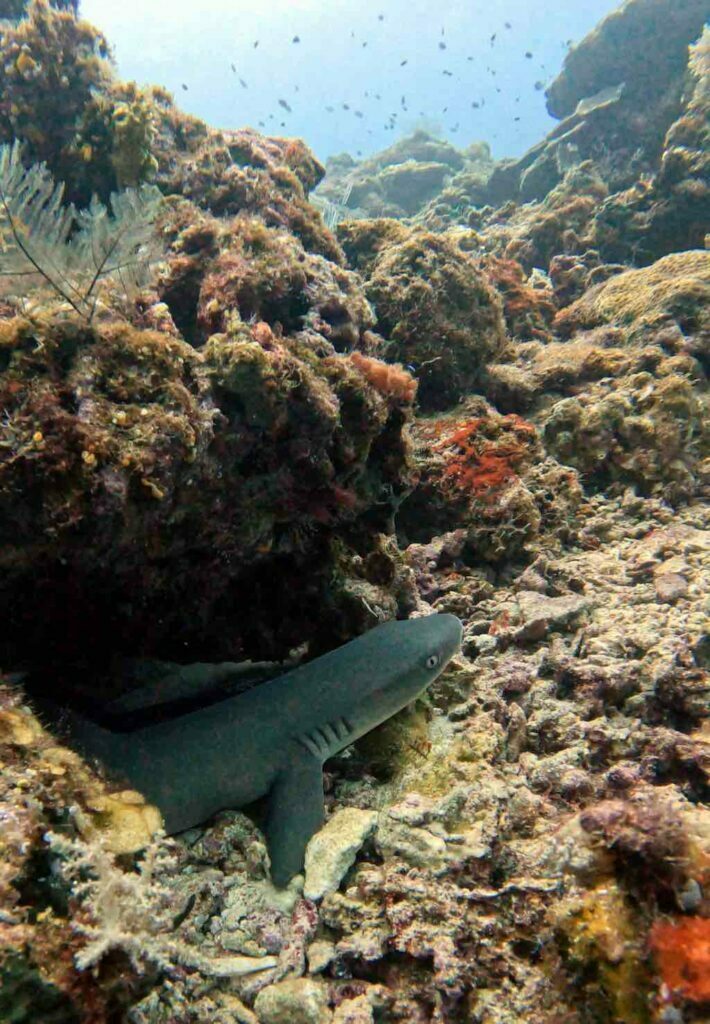 Pulau Wayilbatan
Barracuda and Wedding Cake dive sites on Pulau Wayilbatan offer stunning pinnacle topography. We encountered jackfish, Napoleon wrasses, and plenty of macro-life such as crabs and nudibranchs. And during the night dive we saw a raja epaulette shark, also called walking shark!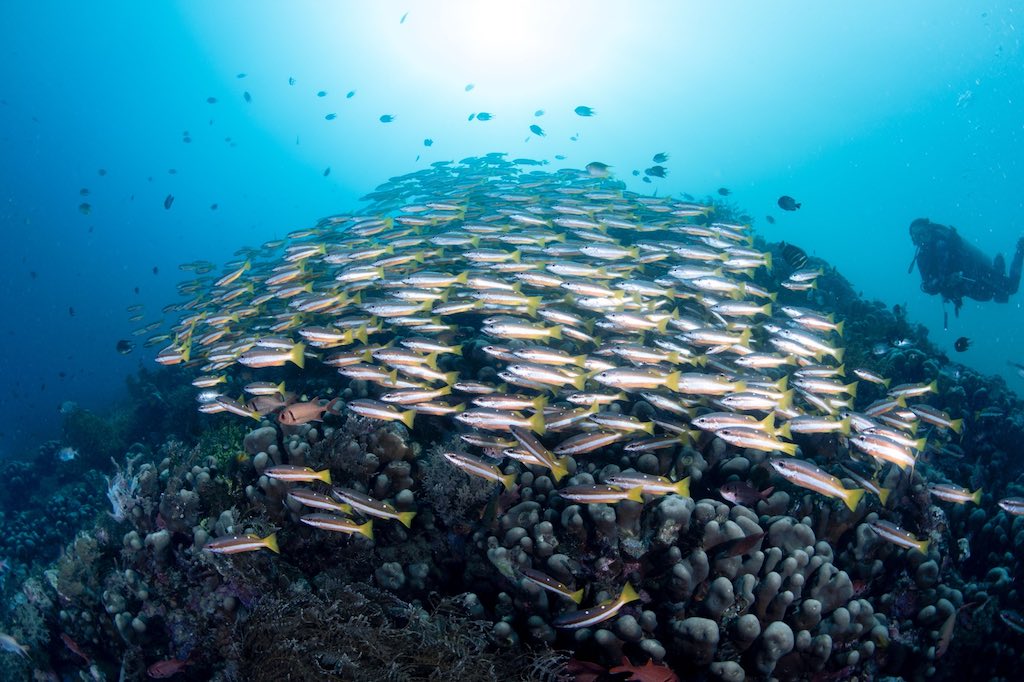 The dive at Four Kings is one of the most famous dives in Raja Ampat. It owes its name to the four huge underwater rocks that stand on the reef. This dive is ideal for observing a wide variety of fish. We saw beautiful schools of blue-striped snappers, jackfish, Napoleon wrasses, and a gray shark.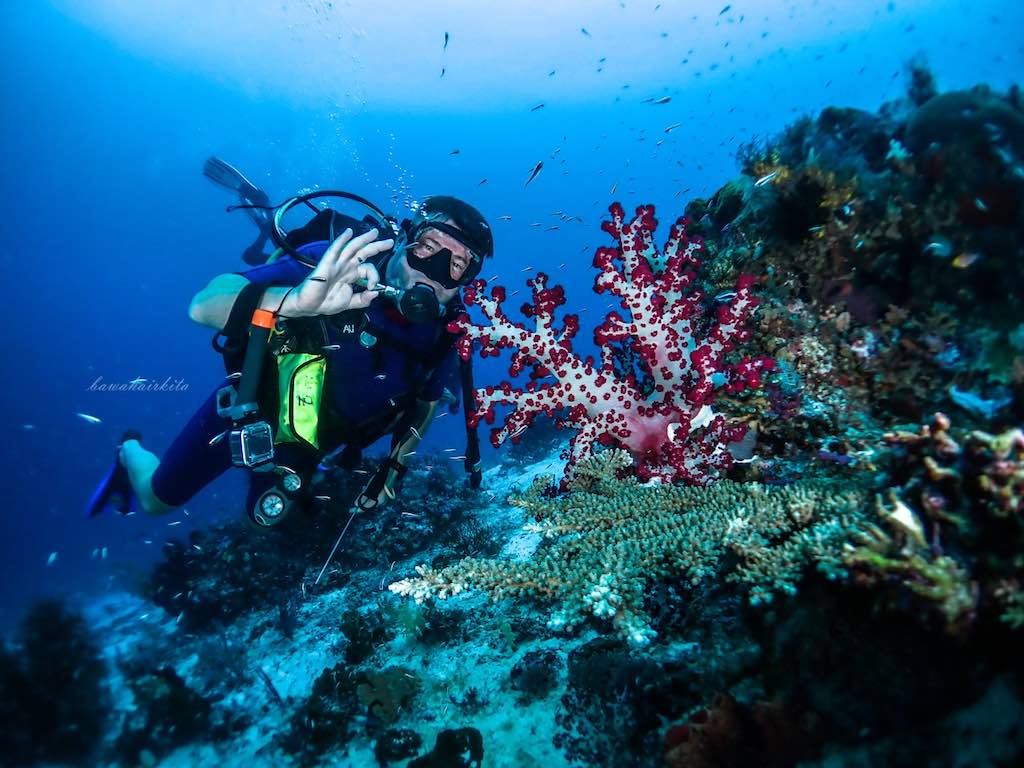 Kaleidoscope
Kaleidoscope on Pulau Pelee is an incredibly beautiful and fascinating dive site. The crystal-clear waters and colorful coral formations create a true underwater kaleidoscope. With abundant and diverse marine life, Kaleidoscope is a true paradise for divers and nature enthusiasts. We saw blue and yellow fusiliers, Denise pygmy seahorses, and hunting trevallies there.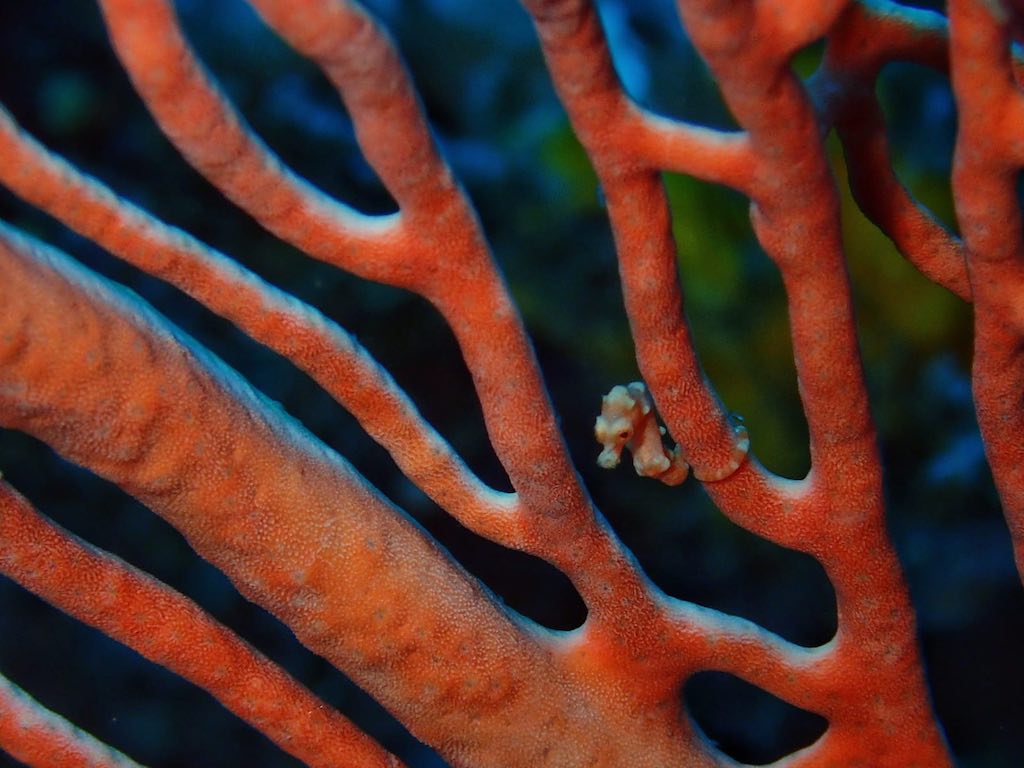 Misool is a world renowned dive destination and the Tank Rock, Boo Window, Karang Bayangan, Barracuda, Wedding Cake, Four Kings and Kaleidoscope dive sites are unique and memorable experiences for all divers. With its natural beauty and abundant marine life, Misool is a paradise for all diving enthusiasts.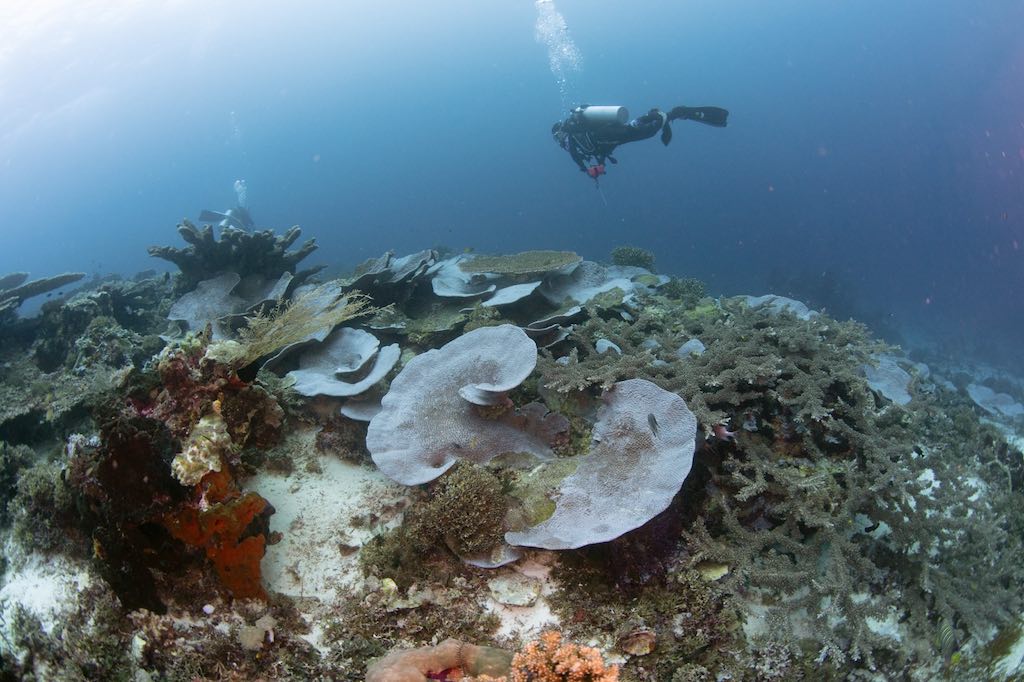 Diving in Indonesia : North Moluccas
After exploring Raja Ampat, we crossed over to the island of Halmahera to continue our diving adventure in Indonesia. Our first dives took place at Pisang Island, on Anjer Besar and Anjer Kecil dive sites. The seafloor was covered with hard and soft corals, as well as giant gorgonians. We saw a huge javanese moray eel, napoleons, anthias, barracudas, and midnight snappers among many other fish.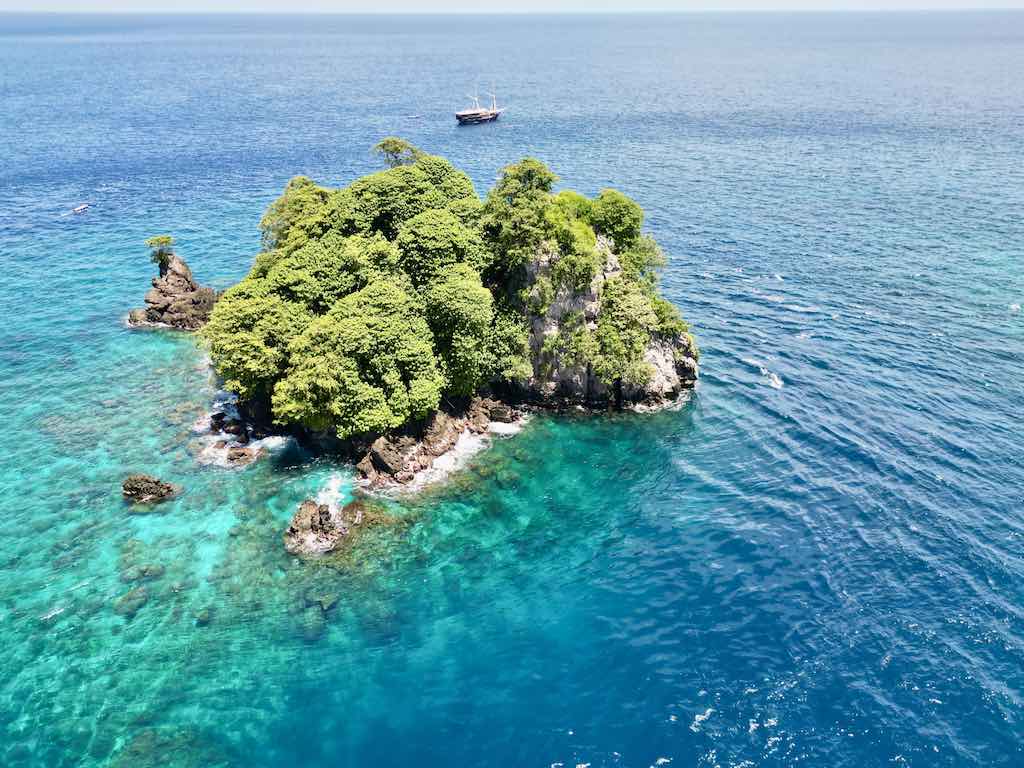 Strait of Patintie
First Encounter with Current
Next, we dived into the Strait of Patintie. The first dive took place at Proco Channel. It was an intense experience with a very strong current, but it didn't affect our enthusiasm. We were able to admire schools of fish of all kinds moving fluidly in the current. The second dive was at Proco Garden, which was calmer than the previous one. It was an opportunity to discover incredible creatures such as Pontohi and Bargibanti seahorses, which almost blended in with the underwater environment, as well as many nudibranchs.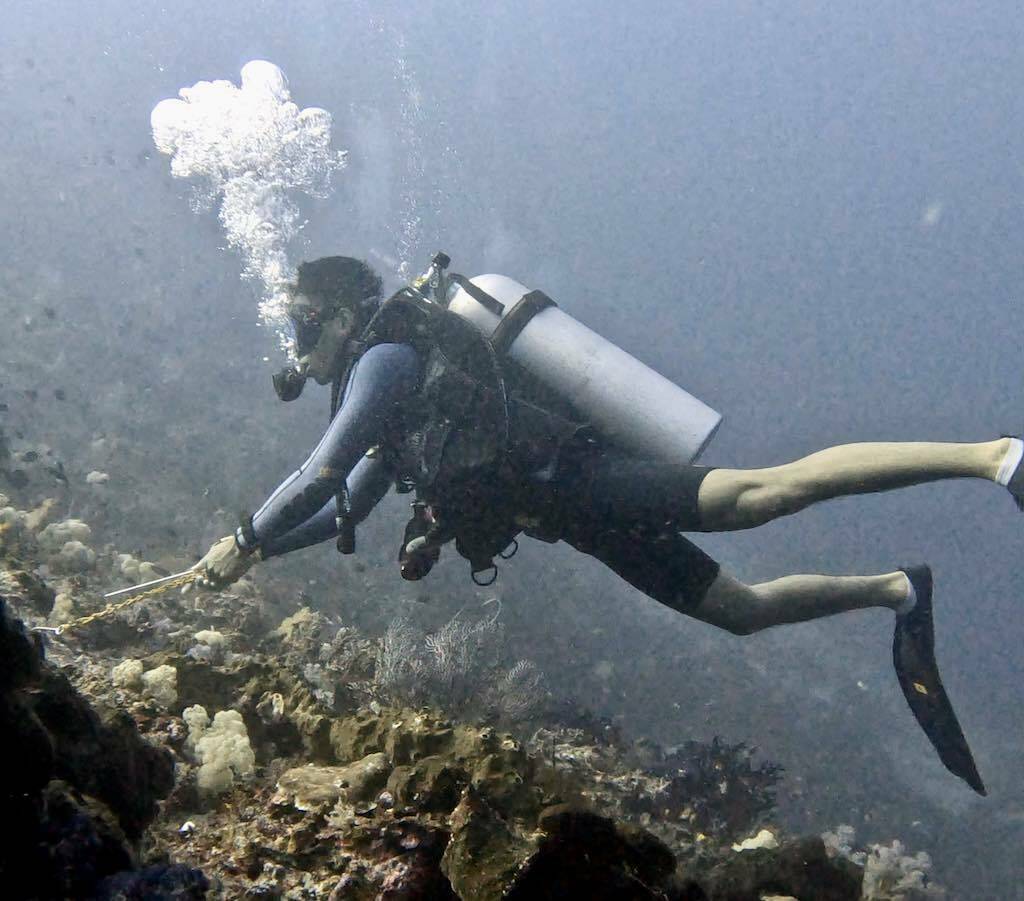 The third dive was at Saleh Kecil, an incredibly colorful and lively place. We saw numerous species of fish, including Napoleon wrasses, fusiliers, and red snappers. The coral was also abundant, with colors ranging from electric blue to bright yellow. It was an amazing visual experience.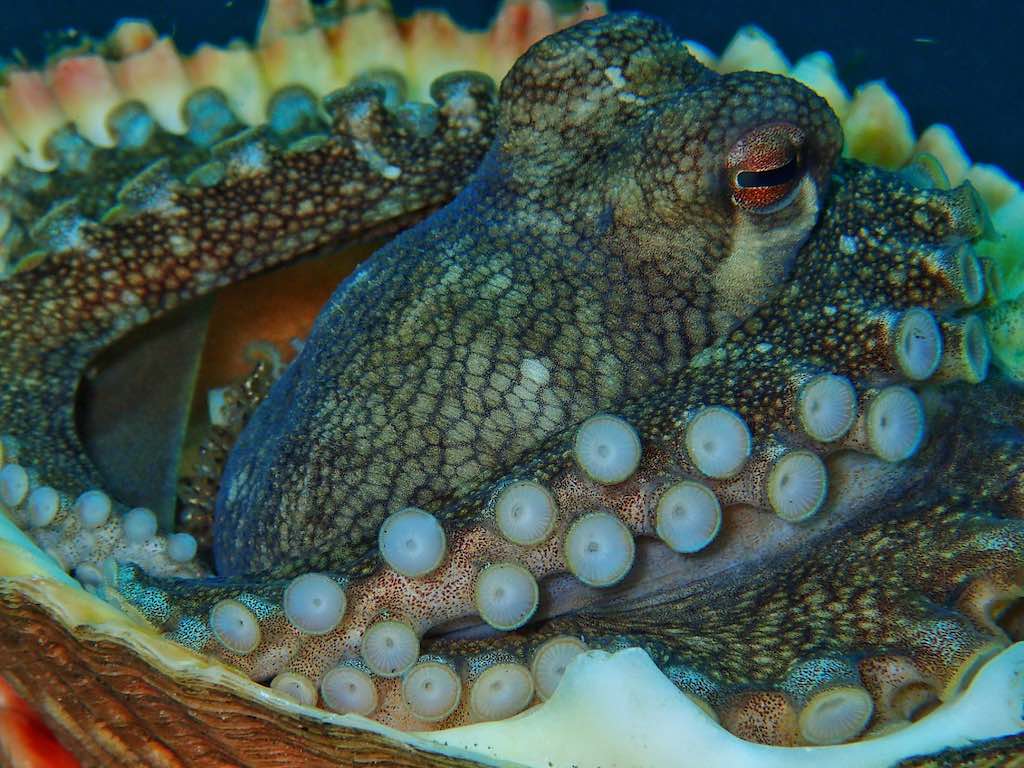 Night Diving
Finally, the night dive at Senola Bay was an equally fascinating experience. The calm and silent sea, illuminated by our torch, revealed a different underwater world. We were amazed by robust ghost pipefish, a rare species, as well as dwarf cuttlefish and various types of crabs and shrimp.
We dived again the next day in the Strait of Patintie at Batu Jabu, Kusu House Reef, and Batu Manga dive sites with blacktip and whitetip sharks. There were so many schools of fish of all colors that I spent my dive watching them swim above me. While macro enthusiasts among us focused on pygmy seahorses and other small creatures.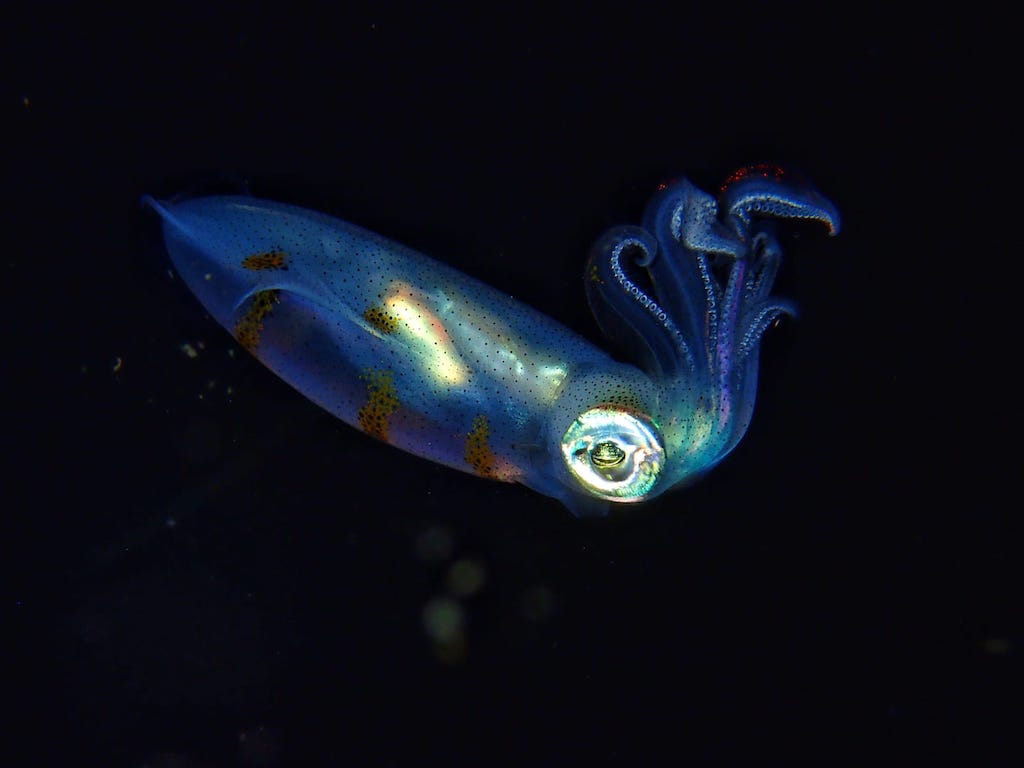 Goraici
The island of Goraici offers stunning and unique diving sites such as Renee's Rock, Akejojaru, and Gora. During our dives, we were able to witness a variety of fascinating marine species, including dogtooth tuna, blacktip and whitetip sharks, a juvenile gray shark, as well as leaf fish.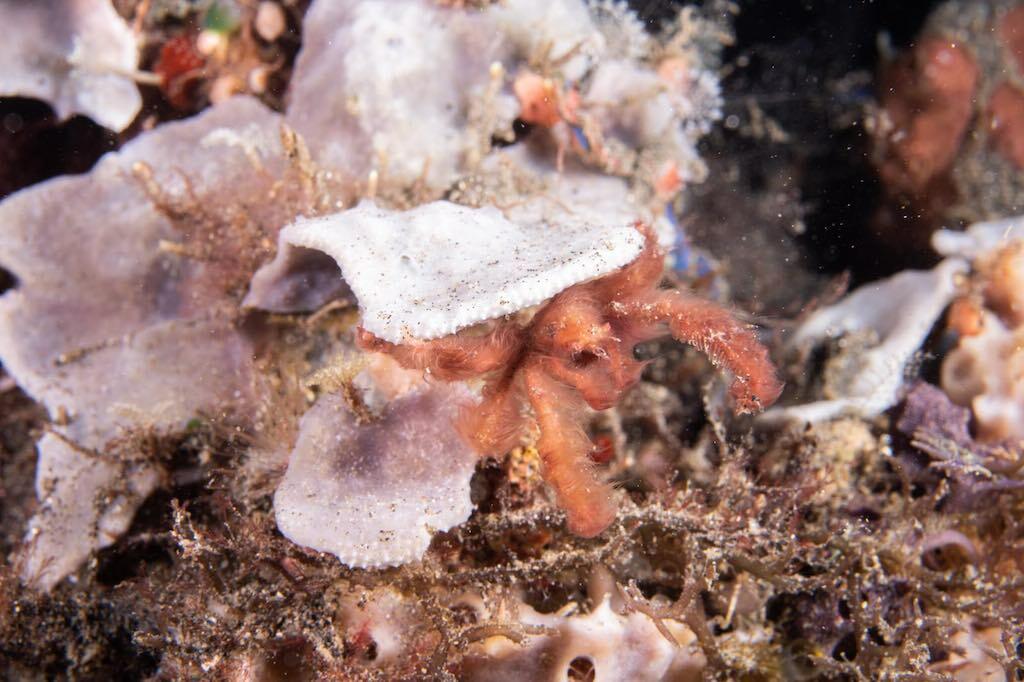 Tifore
We then began our journey towards the Lembeh Strait, the final destination of this diving cruise in Indonesia. The dives on the island of Tifore, in the middle of the Moluccan Sea, were spectacular, with a great variety of strange and fascinating marine creatures. We saw numerous schools of fish of all sizes and colors, sometimes crossing each other in the blue, or occupying different depths along the reef wall. Doing our safety stop in the middle of a school of jacks was definitely unusual! Finally, to top it off, some of us were lucky enough to see an oceanic manta ray just before surfacing to the boat.
But the highlight of our dives in Tifore will surely be our encounter with a school of barracudas, one of the most spectacular and memorable experiences of my life as an underwater diver.
A fascinating spiral of barracudas
Thanks to our amazing guide Guillaume, we were very lucky to encounter a mesmerizing spiral of barracudas. I believe we were all in awe of their hypnotic dance. The barracudas moved together in a spiral formation, swirling around each other. At one point, I found myself suspended in the midst of this incredible display of nature. I was amazed by the beauty and harmony of this underwater choreography.
The sunlight pierced through the clear waters of the sea, reflecting off their silver scales and creating a breathtaking sight. The barracudas moved with incredible grace and fluidity, each seeming perfectly in sync with the others. They were like a single living organism, a true symphony of movement.
This was an unforgettable experience that I wish everyone could have at least once in their life!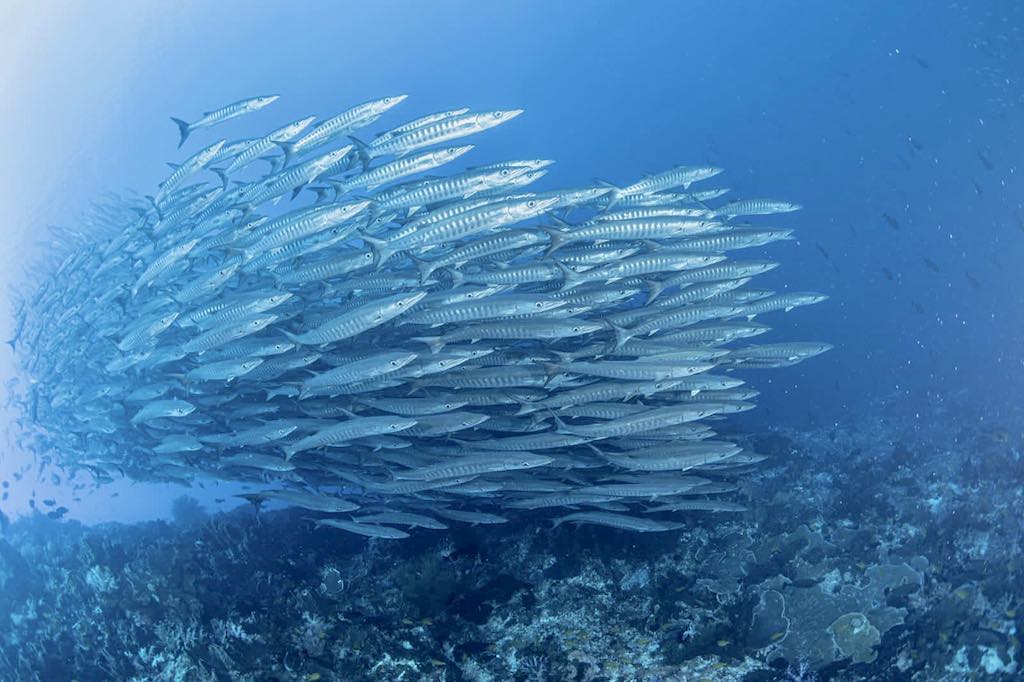 Diving in Indonesia: Lembeh Strait
Our latest diving destination was the Lembeh Strait, famous for its macrofauna. Lembeh is indeed known to be a true paradise for underwater macro photography enthusiasts. We had the opportunity to discover extraordinary marine creatures at the diving sites of Teluk Kembahu, Aer Bajo, Rojos, and Aer Prang.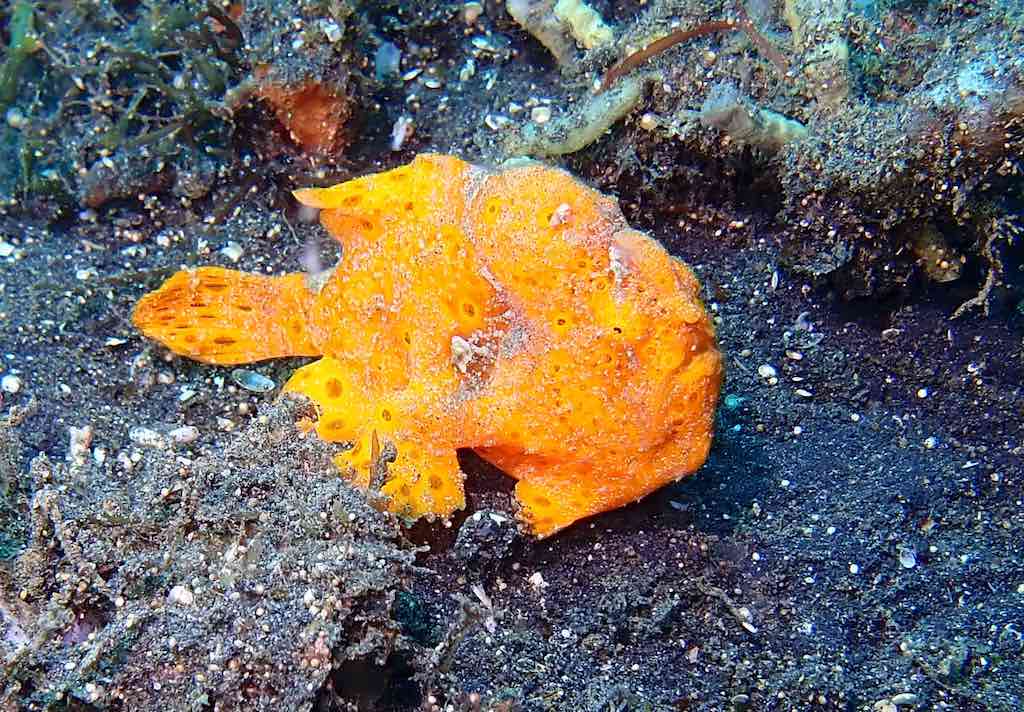 During our first dive at Teluk Kembahu, we saw various amazing species in the slope of black sand, including mimic octopuses, coconut octopuses, frogfish, and many more. The second dive at Aer Bajo was equally incredible, with the discovery of a flamboyant cuttlefish displaying shimmering colors.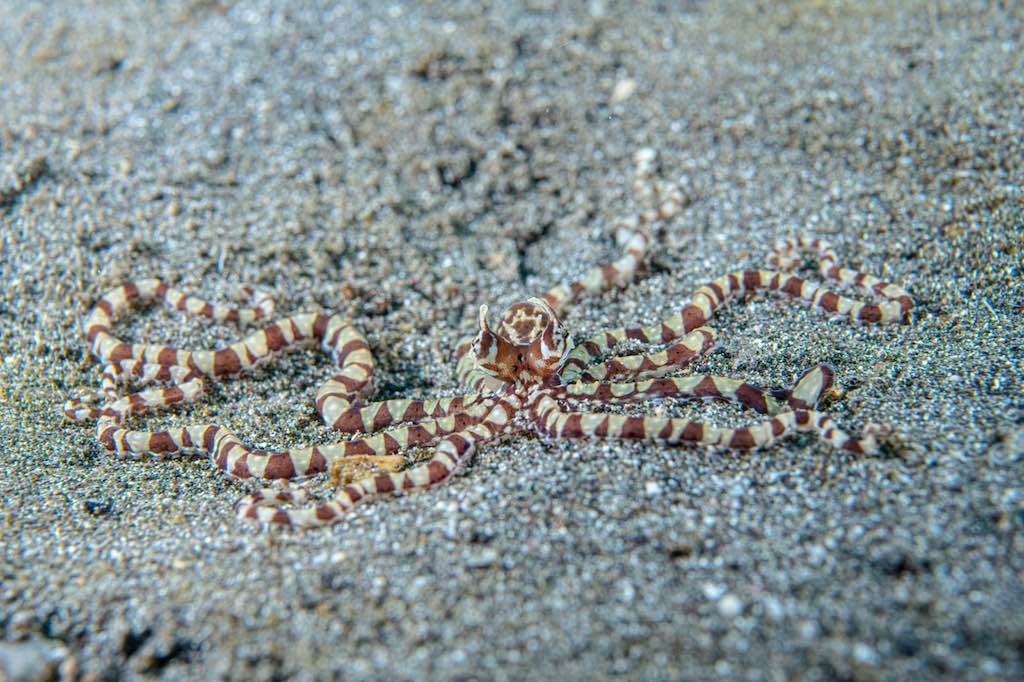 The third dive, at Rojos, gave us the opportunity to see more frogfish, including a bearded frogfish. Finally, the last dive at Aer Prang was a night dive where we saw orangutan crabs, a translucent squid, and numerous seahorses that were revealed in the light of our torches.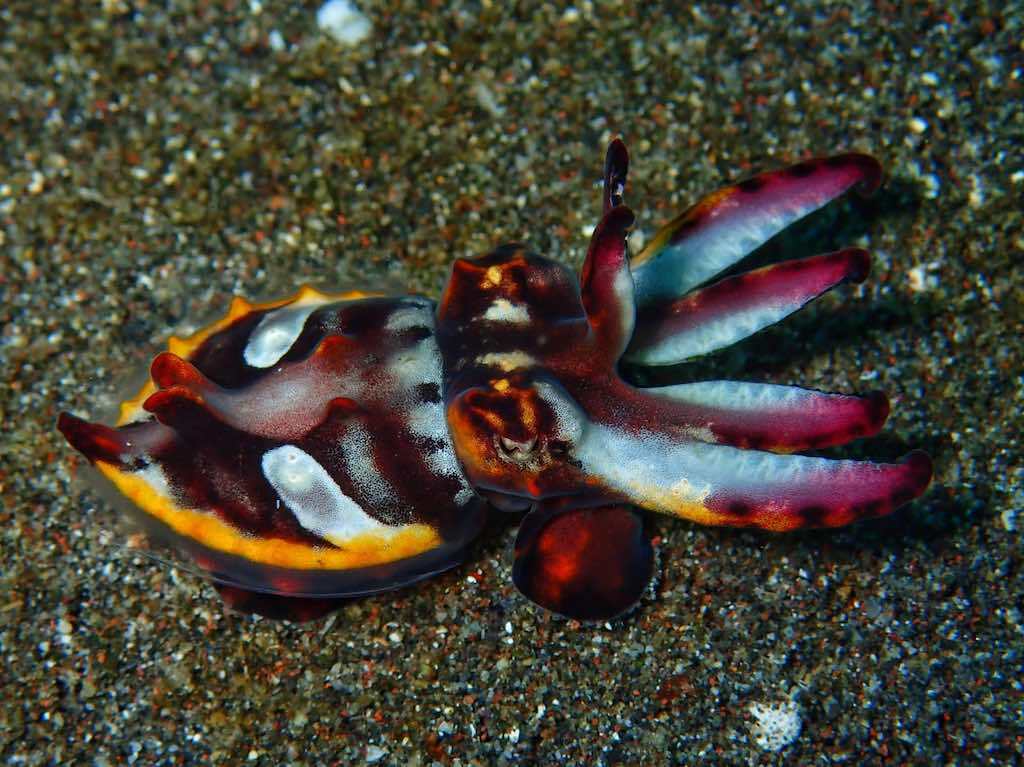 Pulau Bangka
We concluded our diving cruise in Indonesia with two dives at Pulau Bangka in North Sulawesi region. The two dive sites we visited, Batu Sahaong and Batu Mandi, were stunning. The first dive at the pinnacle in the midst of snappers, damsels, jacks, and fusiliers at Batu Sahaong was a breathtaking sight. The multicolored fish were so abundant and diverse that we were overwhelmed by the beauty of this underwater environment. The second dive at Batu Mandi was equally impressive, with a great variety of corals and fish. A great way to wrap up our diving trip in Indonesia.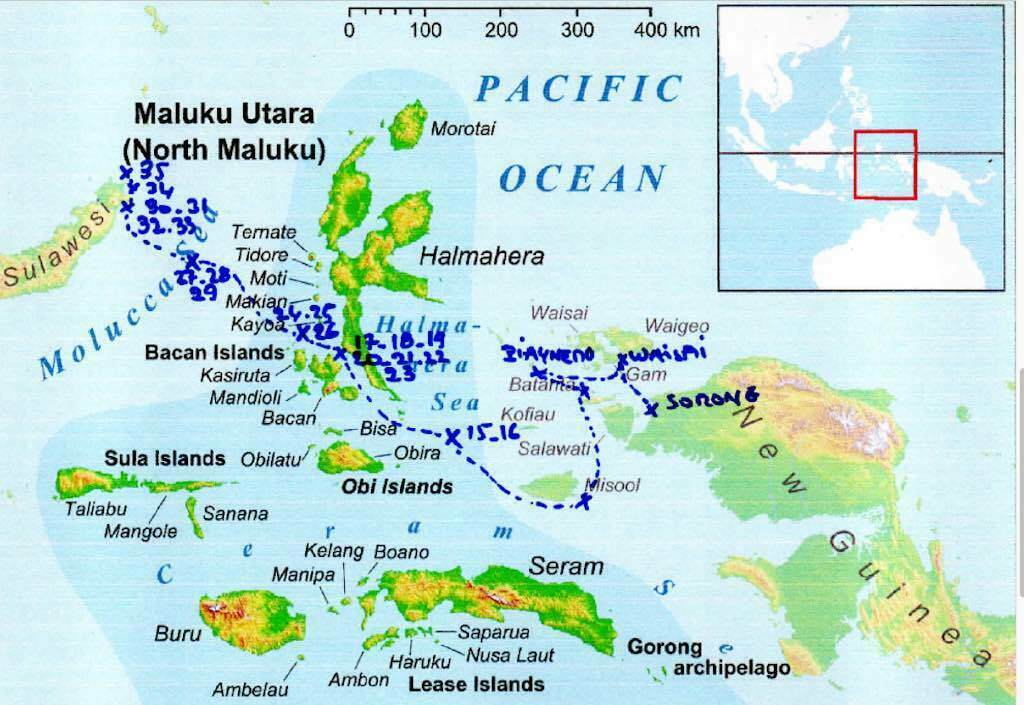 Last evening on the beach
The last evening on the beach in front of The Pulisan resort was simply magical. The gentle sea breeze and fresh air created a relaxing atmosphere, while the waves softly crashing onto the shore added a touch of serenity. The sunset on the horizon was absolutely spectacular, with warm and vibrant colors illuminating the sky. It was a beautiful opportunity for us to exchange our memories of this diving cruise in Indonesia before parting ways the next morning. And also simply to relax and enjoy the simple pleasures of life.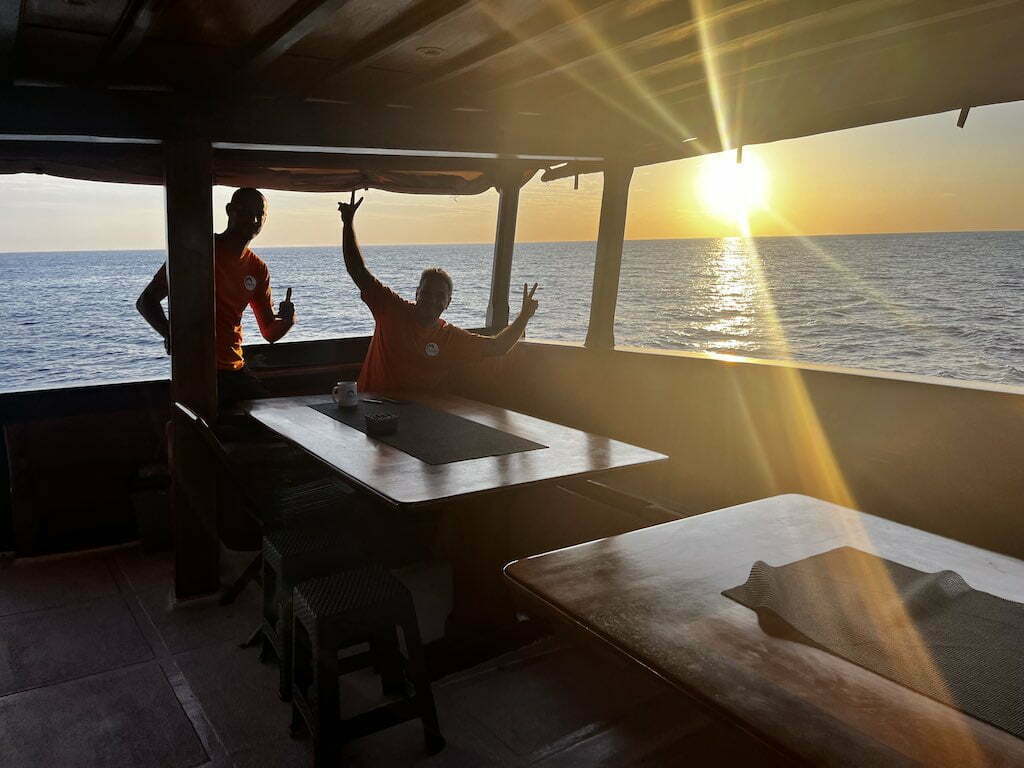 Life on board of Dune Aurora
Life on board the Dune Aurora cruise ship was a pleasant and comfortable experience. The ship features spacious and well-equipped cabins with air conditioning and private bathrooms. The common areas are also comfortable and inviting, with a large lounge, dining room, and upper deck to relax and admire the scenery. The onboard staff was friendly and helpful, ensuring all our needs were met throughout the cruise. The meals were delicious and varied, with a selection of Indonesian and Western dishes. The diving guides were also highly experienced, providing professional briefings before each dive. In summary, life on board the Dune Aurora was a memorable experience that added to the enjoyment of this scuba diving cruise in Indonesia.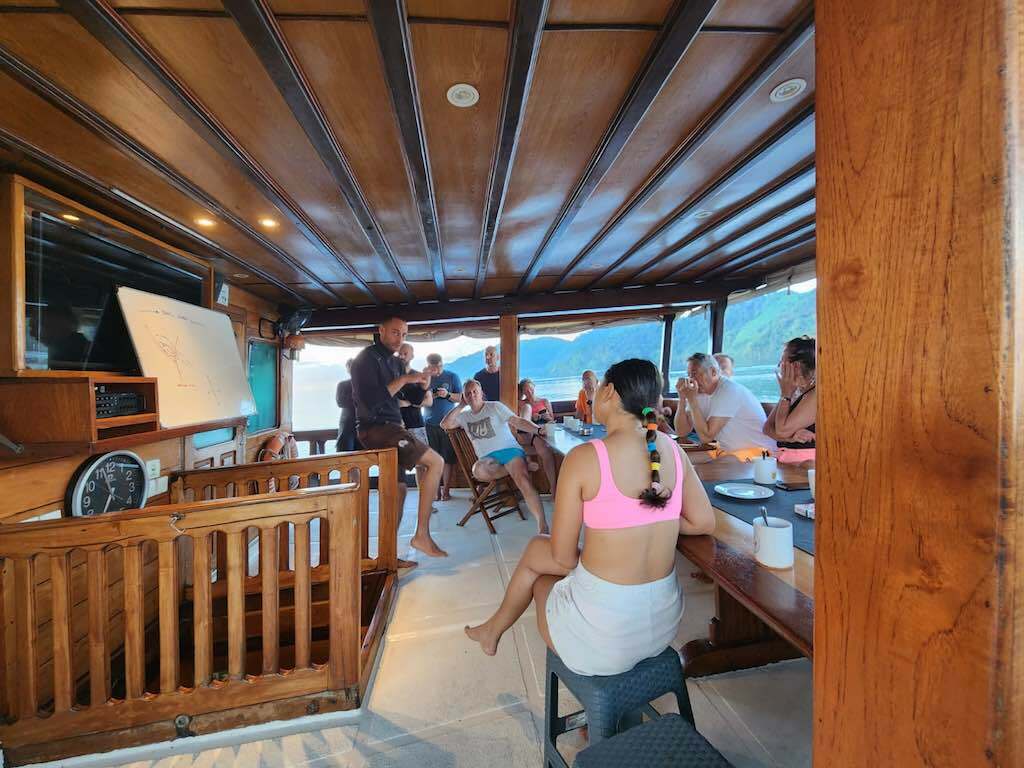 Book your own diving cruise in Indonesia aboard the Dune Aurora!
In summary, this 12-day scuba diving cruise in Indonesia aboard the Dune Aurora Liveaboard was an exciting and enriching journey. The underwater landscapes are stunning, the marine creatures are amazing, and life on board the boat is comfortable and enjoyable. That's why I highly recommend this experience to anyone who loves exploring the wonders of the underwater world and those who want to discover the best of diving in Indonesia. Dune Aurora has already established its program until the end of 2024, so all you have to do is book your cruise!
Or, if you prefer to combine scuba diving and tourism, you can also come and dive in Bali with Dune Bali and Dune Penida. In fact, you will find a great variety of dive sites in Bali too!