Lombok is an island in Indonesia located east of Bali. Although less famous than Bali, Lombok has a lot to offer in terms of natural landscapes, local culture, and outdoor activities. In this article, we explore some of Lombok's most iconic places, including the Gili Islands, Bangsal, Senggigi, Kuta Beach, and the traditional village of Sasak Ende. We also explain how to get to Lombok from Bali.
The Gili Islands
The Gili Islands are a group of three small islands off the northwest coast of Lombok. The Gilis are famous for their white sandy beaches, crystal-clear waters, and coral reefs.
Gili Trawangan is the largest and most developed island of the three. It is also the liveliest and most touristy, with many restaurants, bars, and nightclubs. Gili Meno is the smallest and quietest of the three, ideal for travelers seeking tranquility and relaxation. Gili Air is a good compromise between the other two islands, with beautiful beaches and nice beach bars for sunset.
On Gili Air, I recommend staying at the 7 Seas Cottage, right on the beach next to the port. You can rent bikes there.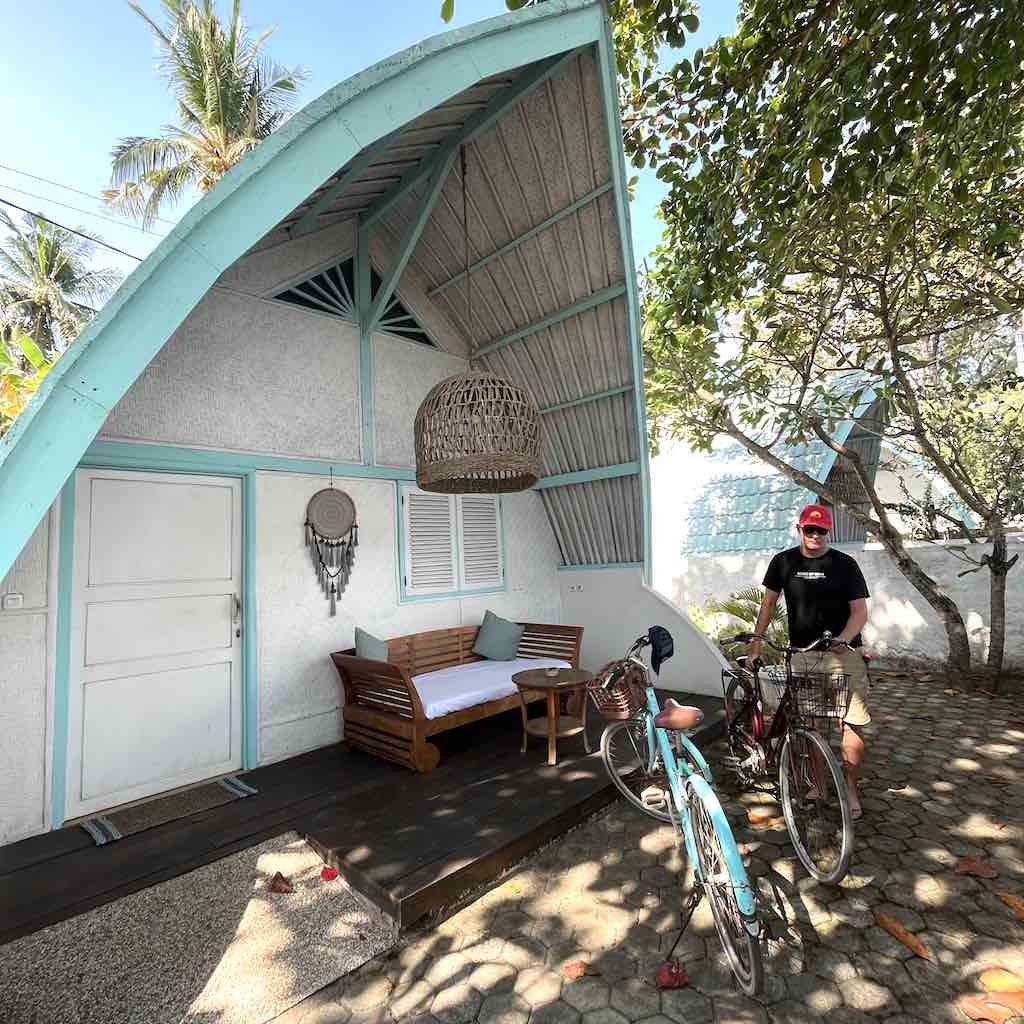 Bangsal and its surroundings
Bangsal is a small fishing village located on the northwest coast of Lombok, just across from the Gili Islands. It is also the main port for ferries and boats that connect Lombok to the Gili Islands, Bali, and Nusa Penida. In addition to the ferries, there are also traditional fishing boats called "perahu" that you can rent to explore the bays and islets around Bangsal.
Beautiful beachfront hotels
The nearby Sire Beach is an ideal place to enjoy a day of swimming and relaxation. Depending on your budget, you can spend one or more very relaxing nights at the Oberoi, a very luxurious but expensive hotel, at the Tugu hotel, or at the Anema, which also has a good value for money and is a diving center.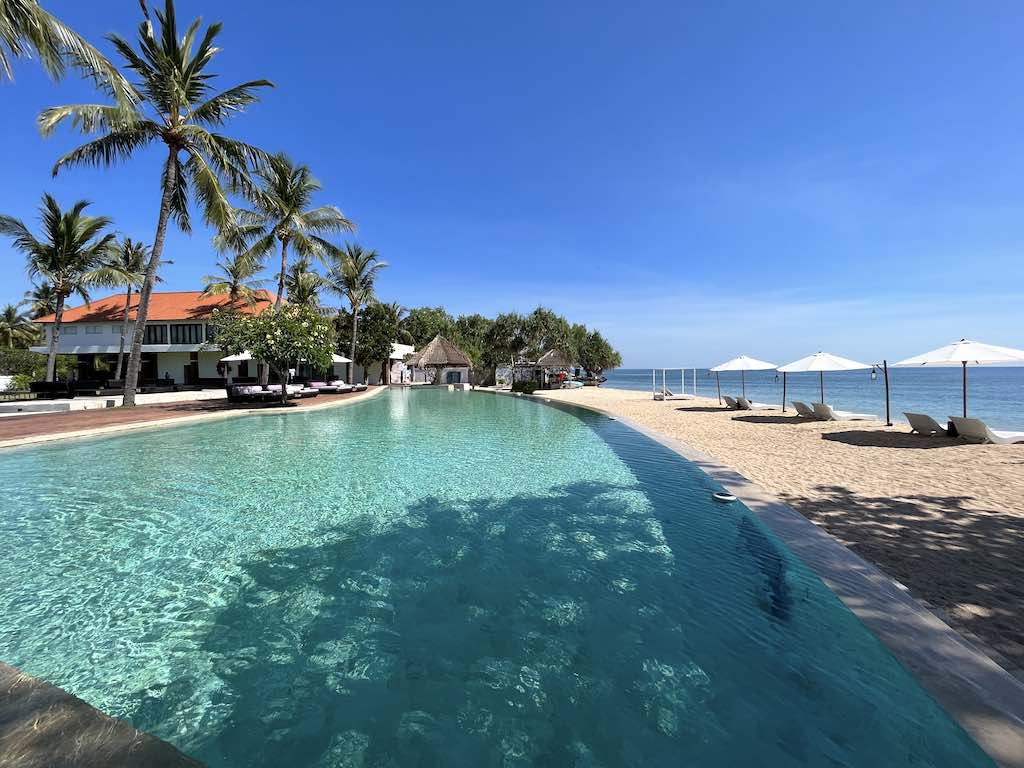 Lombok Wildlife Park
Lombok Wildlife Park is the first animal sanctuary in Lombok. It has a professionally trained team that caters to all the needs of the animals. They claim that the well-being of the animals is their topmost priority. Even though I usually don't like to see animals in captivity, these ones appear to be well-treated.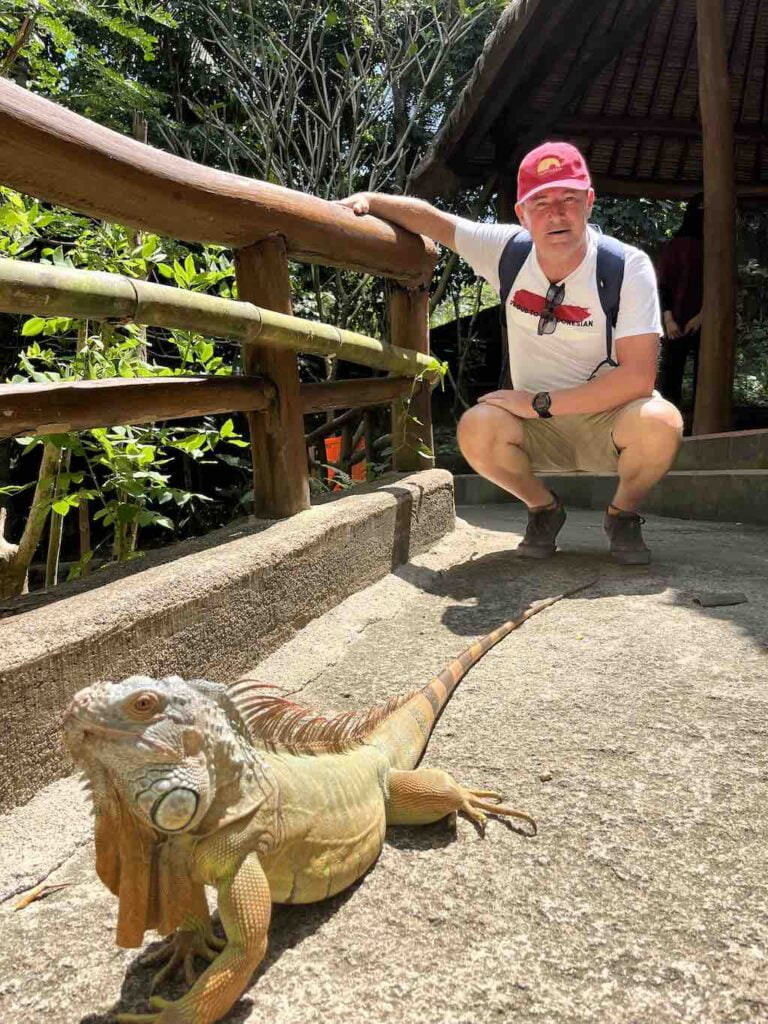 Tiu Kelep
If you're looking for more adventure, you can hike to the Tiu Kelep waterfall, located about a 1 hour and 15 minute drive from Bangsal. The Tiu Kelep waterfall is a popular destination for hiking enthusiasts due to its beautiful setting and refreshing pool.
Senggigi
Senggigi is a beach resort located on the west coast of Lombok. The beach stretches for several kilometers and offers a beautiful view of the sunset. The town of Senggigi also offers a number of restaurants, shops, and hotels.
Senggigi is finally a good starting point for exploring the tourist sites of Lombok, such as the Rinjani volcano and the traditional Sasak Ende village.
I stayed at the Katamaran hotel. The hotel itself is a bit impersonal but the beachfront location is nice. And the pool is quite unique!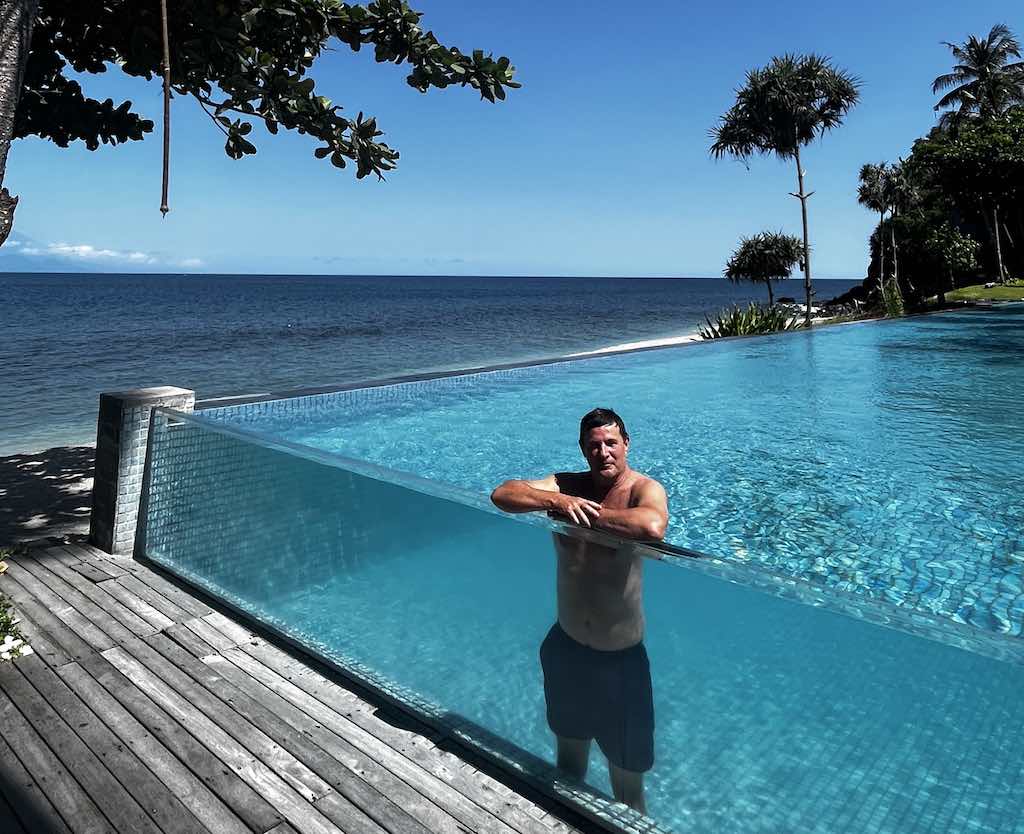 Kuta Beach
Kuta Beach is a white sandy beach located on the southern coast of Lombok. The beach is famous for its world-class waves, making it a popular spot for surfing. However, the neighboring Tanjung Aan beach is even more beautiful, wilder and also offers great surfing opportunities. You can even ask small boats to take you further out into the bay to join the fun.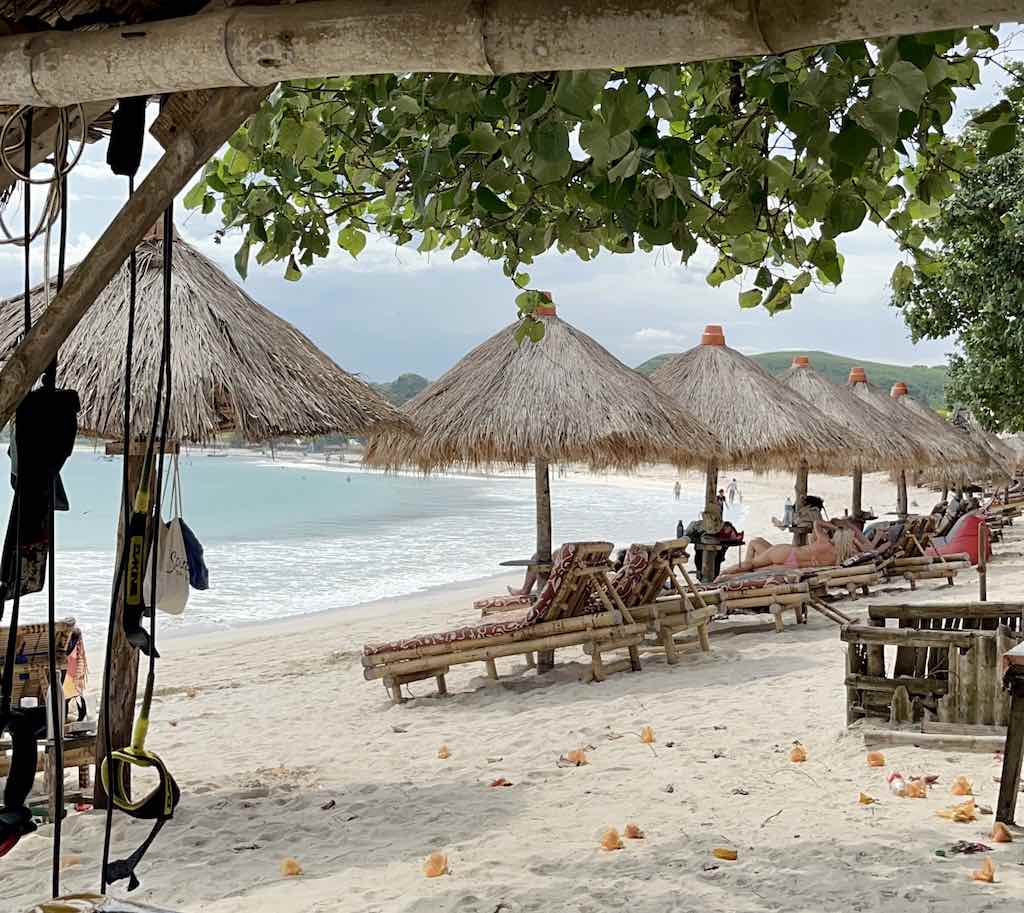 Prabu Cave
The Prabu Cave (Goa Bangkang Prabu) houses a large colony of fruit bats. Visitors can go to the cave to observe these fascinating animals as they feed and sleep. The cave is indeed a unique and interesting place for wildlife enthusiasts and nature lovers. In addition to the bat colony, visitors can also admire the stalactites and stalagmites that decorate the cave. It is an unforgettable experience that allows you to discover a different aspect of the natural beauty of Lombok Island. You will be given a helmet to protect your head, but you may also need a tissue for your mouth and nose as the bat excrement smells quite strong. Sensitive souls may also be impressed by the thousands of cockroaches that crawl on the walls of the cave!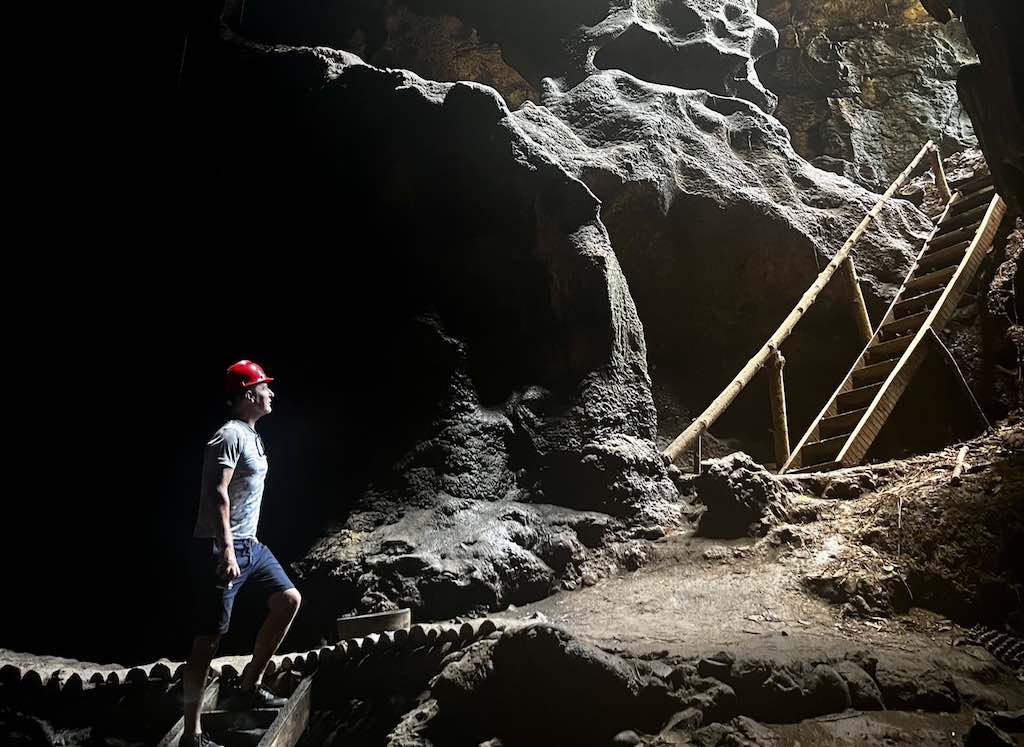 Where to stay in Kuta Beach?
I stayed at the Pullman hotel. The hotel itself is very new and doesn't have much charm, but it's located on a nice beach. Right next to it is the Novotel, which is older but has a more charming restaurant. Both hotels are also located right next to the Mandalika circuit, which has hosted the Indonesian Moto Grand Prix since 2022. On a future trip, I will probably try the Sikara Lombok Hotel. I had dinner there and the rooms and hotel seemed quite nice for a reasonable price.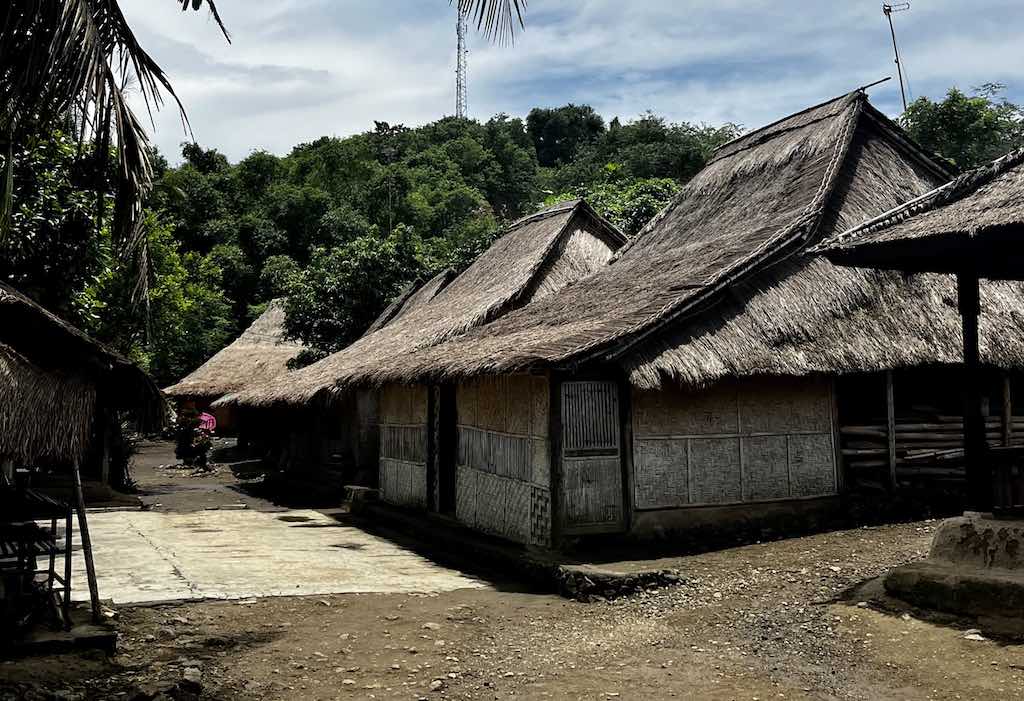 Sasak Ende
You will love the traditional village of Sasak Ende for its unique architecture, rich culture, and natural beauty. The inhabitants of Sasak Ende are mainly farmers and artisans, who perpetuate the centuries-old traditions of their community.
The village is surrounded by lush green hills and vast rice fields, which add to its charm. The traditional houses of Sasak Ende are built of bamboo and wood, with thatched roofs and walls made of mud. The houses are also decorated with colorful floral motifs and elaborate wooden carvings.
The people of Sasak Ende are proud of their cultural heritage. They regularly organize festivals and celebrations to honor their ancestors and traditions. Outside of festivals, you can still visit the village with a guide who will explain the Sasak traditions, including how every young man must literally kidnap his future wife before he can marry her…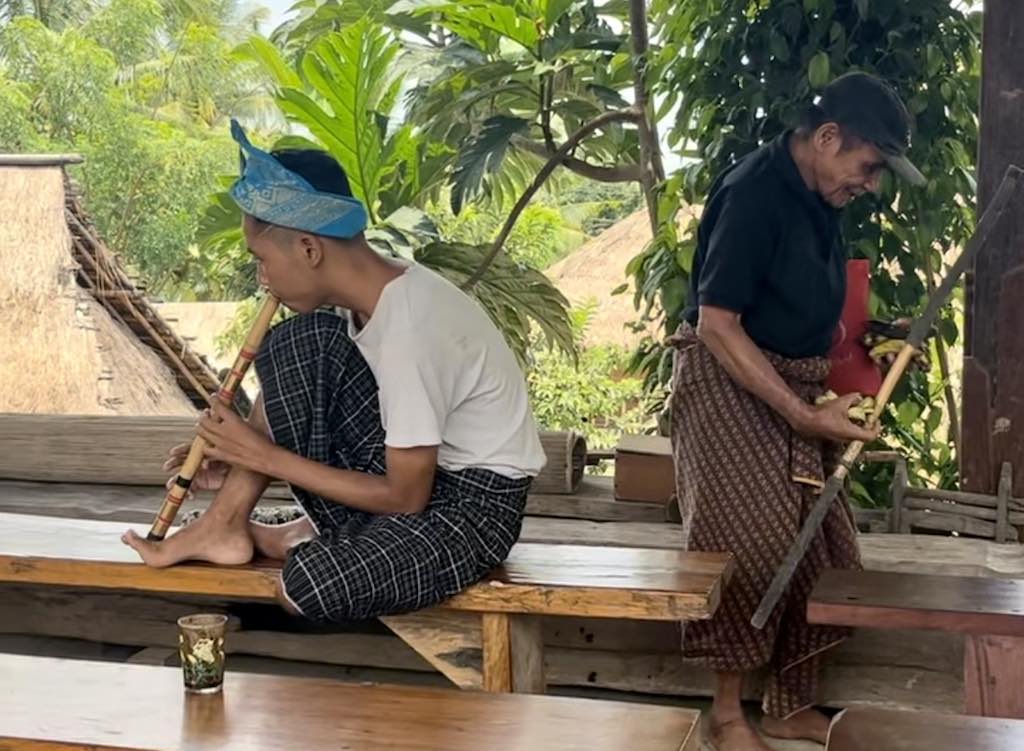 How to get to Lombok?
It is possible to reach Lombok by boat from Bali or by plane from most major cities in Indonesia. Personally, from Bali, I prefer to go to Lombok by boat.
Getting from Bali to Lombok by boat
Ferries and speedboats are available from several ports in Bali. The ferry is only advantageous if you want to travel with your car or motorcycle or if you are on a tight budget. Otherwise, the speedboats will be much faster. The journey takes about two hours, but the duration may vary depending on the weather conditions and the state of the sea.
There are several fast boat companies that connect Bali and Lombok. One of the best options is Eka Jaya, which offers daily service between these islands. Eka Jaya uses spacious and comfortable fast boats equipped with four powerful engines, allowing you to travel quickly and comfortably. The boats are 23 meters long and can accommodate up to 210 passengers. Eka Jaya offers a 20% discount on the ticket price if you book on a Friday!

From Bali to Gili Islands or Lombok
If you're leaving from Bali, the best option is to depart from Padang Bai. The connections between Amed and Lombok or the Gili Islands are currently suspended. Eka Jaya also offers an option from Serangan, but you'll pay an extra 200,000 rupiahs per passenger, and you'll have to make a first stop at Nusa Penida, which will add about 2 hours to the journey. If you're traveling with several people, it's better to drive to Padang Bai. You'll save time and money.
The fast boat Eka Jaya operates two daily connections to the Gili Islands and Lombok from Padang Bai. The earlier you depart, the better the sea conditions, but the journey is different for the two schedules.
The boat departing from Padang Bai at 9am stops at Gili Trawangan at 10:30am, Gili Meno at 10:45am, and Gili Air at 11am. It then arrives at Bangsal at 11:30am and departs at 12pm to return to Padang Bai at 1:30pm.
The boat departing from Padang Bai at 10:30am arrives at Senggigi at 11:50am, then at Gili Trawangan at 12:20pm, Gili Meno at 12:35pm, Gili Air at 12:45pm, and finally at Bangsal at 1pm. This boat then departs for Senggigi and arrives at Padang Bai at 3:30pm.
Semaya One and Golden Queen also offer connections between Padang Bai, the Gili Islands, and Lombok at lower prices, but the boats are smaller and you may experience more turbulence in rough seas.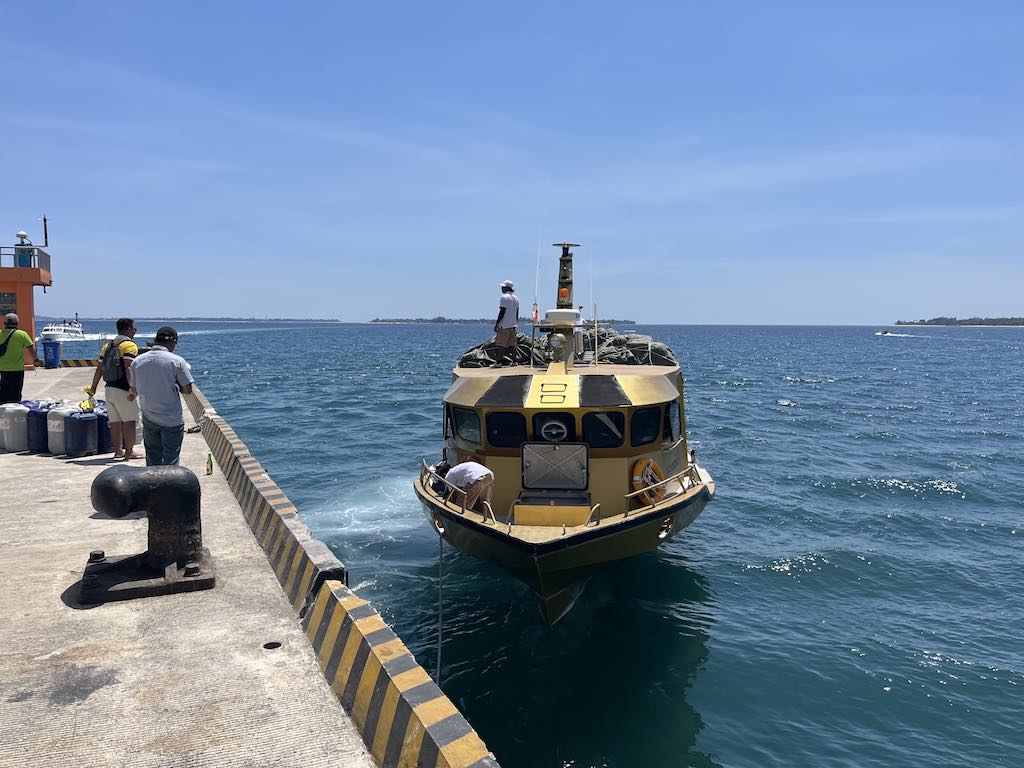 From Nusa Penida to Lombok and the Gili Islands
The fast boat Eka Jaya provides two daily trips from Nusa Penida to Lombok.
The first boat departs from Nusa Penida at 9:30 AM to reach Padang Bai and then continues on to Senggigi (11:50 AM), the Gili Islands (12:20 PM, 12:35 PM, 12:45 PM) before arriving at Bangsal at 1:00 PM.
The second boat leaves Nusa Penida at 10:30 AM and arrives in Senggigi at 1:00 PM. It departs from Senggigi at 2:00 PM to reach Nusa Penida at 4:30 PM via Padang Bai.
For the return trip, you can depart from Gili Trawangan at 12:20 PM, Gili Meno at 12:35 PM, Gili Air at 12:45 PM, Bangsal at 1:30 PM, and Senggigi at 2:00 PM to arrive at Nusa Penida at 4:30 PM via Padang Bai.
If you prefer a direct trip from Gili to Nusa Penida without stopping in Padang Bai, another good option is Semaya One. This boat also offers a daily service and can take you quickly and efficiently to the Gilis. The direct trip leaves Nusa Penida at 10:00 AM and arrives at the Gilis at 11:45 AM. For the return journey, the boat leaves the Gilis at 12:00 PM and arrives at Nusa Penida around 2:30 PM. Semaya One also offers an option with a stop in Padang Bai: departure from the Gilis at 9:00 AM and arrival in Nusa Penida around 11:50 AM. The boat leaves Nusa Penida at 1:00 PM and arrives at the Gilis at 3:15 PM.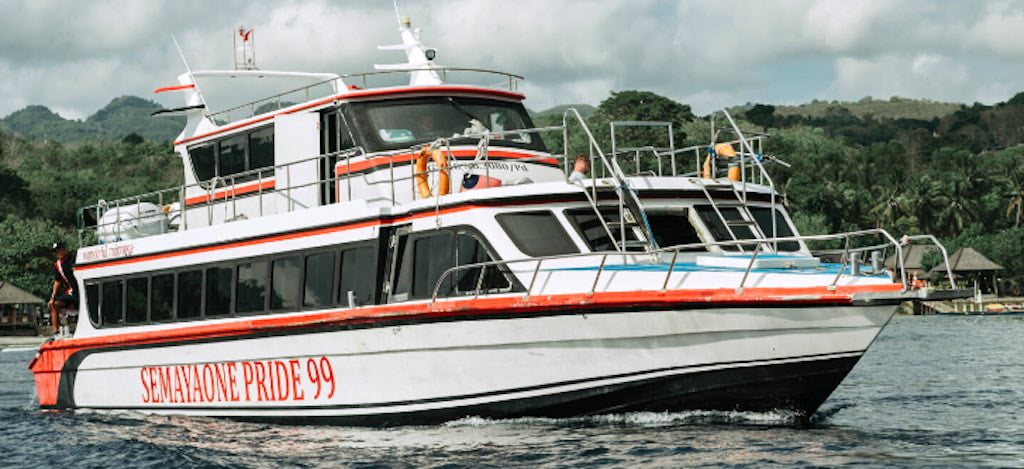 Flying to Lombok
Another option is to take a plane. Several airlines offer direct flights from Bali to Lombok, with a flight time of about 30 minutes. However, the plane will be more expensive than the boat and the airport is quite far from Kuta and Bangsal anyway. So you may not necessarily save much time. To find the most affordable flights, consider checking out Trip.com.