Coronavirus Covid-19 stats in Bali and Nusa Penida
As of November 22nd, 13263 people got officially infected by coronavirus COVID-19 in Bali. Among them, 12092 recovered and 411 passed away. These numbers show that the virus is under control. Bali was therefore one of the first territories to gradually reopen to tourism, on July 9th for local tourism. And the Indonesian tourists can now travel to Bali, since July 30 th. But the foreign tourists will not be able to come to Bali before the end of the year. Bali international airport might nevertheless reopen on December 1st 2020 as more and more people are coming to Bali with a business visa that can be delivered on-line.
Among the people positive, more than 90 % were infected locally in Bali. The Balinese authorities therefore insist on a strict control on arrival at Bali, including a quarantine. And also on the respect of prevention measures to avoid local transmission, such as wearing masks, keeping a distance and diligently washing hands.
The official numbers in Klungkung regency, the province of Nusa Penida are 920 people tested positive to covid-19, 881 cured and 17 passed away. In Nusa Penida, as of October 29, only 53 people were detected positive and 34 already recovered. The village of Sakti in Nusa Penida were is located Adiwana Warnakali dive resort and Amok sunset bar and restaurant has even been declared free from transmission of Covid-19 since the start of the epidemic.
All official information, including emergency telephone numbers regarding covid-19 in Bali, is available on this site.
Travel restrictions due to Covid-19
Since April 2, in order to halt the spread of the coronavirus, the Indonesian authorities have banned all foreign arrivals until further notice, except some exceptions defined in the regulation 11/2020 of the Minister of Legal Affairs. Foreigner with working permit (Kitas) and now with business visa can enter Indonesia.
The new circular (SE no.7 / 2020) dated June 6, 2020 governs movements within Indonesian territory as well as the entry into Indonesian territory of foreign nationals. The entry on the territory of foreign nationals requires the presentation of a negative PCR test. Tourists are still not allowed. Travelers are also ordered to download the COVID-19 monitoring and tracking application, "PeduliLindungi", to their mobile phones.
How went my own trip from Europe to Bali ?
The new official instructions for entering Bali are the subject of the following paragraph. But I tested for you a trip between France and Bali in early August.
I did my PCR test on July 31, which I got negative results the next day. I immediately booked my plane ticket with Qatar Airways, the only airline that operates international flights to Bali. The test must less than 14 days old before your arrival date.
At the check-in, the airline checked :
my passport
my work visa (KITAS)
the QR code obtained by filling out a form on the site https://cekdiri.baliprov.go.id
my negative PCR test
but also, last-minute surprise, a medical certificate written in English certifying that I did not have symptoms of COVID-19 and I did not suffer any respiratory problem.
If a document is missing, I understand that the company will not give you your boarding pass. However, no one in Paris or Bali verified that I had downloaded the COVID-19 monitoring and tracing application, "PeduliLindungi" on my cell phone.
The terminals at Paris, Doha and Bali were almost empty. And the two Paris-Doha and then Doha-Denpasar flights were also almost empty. The company gives you a facial plastic mask that you must wear during the entire flight and transit time, in addition to the surgical mask. The company also distributes a health questionnaire to be completed.
On arrival at Denpasar airport you go through a first health check to take your temperature, collect your health questionnaire, check your PCR test. Then the actual immigration control checks your passport, your KITAS, your PCR test, your medical certificate, your fingerprints.
After passing immigration you are free to go wherever you want.
All measures are explained in Surat Edaran Circular No. 305.
The detailed requirements are as follow :
Arrival with an international flight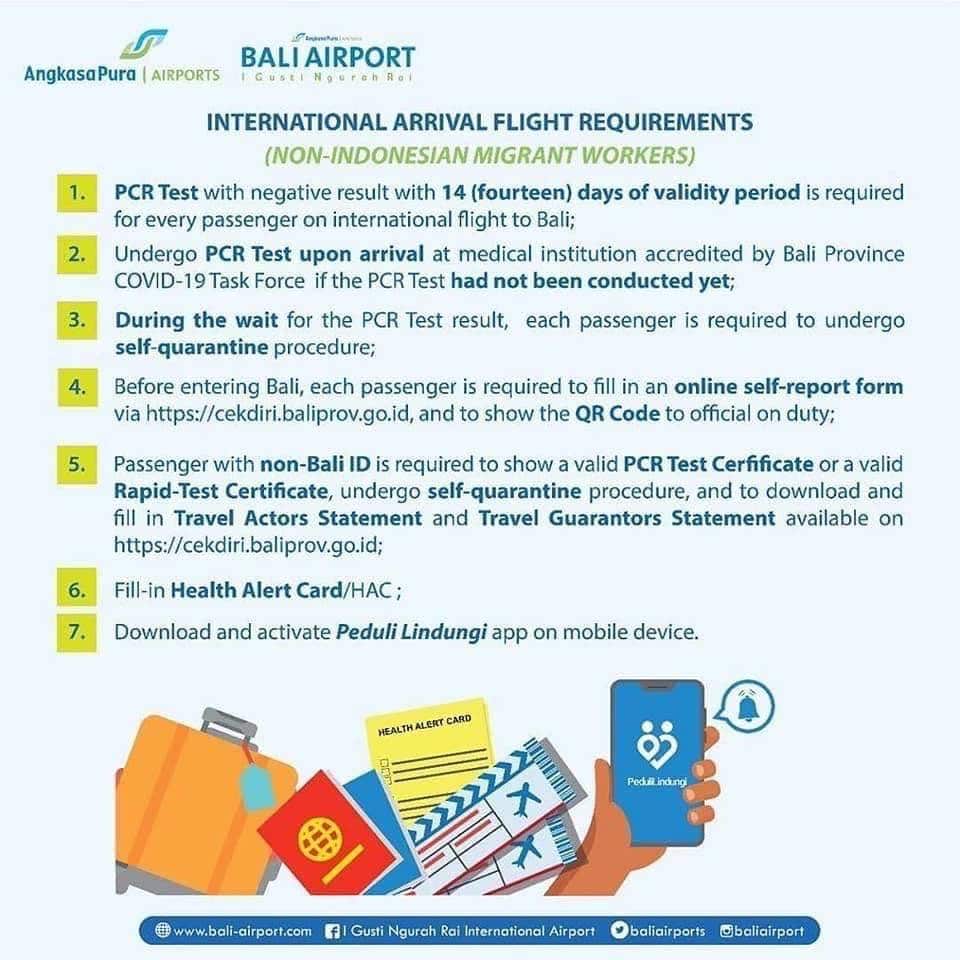 Arrival with a domestic flight
Bali Governor's latest directive on covid-19
The governor of Bali published a document on June 8, 2020 which recommends that students continue their studies at home and which prohibits crowd activities. This call also regulates customary and religious activities which must involve a maximum of 25 people.
Any questions about covid-19 coronavirus in Bali?
If you have a question, don't hesitate to post it in the comments. I will answer on line or send you a specific email answering your question !